Southern Company (NYSE:SO) recently announced earnings and many investors were disappointed with the results. However, SO continues to be one of the premiere electric utilities and should remain so.
Management announced another cost over-run of its Kemper high-tech coal generating facility and it was more that chump change at $450 million. The facility is expected to be completed and online by May of next year. The lack of cost control at the Kemper in Mississippi is putting the two nuclear reactor construction projects at its existing Vogtle power site in Georgia under the microscope as well.
Management also announced it will raise additional equity capital to offset the cost overruns. This move will protect the balance sheet at the potential detriment of shareholders due to the dilution. Management claims the dilution would equal $0.015 a share, but I believe this is quite low as it equates to an additional equity raise of a mere $13 million (375,000 new shares) based on 850 million shares outstanding.
Critics point to the current low cost of natural gas and the corresponding low cost to produce electricity from natural gas. However, this thinking is very shortsighted as the current depressed price will not last, especially if demand from natural gas exports kicks in. There will come a time when natural gas returns to a more "normal" $5 to $6, almost double its current price.
Southern Company still has many advantages. Historically, SO has provided investors substantially better long-term total returns than the overall market, as reported by the S&P 500 (NYSEARCA:SPY). For example, according to fastgraph.com, SO has provided investors with 15-yr total returns of 6.5% annualized vs 3.0% for the S&P 500, with the dividend not reinvested. If the dividend had been reinvested, the 15-yr total return would increase to 8.5% annualized vs 3.6% for the S&P 500.
SO has a long history of dividend increases. From 1999 to 2001, there was no dividend growth; in 2002 the dividend was raised 1%; in 2003 and 2004 the dividend was raised by 2%; from 2005 to present the dividend has been raised by 4% annually.
Below are two Fast Graphs outlining earnings and price correlations from 1999 to current and a projected 5-yr estimated total return graph. The current PE ratio of 16.2 is about 5.2% above its 15-yr average of 15.4. This slight premium to historical averages could be considered within a "fair valuation" range and not considered "overvalued".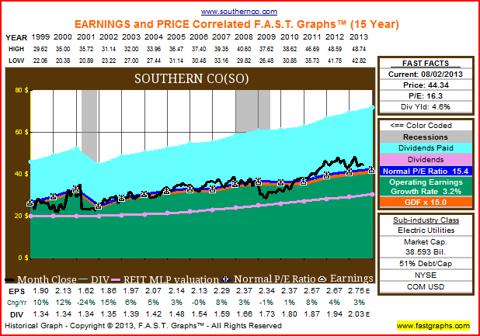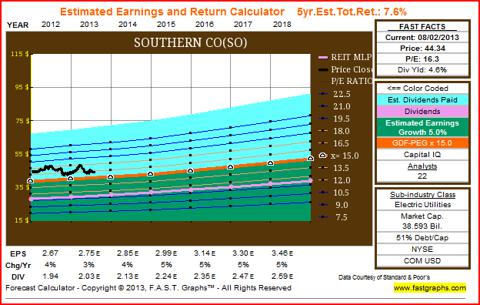 Going out over the next 10 years, Fast Graphs offers the following projections for earnings, dividends, target price and returns compared to a consistent 10-yr Treasury Bond investment.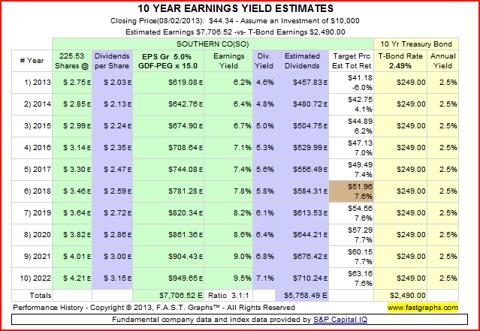 While the table shows a short-term price target below the current price due to the premium to its historic PE ratio, the premium disappears within 2 years. The addition of a 4.6% current yield and a dividend growth of 4.0% offset the current PE premium within the next year. Overall, the table above lays out a consistent total annual return just shy of the previous 15-yr average, based on dividends not reinvested.
Driving earnings growth will be a continuation of above industry average return on invested capital (NASDAQ:ROIC). Using the graph provided by Fast Graph, over the past 15 years, management has provided a consistently high ROIC. Fueling this has been a declining debt to equity ratio since 2001. This ratio has declined from 1.32 to 1.05. Management should provide the same type of matrix going forward.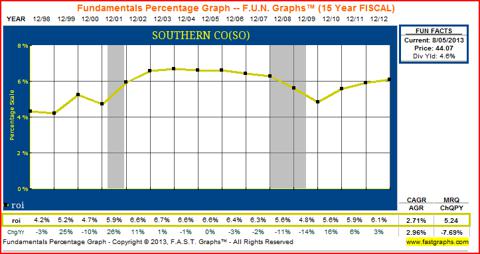 In addition to these historical trends, SO's geographic location is far from the disruptive nature of wind and solar power. In the future, the disruptive aspects of alternative energy politics will become a larger factor in utility profitability as the percentage of negative power pricing for traditional power generation increases. Exelon (NYSE:EXC) already has reported that some of its nuclear power plants in Illinois operate at negative prices for upwards of 15% of the time. This trend will continue and electric utilities farther from the Midwest and West Coast could become preferred investments.
While the state regulators are beginning to balk at passing on cost over-runs for the Mississippi and Georgia construction projects, historically these state have been more friendly to SO than their counterparts in other areas of the country. Over the next few years as these projects turn from construction to operating, SO should be better positioned than some of its peers concerning rate increases.
Investors looking for strong dividend yields, consistent dividend growth and above average management effectiveness should start buying SO at current levels. Taking about 1/3 positions currently with an eye of adding on dips to the $42 range will provide long-term income and utility investors with total returns inline with Southern Company's rich history.
Author's Note: Review disclaimer in author's profile.
Disclosure: I am long SO, EXC. I wrote this article myself, and it expresses my own opinions. I am not receiving compensation for it (other than from Seeking Alpha). I have no business relationship with any company whose stock is mentioned in this article.