Aeropostale (NYSE:ARO) is a $1.15 bn retailer in Canada and the United States targeting teenagers. Shares of ARO have slightly lagged the market this year, up 12.22% YTD when the market is up 20%. Despite the stock price appreciation, ARO's earnings have fallen significantly. After the stock's peak in April 2010 at around $32, ARO's P/E was 13.5. Right now, its P/E is at 37.44, and I believe there is no reason for this stock to be trading at such a significant premium to the other teen retailers.
| | | | | | | |
| --- | --- | --- | --- | --- | --- | --- |
|   | Revenue Growth | EPS (TTM) | EPS (01/2014)* | EPS Growth | P/E | P/E (01/2014)* |
| Aeropostale | 1.9% | $0.39 | $0.35 | -10.3% | 37.44 | 42.20 |
| American Eagle (NYSE:AEO) | 11.4% | $1.39 | $1.21 | -12.9% | 12.66 | 14.53 |
| Abercrombie & Fitch (NYSE:ANF) | 8.5% | $2.98 | $3.28 | 10.1% | 16.63 | 15.12 |
| Urban Outfitters (NASDAQ:URBN) | 13.0% | $1.70 | $1.92 | 12.7% | 24.98 | 22.16 |
*Bloomberg projections for 01/2014
First, let's see the positives about ARO and why the stock could have been trading at such a premium.
As of July 15, 14.85% of ARO's shares were sold short. There is a good reason to sell ARO short, as I will attempt to show in this article, but investors may be pouring money into this stock looking for the next Tesla, Facebook, or Herbalife short-squeeze. However, ARO's relatively low short interest leaves its stock more downside compared to TSLA, FB, HLF.
People may be reluctant to short ARO due stock buybacks. None of the $104.4 million available starting February 3 to buy back shares has been used yet. For a company worth a little over $1 bn, a significant buyback would be devastating for the shorts (compounded by the effects of a short-squeeze). At least, for the shorts, it is unlikely the full $104.4 million could be used to buy back shares, given that free cashflow last year, excluding its acquisition of GoJane.com, was $72.5 million, and this amount is not expected to increase.
ARO's growth strategy is far from impressive. To summarize from their last annual report, ARO's "most significant initiative to achieve this growth is to integrate fresh and new fashion into our assortment while staying true to the heritage of the Aéropostale brand." Specifically, by Q4 fiscal 2014, there "will be a noticeable difference in trims and finishing of [ARO's] merchandise." Their other initiatives include remodeling stores and closing stores in unprofitable areas. That sounds like the same thing every retailer is supposed to be doing. One bright spot, though, is their international growth prospect. Aeropostale expects to open stores in: Singapore; five countries in the Middle East, including Turkey; the Philippines; Panama; Colombia; and Mexico. Forty-five to 50 stores are expected to be operating internationally by the end of 2013, and 25-35 more stores are expected to be opened in the next five years.
International Growth?
Apart from ARO's international growth prospects, I do not see a fundamental reason for such a premium in the stock price. ARO pays no dividend, so the investors' 'search for yield' argument would not support the stock price.
Currently, ARO operates 1106 stores in the United States and Canada. Assuming each international licensee store will give the average sales per domestic store (which is very optimistic, given that these are licensee stores and that the Aeropostale brand is much better known in North America than abroad), the addition of 35 stores will give ARO a 3.2% growth rate. What's worse is that this 3.2% growth rate is the most optimistic view for ARO's international growth, and it will occur over five years. So, ARO's international growth strategy will increase the top-line by an annualized 0.63%. This does not seem very effective.
Furthermore, international growth may be difficult given ARO's current popularity. Google's search volume index in Mexico is 52, comparable to its popularity in the United States. This figure is in the single-digits in South America, and zero almost everywhere else. Given that ARO is not a popular brand in its target markets except Mexico, expansion will face tough challenges, particularly with competition from Abercrombie in Central and South America.
Negative Growth Trends
Analysts are expecting Aeropostale to post negative EPS growth. For the past three years, revenues growth has been stagnant, while costs have increased.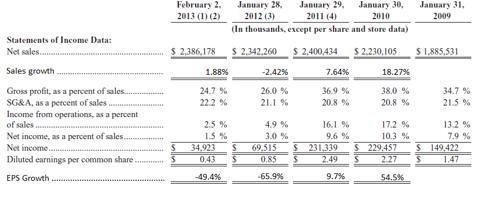 The most important things to look at here are the slow sales growth, decreasing gross margins, and increasing SG&A expenses, leading to low earnings growth. These reflect ARO's poor growth strategy, and, given its expansion plans and momentum in fashion trends, I do not see this trend reversing.
With these poor growth trends and low earnings expectations, ARO's high P/E, compared to its peers, cannot be justified.
Comparable Store Sales
To grow, a retailer must either achieve higher sales in its existing stores, or open new stores. For the past two years, comparable store sales have been negative. In 2012, comparable store sales were down 8%, and last year, that figure was down 2%. If ARO is going to continue its growth strategy, that is, merely keeping up with fashion trends, a large turnaround in demand is not likely to occur.
In FY2012, ARO opened 45 new stores, an increase of 4.4%. Last year, the number of stores increased 2.6%. This may increase growth in the short-term, but may cause even lower comparable store sales (due to sales cannibalization) and higher SG&A costs.
Popularity
Aeropostale's decreasing popularity can be seen with their gross margins. At its peak in the FY ended January 29, 2011, gross margins were 36.9%. Margins have fallen significantly since then, to 24.7%. This reflects ARO's need to lower prices to attempt to increase inventory turnover. The teen retailer space is characterized by consumers with high price elasticity of demand, and increasing competition. With other firms, such as AEO, decreasing prices, ARO's gross margins should be expected to fall even further.
Moreover, compared to its competitors, ARO's search volume index on Google has fallen. This is compared to significant gains for Abercrombie and Urban Outfitters. For teens, it seems ANF and URBN have been able to keep up with fashion trends, and their current momentum will help those companies. Conversely, ARO has somewhat been able to keep up with the fashion trends, but given the trends in search volume, it seems teens are becoming more reluctant to shop at ARO.


Return on Invested Capital
| | | | | |
| --- | --- | --- | --- | --- |
|   | 2013 | 2012 | 2011 | 2010 |
| ROIC | 8.51% | 16.98% | 53.47% | 52.81% |
This decreasing trend in ROIC shows ARO's low growth and poor business strategy. Again, this makes me wonder why ARO's forward P/E of 42.20 could be justified.
Interesting Patterns
A pattern has developed with the last three earnings reports. After the reports late November, March, and May, the price of ARO has fallen for one or two months. After that, the stock tends to rise until the next earnings. The drop in stock price after earnings is despite EPS beats. Obviously, it is impossible to determine exactly what the highs and lows of a stock are. However, given that the stock price has been characterized by the same trend for the past three earnings reports, I expect additional downside after earnings, on August 22.

Conclusion
The main upside for Aeropostale is a large stock buyback. Fundamentally, ARO's growth strategy is flawed, and its expansion in international markets faces many challenges. Stagnant top-line growth, lower margins, higher costs, along with negative comparable store sales and earnings growth will eventually catch up to ARO's stock price. Without a significant change in growth strategy, I do not think ARO deserves a 42.20 forward P/E when its peers, which are expected to grow much more than ARO, are trading between a forward P/E of 14.53 and 22.16.
*I wrote this article August 5, before American Eagle gave an earnings guidance that caused a sell-off in the teen retailer space. This only strengthens my thesis. The decrease in ARO on August 5 was 2.34%, compared to a decrease for URBN of 2.75% and ANF of 4.05%. I believe there is more room for ARO shares to fall in the short-term. In the medium to long-term, American Eagle's earnings guidance cut simply demonstrates the heavy competition in the teen retailer space. There could be much more to lose, particularly for a company trading at a P/E of 37.5.
Disclosure: I am short ARO. I wrote this article myself, and it expresses my own opinions. I am not receiving compensation for it (other than from Seeking Alpha). I have no business relationship with any company whose stock is mentioned in this article.