According to the German magazine Stern's Forsa poll, German Chancellor Angela Merkel's governing coalition has a slight edge over the opposition Social Democratic Party (SPD). It is true that this is just one poll, but it depicts the German sentiment regarding the election as seen in the various polls already conducted. We will continue to see several polls come out of Germany in the weeks leading up to the big election on September 22.
Merkel committed to not raising taxes on wealthy Germans
Chancellor Merkel has learned from her past mistakes. When she campaigned in 2005, she pledged to address Germany's budget deficit in a big way by bringing in more revenue through an increase in value-added taxes. This proved to be unpopular then and almost cost her the election.
So Merkel has been quite unwavering about the issue of raising taxes. She will not do it even when opposing parties - the SPD and the Greens - are talking extensively about increasing taxes for the rich and imposing bank levies to pay for the EU rescue. This has paid dividends for Ms. Merkel as opposition parties have been unable to gain voters as a result of their call for more taxation.
Germany Versus Debt-Laden EU Members
While the citizens of Spain, Italy, Greece, Portugal and Cyprus fear a possible third term in power for Angela Merkel, their leaders believe that the German leader will offer more favorable policies for debt-laden nations if she were to prevail in the upcoming September elections.
These leaders are already becoming pro-German with many stating that Merkel has indicated more flexible policies in recent private talks. So Greece may get its debt restructured and Spain will get a full-fledged banking union. They just have to wait until after the election.
Wahl-O-Meter Update
Here is today's election snapshot from the Wahl-O-Meter.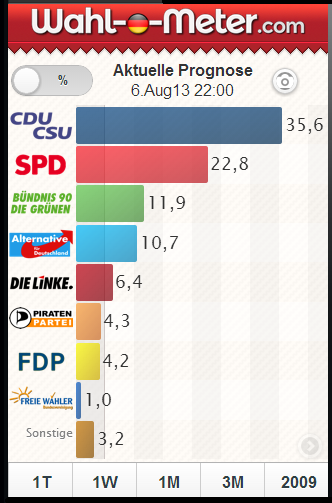 It really does seem like the Merkel coalition will have a comfortable victory come election day on September 22.
The visceral reaction to this is that Merkel will win the election because Germans perceive her as a good leader who has defended German interests well abroad. It is a trust issue for voters who are very comfortable with Merkel right now. Moreover, only 27% are in favor of bringing back the Deutschmark compared to an overwhelming 69% who are quite happy with the euro.
Merkel should get a third tenure
It seems like the fat lady is already singing. Merkel has done her best to make it appear to be so by even taking a long sabbatical a couple of weeks ago. This is standard practice by hard-working Germans who love their summer vacations. Columnist Marek Dutschke wrote in the business daily Handelsblatt that "Mutti" Merkel tried hard to make this the dullest election in decades.
"You get the impression Merkel doesn't realize there's an election coming," he said. "Her holiday now is a bit of an act suggesting everything's fine. But everything's not fine. Three million children in Germany can't afford holidays and millions more are working in jobs that don't pay enough to survive."
Nonetheless, coalition mathematics and spying revelations will see to it that Angela Merkel doesn't exactly cruise to victory. The hot period of the election campaign is yet to come with the only televised duel between Merkel and her challenger, Peer Steinbrück, scheduled for September 1st.
Conclusion: Be Optimistic About the EU's Fate After the election
After Merkel was re-elected in 2009, her current run as Chancellor has been overshadowed by the European sovereign debt crisis. The tough austerity measures that Merkel's government imposed on indebted EU countries only made things worse. Merkel is faced with a tough situation in the lead up to the September 22 elections as there is a lot of anger among German taxpayers that their money has been used to bail out Greece, Ireland, Portugal and Spain's banks.
This has led to increased support for the newly created (early 2013) euro-currency-skeptic party, Alternative for Germany (AfD). Its leader Bernd Lucke has been very vocal about forcing the debt-ridden European nations out of the euro.
However, this is not going to be a good solution to the problem that Germany faces. Additionally, these small "protest" parties aren't going to get enough votes to get past the threshold required to win seats in Parliament.
Germany needs the eurozone as much as the single currency bloc needs it. Germany recognizes that it is one of the biggest manufacturing economies in the world, but so is the U.K. and Italy. Merkel has tried to placate angry voters as the elections draw closer by touting austerity measures. But after the German elections, regardless of which coalition comes to power, EU bureaucrats will focus on investment and job creation as it is the most sensible thing to do.
Germany is not going to leave the Euro or continue to be unreasonable with southern European countries as it needs to get its bailout money back. Germany could pursue the path of higher taxation for indebted nations and face the real prospect of default or go a more viable route by encouraging investment and job creation through manufacturing.
And it seems like it will be Merkel who will steer Germany for the next four years. At least this is what opinion polls and pundits indicate: Merkel is preferred by 62 percent of respondents, while 29 percent favor Peer Steinbrück.
Merkel is on track to be named the world's most powerful woman by Forbes for the fourth year in a row.
Disclosure: I have no positions in any stocks mentioned, and no plans to initiate any positions within the next 72 hours.
Business relationship disclosure: This article was written by a research analyst at Investor Aide. Investor Aide is not receiving compensation for it (other than from Seeking Alpha). Investor Aide has no business relationship with any company whose stock is mentioned in this article.