In the midst of many agricultural and natural gas markets collapsing due to our forecasts weeks ago of cool late summer weather and excellent U.S. and global crop conditions (cannot comment on these markets currently or the upcoming forecast), the one commodity which has more upside potential, may now be cocoa. After our longer-term bearish attitude in the cocoa market on weak grind data through 2013 and large global crops, I am getting smothered by questions by many traders. Questions remain just how global ocean temperatures (see below) will play out with respect to potentially lowering cocoa production heading into late 2013 and 2014.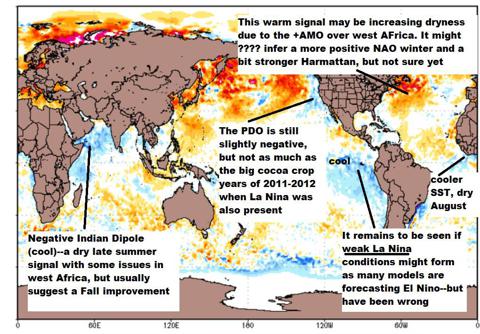 The one commodity ETF worth looking at, just in case some of these ocean temperatures shown above, continue west African dryness through the fall and winter months, is the iPath Dow Jones-UBS Cocoa Total Return Sub-Index ETN (NIB). If three or more of these global ocean phenomena materialize and La Nina does not form in coming months, then this ETF could see at least a 10% gain by later this year. Currently, price charts look healthier for cocoa and with the European economy possibly back on track (grind data may be stronger), cocoa, at least for the month of August and maybe longer, could continue to rally.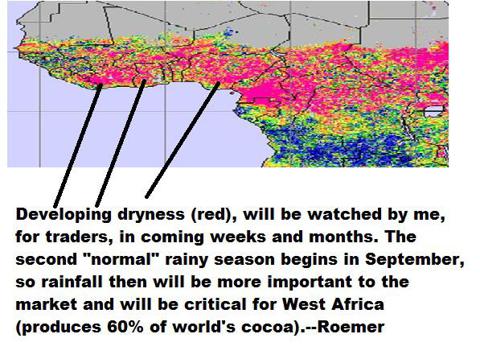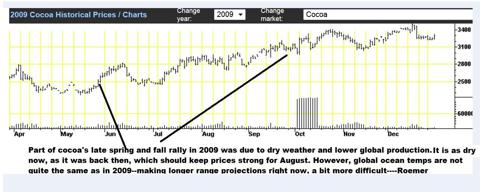 Disclosure: I have no positions in any stocks mentioned, and no plans to initiate any positions within the next 72 hours. I wrote this article myself, and it expresses my own opinions. I am not receiving compensation for it (other than from Seeking Alpha). I have no business relationship with any company whose stock is mentioned in this article.