Since bottoming at $.15 cents in March, Pier I Imports (NYSE:PIR) stock has rallied over 1500% to its current price of $2.6 a share. Earnings are due on the 17th and we feel that PIR may be worth a very small allocation into the numbers for the following reasons.
First off, management recently announced that it will retire $69.5 million of $6.375 Convertible Senior Notes through the issuance of 9% Convertible Senior Notes and a payment of $5 million.
While some may argue that the higher interest costs will only add to the company's problems, the big positive from this restructuring is that the company has bought itself additional time to "right its ship" with the new Notes being able to be put back to the company two years later than the current Notes.
When looked at from a liquidity perspective, the company is now in a much better position to emerge from the current recession a much stronger company than it was before. This should allow management to paint a rosier picture for the long-term prospects of the company on the post-earnings conference call, a potential catalyst to get the stock to break out of its current trading range.
Recent store checks by Anthony Chukumba, analyst for FTN Equity Capital Markets, were very upbeat. According to Chukumba, the stores he visited were looking the best in almost a decade. PIR's merchandising has improved markedly since Alex Smith took over, a trend that was clearly seen after a recent two-week reduction in the annual summer clearance sale.
New or revamped categories such as stationery and girls' gifts have all been well-received and fewer regular markdowns have allowed the company to take more promotional markdowns while still maintaining a healthy merchandise margin.
Greek Investments, a 10% holder of common stock, has been a consistent and heavy buyer of the stock of late. They added almost three million shares this summer at prices ranging between $1.64 and current prices of $2.6, bringing their stake in the company to almost 12 million shares. Most of their purchases were in the low $2 range.
While a big positive, it would have been an even bigger positive to have seen senior management step up to the plate with recent purchases of their own. In any case, insider action is a positive as far as we can see.
Above all else, the strong action in the stock makes us interested in taking a gander on the long side into earnings mid-week. The stock has been riding its 50 day average for the past 3 months as it consolidates its gargantuan move from $.15 in March. A look at the 1 year chart below shows PIR's positive action: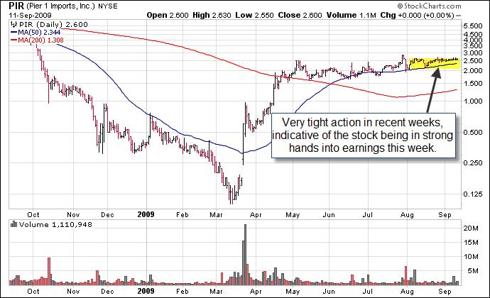 Source: Stockcharts.com
With the stock in strong hands into earnings, we are buyers of a very small allocation for our accounts early this upcoming week. We will add to our position on any move through recent highs of $2.8 a share.
PIR STOP LOSS: $2.3
Disclosure: Not long yet, but will be as of Monday morning.