As reported by Zero Hedge on Thursday, September 10, 2009, natural gas was up by about 16% on no real change in the fundamentals of the commodity. By the end of the trading day, natural gas saw its biggest one-day gain of 15% in almost five years (Fig. 1, click to enlarge). Natural gas price has spiked almost 60 % since Labor Day and prompted investors to believe a V-shaped recovery might be near for the brutally battered U.S. natural gas market. However, don't break out the champagne just yet until you learn more about two of the major factors driving this latest spike, pipeline Operation Flow Orders and from the trader's perspective.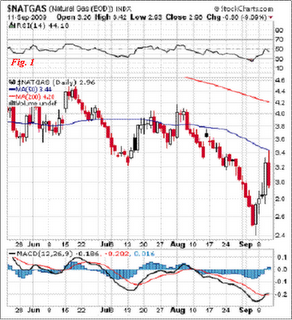 Operation Flow Orders (OFOs)...What?

On the surface, the Thursday gain was sparked mainly by the Energy Department's weekly data that showed a "smaller-than-forecast" increase in U.S. stockpiles. Though the news did not really change the overall supply and demand picture, it did send traders scrambling to buy back previously sold positions.

However, according to industry insiders, the "smaller-than-expected" increase in gas storage was largely due to what the pipeline industry called Operation Flow Orders (OFOs). Pipelines may issue OFOs in the event of high or low pipeline inventory. OFOs require shippers/producers to balance their gas supply with their customers' usage on a daily basis, within a specified tolerance band. Shippers may deliver additional supply or limit their supply in order to match customers' usage. If the supply isn't balanced, shippers may incur noncompliance charges.

In other words, when OFO's are issued in an oversupply environment like we are in right now, shippers/producers either comply, i.e., sending less gas to pipelines & storages, or pay a penalty. As most shippers logically chose to comply with the OFOs, the volume that normally goes to storage ended up overflowing to the spot market pressuring prices to around $1.84/mmbtu on Friday, 9/4/09, just before Labor Day.

Storage facilities and pipelines typically raise their tolerance band after Labor Day to prepare for the higher winter usage season. So, the lift after Labor Day normalized the market and is a major contributing factor in the 60% rise of natural gas prices since Labor Day.

Although some producers already shut down production in response to the current OFOs, more production shut-in is expected as pipelines continue issuing new OFO's.

The Trader's Perspective

One alternative explanation, from a trader's perspective, is that a large natural gas player saw the opportunity to make a huge profit by blowing out the stops of the large contingent of traders who were short the natgas market. For example, someone like John D. Arnold, the former Enron trader who is one of the large players in the natural gas market. To the point, the move in natural gas form $3.00 to $3.30 during late day trading on Thursday was strictly due to the pre-configured stop orders being hit.

Still a Very Short and Decoupled Market

Based on a Bloomberg report, although the number of shorts did decline 3.9% from a week earlier, speculative short positions still outnumbered long positions by 169,846 contracts on Nymex for the week ending September 1st, 2009, according to the Commodity Futures Trading Commission (CFTC). In a short market, things can get extremely volatile and completely decoupled from any fundamental or technical indications.

Crude oil and equities markets, which traditionally have a negative correlation, have moved in tandem for the most part of this year. The upward momentum has some investors chasing natural gas, which theoretically should have a fair amount of correlation with oil.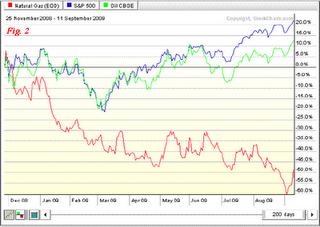 However, as discussed in Oil and Natural Gas: Ratio Explodes in 2009, natural gas tends to be regional, while crude is more globally driven. If we look at the price movement of crude oil, natural gas and the S&P 500 (SPX), it is evident natural gas has completely decoupled and gone off on its own downward spiral (Fig. 2, click to enlarge). This suggests in general that commodity and equities markets will likely be irrelevant to natural gas in the near to medium term, given the fact that there is no fundamental U.S. demand.

Heading for a Sub-Zero Price Zone?

Despite the signals given by Thursday's spike, U.S. natural gas storage currently stands at 3.392 bcf, 17% higher year-over-year, and fast approaching the maximum storage capacity of about 3,900 bcf. The September 2009 EIA Short-term Energy Outlook now expects another 12% build in working natural gas inventories reaching 3,840 Bcf at the end of the 2009 injection season, i.e., October 31st (Fig. 3).

So, there will likely be a painfully lower gas price on hand in the next 6 to 10 weeks or so until winter withdrawals begin. During this period, we could have a short and sharp collapse in the spot price in the sub $2.00 range.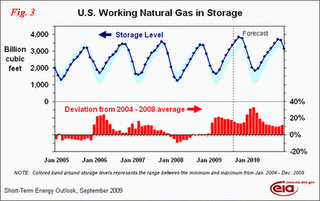 A colder than usual winter season as currently forecast by weather bugs is likely to boost natural gas prices higher; however, if this weather pattern fails to materialize leading to a max-out storage capacity, then we could be looking at a brief sub zero price scenario similar to one the UK experienced in 2006.

Crystal Ball into 2010 & Beyond

Natural gas prices are down about 42% so far this year as demand has been sluggish during the economic downturn, while production from onshore gas fields has remained robust. The EIA now estimates that total domestic natural gas consumption will likely decline by 2.4% in 2009 and remain flat in 2010. As the economy starts to recover and production cuts kick in on a larger scale, natural gas prices should rebound averaging close to the $5.00-$6.00 range in 2010 and gradually ramp up from there. Investors and traders should brace themselves for quite possibly the darkest days in the next 2 months for the natural gas market in over a decade before the dawn finally breaks.

Disclosure: No Positions