In my Instablog from July 15 (found here), I presented an equal-weight portfolio that fit my basic algorithm of generating a consistent alpha. To recap, the portfolio consisted of the following stocks, and their contribution to returns from inception (July 2) is noted.
| | | | | | |
| --- | --- | --- | --- | --- | --- |
| | Stock | Sector | | Cap | Return % |
| (NYSE:AF) | Astoria Financial | Banks | | 1.15B | 10.6 |
| (NYSE:WBS) | Webster Financial | Banks | | 2.41B | 4.7 |
| (NYSE:MWW) | Monster Worldwide | Business Training | | 0.64B | 15.1 |
| (NYSE:AVX) | Avx Corp | Electrical Components | | 2.18B | 6.2 |
| (NYSE:WMK) | Weiss Markets | Food Retailers & Wholesalers | | 1.31B | 10.6 |
| (NYSE:SCS) | Steelcase | Furnishings | | 1.94B | 2.9 |
| (NYSE:NP) | Neenah Paper | Paper | | 0.58B | 23.3 |
| (NYSE:FDS) | FactSet Research | Publishing | | 4.66B | 6.0 |
| (NYSE:GCI) | Gannett Co | Publishing | | 6.10B | 0.6 |
| (NYSE:WLK) | Westlake Chemical | Specialty Chemicals | | 6.73B | 5.9 |
The active return of the portfolio is shown in the following graph. The portfolio has performed quite well in the period, but now appears to be flattening out. That suggests some stocks need to be cut and others added.
Click to enlarge images.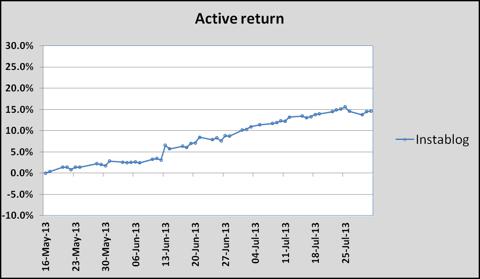 Action Plan -- State of the Market
From both research and practical experience, a significant risk in portfolio rebalancing and trading comes from estimation error -- in this case, picking replacement stocks which then underperform the stocks they replace. In my analysis, the strength of the current market is attributable in large measure to a decline in the discount rate. Whether that is sustainable or realistic has been the subject of many articles on Seeking Alpha. As some writers have pointed out, staying out of the market because it has been "too high," or in "bubble territory" has resulted in substantial underperformance. My view is that there is some evidence of downside risk at the moment, and purely momentum-based strategies would appear to me to be riskiest of all.
Nevertheless, with my "portfolio manager" hat on, I am required to keep an investment strategy in place. My previous default position was to include a low-volatility ETF. This failed in June, but may not fail in the future. Nevertheless, for this period I am looking at including stocks, with the specific intent of minimizing estimation error. In following this strategy, I think it is prudent to consider:
earnings upgrades in both stocks and sectors that might justify the recent lowering of the discount rate; and
the path of the discount rate on specific stocks so as to filter stocks that may have displayed unsupported/unsustainable recent price increases. This is usually described as a "dead cat bounce."
As an example, my analysis shows gold stocks as a sector that could be considered for inclusion in my portfolio. Banks, oil and gas exploration and production, and maritime transportation are other such sectors. Any investor would have to consider which of these sectors have true longer-term potential.
Portfolio Selections
The stocks listed below are those that have tracked along a "constant alpha" line for the past couple of months and have maintained alpha in the past few weeks. Therefore, stocks that might be considered for additions/replacement of stocks of the July 2 portfolio could be drawn from the following:
| | | |
| --- | --- | --- |
| (LTD) | L Brands | Apparel Retailers |
| (NYSE:SAN) | Banco Santander | Banks |
| (NYSE:SRT) | Startec Inc | Business Support Services |
| (NYSE:CNH) | CNH Global | Commerical Vehicles & Trucks |
| (NYSE:WIT) | Wipro Limited | Computer Services |
| (NYSE:SON) | Sonoco Products | Containers & Packaging |
| (NYSE:MYE) | Myers Industries | Containers & Packaging |
| (NYSE:CHK) | Chesapeake Energy | O&G Exploration & Production |
| (NYSE:XEC) | Cimarex Energy | O&G Exploration & Production |
| (NYSE:CXO) | Concho Resources | O&G Exploration & Production |
| (NYSE:EPL) | EPL Oil&Gas | O&G Exploration & Production |
| (NYSE:TSS) | Total System Services | Financial Administration |
| (NYSE:DLX) | Deluxe Corp | Financial Administration |
| (NYSE:NUS) | Nu Skin Enterprise | Food Products |
| (GMK) | GRUMA SAV | Food Products |
| (NYSE:GFI) | Gold Fields Ltd | Gold Mining |
| (NYSE:IAG) | IAMGold | Gold Mining |
| (NYSE:NAT) | Nordic American Tankers | Marine Transportation |
| (NYSE:GNK) | Genko Shipping | Marine Transportation |
| (NYSE:CEL) | CellCom Israel | Mobile Telecommunications |
| (NYSE:PII) | Polaris Industries | Recreational Products |
| (NASDAQ:CY) | Cypress Semiconductor | Semiconductors |
Many of these stocks have been the subjects of detailed research by various Seeking Alpha authors. This research is worth a look, as are the associated comments.
Final Thoughts
My analysis looks at the contribution to alpha over the past two weeks on the basis that drivers of the share price might be on the wane. It helps if the stocks selected have also failed to make much of a contribution over the month.
My action is to cut Monster Worldwide (MWW), Steelcase (SCS), and Gannett (GCI) from the existing portfolio. The replacements are a matter of preference, but in reviewing earnings trends, the recent decreases of the discount rate, and whether there has been unusual trading volume, my preferences are for Cypress Semiconductors (CY), CNH Global (CNH), and either Cimarex (XEC) or EPL Oil & Gas (EPL).
In terms of recovery, IAMGold (IAG) and Gold Fields (GFI) appear to be frontrunners at the moment, but I would be like to see a better trend in uptick volumes before being convinced. I would avoid Nordic American Tankers (NAT), which seems to me to have price moves in association with volume moves.
With regard to the rest of the names, I intend to put them on a watch list. Some have exhibited strong positive price trends without commensurate strong earnings revisions, but, nevertheless, their earning profiles are good. My preference is to see whether or not there is a retracement from current price levels. This applies especially to Nu Skin (NUS) and Polaris Industries (PII), which appear to be very interesting businesses.
For the record, the alpha for the revised August portfolio is as follows: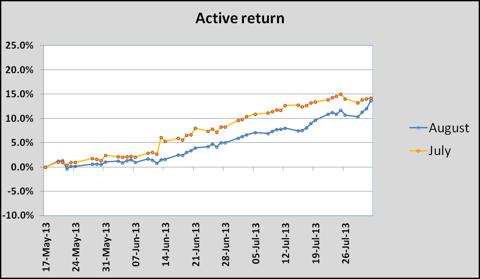 Disclosure: I have no positions in any stocks mentioned, and no plans to initiate any positions within the next 72 hours. I wrote this article myself, and it expresses my own opinions. I am not receiving compensation for it (other than from Seeking Alpha). I have no business relationship with any company whose stock is mentioned in this article.
Disclaimer: The content in this document is provided as general information only and should not be taken as investment advice. The contents in this explanatory paper shall not be construed as a recommendation to buy or sell any security or financial product, or to participate in any particular trading or investment strategy. The ideas expressed on this site are solely the opinions of the author. The author may or may not have a position in any security referenced herein. Any action that you take as a result of information or analysis on this site is ultimately your responsibility.