It has been over a month since I wrote "Is India About To Set The Silver Market On Fire?".
The premise of the previous article was that silver (NYSEARCA:SLV) (NYSEARCA:PSLV) may have found a catalyst for a major advance due to developments in India. Restrictions on purchases of gold (NYSEARCA:GLD) in India, as described in the article, have had a major impact on the volume of gold imports- at least the official numbers.
Smuggling of gold into India is experiencing a sharp rise as detailed in this Wall Street Journal article, but these numbers are impossible to know with any precision. Efforts by the Indian government to restrict smuggling are also on the rise.
With such massive gold demand unfilled, the question is: would some of the unfilled gold demand flow into silver?
It seemed that an article in the Business Standard provided the first clue that dealers were making major purchases of silver in anticipation of public demand.
The Business Standard reported the following:
While India imported 1,900 tonnes of silver in 2012, in the first five months of 2013 alone, imports have touched 2,400 tonnes.

"Silver stock with several bullion traders were getting exhausted and when prices started falling from mid-April, they booked heavily anticipating demand at lower levels as prices have been falling," said Monal Thakkar, president, Amrapali Group, a leading Ahmedabad-based bullion wholesaler. silver imports during the January-March quarter stood at 760 tonnes. Imports shot up 720 tonnes in April alone, and in May, they further swelled by 920 tonnes.
According to industry estimates, this data was compelling, and it confirmed a trend of opportunistic buying by dealers in India that reflected the purchasing patterns of commercial dealers on the COMEX.
The data provided in the Business Standard article seemed believable, because of this import data through 2012, from Thomson Reuters GFMS:
India Silver Imports

Year

Metric Tons (T)

2008

5,048

2009

1,285

2010

3,029

2011

4,087

2012

1,900
According to the Business Standard article, it appeared that the pace in silver imports in 2013 were similar to the previous record year of 2008.
Data to confirm the trend has been very limited, although there have been numerous reports of combined gold and silver imports dropping, like this Wall Street Journal article:
NEW DELHI-India's gold and silver imports in June fell 70% from the previous month following steps taken by the central bank and the federal government to curb demand, a senior government official said Friday.

India, the world's biggest gold consumer, is estimated to have imported $2.5 billion of gold and silver in June, compared with $8.4 billion of imports in May, said the official, who didn't want to be named.

The official didn't give separate figures for gold and silver. Usually, gold accounts for most of India's imports of precious metals.
The Wall Street Journal article did not separate gold and silver imports. The first available report that broke out silver imports appeared a few days ago when The Times Of India reported the following:
AHMEDABAD: Silver imports recorded a staggering 258.65% growth at 857 metric tonnes (MT) in the first four months (April-July) of 2013-14 as compared to 239 MT by July 2012.

The imports of 274.922 MT in July are the highest in last five years in the first four months of a financial year. In fact, silver imports in July 2013 are the second highest in any month in the last five years.

"Silver, unlike gold, is very erratically imported. There have been periods when silver imports have been zero. Gold imports have been consistent until last month," said Samir Mankad, director of Gujarat State Cargo Exports Ltd. He added, "Silver imports are also high due to physical inventory available to store silver."
So, the Times of India is claiming that silver imports are up to 857t for April through July of 2013 as compared to 239t in the same period in 2012. They further claim that July imports of 274.9t are the second highest of any month in the past 5 years. Mineweb posted an article with the same data, showing July imports of 274.92t.
Thomson Reuters GFMS reported India silver imports in 2011 of 4,087t, or an average of 340t per month. So, the average month of 2011 exceeded what the Times of India is reporting as a record July level of silver imports.
It seems this latest data is flawed. It will take some time for additional numbers to be released to confirm or deny the situation with silver imports in India.
In the meantime, rural incomes in India, which represent 60% gold purchases, seem poised to have another good year. Rural communities reportedly have a lack of banking facilities, and prefer investment into gold.
The 2013 bumper crop will boost available investment, as it did in 2011 as reported by Reuters:
NEW DELHI, July 25 (Reuters) - Heavy monsoon rains next week will help India's crops, especially oilseeds and cotton in the west, eight weeks, or halfway, into the wet season.

Rains have been mostly above average in major crop growing areas, meaning little chance of drought this year and raising the likelihood of higher rural incomes in the world's second most populous country - improving sales of everything from cars and gold to refrigerators.
Keep an eye on the big picture: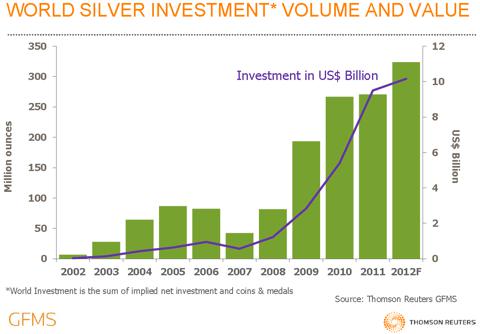 Silver has now been trending down in price for over 2 years, but the overwhelming demand trend is undeniable. Global investment into silver has surged over the past 10 years, and the trend remains robust despite a surging stock market and fear of tightening of Federal Reserve Bank policy. The final missing component is the hot-money flows of hedge fund managers, and they may find it difficult to buy into the next advance without driving the price up substantially, as the physical market has tightened considerably.
Demand for silver coins in the U.S. remains torrid; at a record pace. The U.S. Mint reported Silver Eagle sales of 4,406,500 ounces as of July 29, 2013, the fifth highest monthly total ever. The previous record demand year for Silver Eagles was 2011, yet 4 million ounces was exceeded only twice that year (6,422,000 in January and 4,460,500 in September). The banking crisis of 2008 ignited silver demand by the public and investor interest has continued to increase since.
Elsewhere in the world, physical demand trends remain positive:
Singapore is a becoming an important hub for precious metal trading and storage. Here is another recent development, as reported by Reuters:
(Reuters) - Precious metals storage firm Malca-Amit will open a new facility in Singapore this week that can hold up to 200 tonnes of silver, and plans to add more capacity to meet growing demand for the metal in Asia.

"Our core business is gold. But in order to accommodate the growing demand for silver, we decided to open this dedicated depository," Joshua Rotbart, general manager at Malca-Amit's precious metals business, told Reuters.

The company is also looking to open a silver-storage facility in Hong Kong to meet demand from individual clients and bullion dealers, Rotbart said.
Even silver ETF demand has remained resilient with a recent jump in holdings, as reported by Reuters:
NEW YORK, July 25 (Reuters) - The world's largest silver-backed exchange-traded fund iShares Silver Trust posted its biggest one-day jump in holdings since January as a rebound in silver prices triggered resurgent buying from longer-term retail investors, analysts said on Thursday.

The tonnage of silver bullion bars held by the U.S. silver ETF increased 144 tonnes, or 1.4 percent, on Wednesday to 10,428 tonnes, a two-month high. Despite a rebound in gold prices in the past 30 days, total tonnage of gold in ETFs continued to fall and remained at its lowest level since February 2011.
Conclusion
It is still too early to tell whether India's restrictions on gold purchases are going to have a major, lasting impact on the silver market. Early data is conflicting.
While silver has now been falling in price for over 2 years, sentiment from the hot-money hedge fund crowd has turned to stone. Hedge fund investment in silver has fallen to ten-year lows, as measured by the COT reports. Paradoxically, these periods of intense negative sentiment have proven to be the best entry points in silver, and gold also.
There is one final development, however, that may be required for silver to shake of the current malaise. The market is dominated by the massive hedge fund industry and many of the funds are trend-following by nature. This is where technical analysis helps. A long downtrend typically bottoms one of two ways: a heavy-volume, volatile flush out, or a longer base-building period, followed by a higher volume breakout. I expected the heavy-volume flush out in silver as it broke below 20, but that never materialized.
I now expect a base-building period between $18 and $26 on silver futures, which will set the stage for a powerful breakout in the future. The $18 level appears to be good support corroborated by commercial buying in the COT and reports of diminished mining activity.
I have adjusted my position accordingly, and have accumulated long-dated options, and I am selling nearer dated out-of-the-money calls (covered calls) to generate some income during this waiting period for the eventual breakout. When silver demonstrates that the real move is on, most likely signaled by a heavy volume advance, I will discontinue selling out-of-the-money calls.
Note the price action from 2008 to 2010 in the graph below- a quiet bottom followed by a long approach to the prior high near 20. This is roughly what appears to be happening now- a quiet period of disinterest that sets the stage for the future breakout: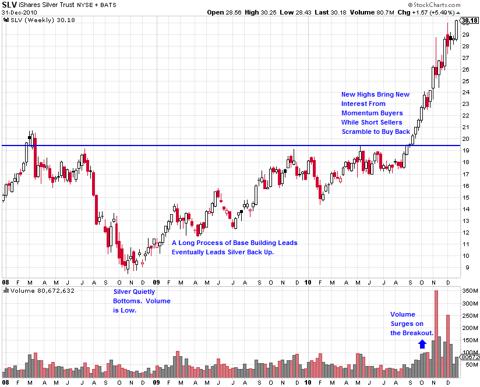 Disclosure: I am long SLV. I wrote this article myself, and it expresses my own opinions. I am not receiving compensation for it (other than from Seeking Alpha). I have no business relationship with any company whose stock is mentioned in this article.
Additional disclosure: Long Silver Futures