Proprietary technology versus commodities, this is the issue that Dupont (NYSE:DD) faces right now. The proprietary technology business line includes all the enzymes and agriculture products the company produces. The commodity side of the business includes paints. As we all know, growth companies are companies that have proprietary technology and see their stock price appreciate over time until competing technology has caught up while commodity companies compete on pricing and have stock prices that increase only when the macroeconomic cycles are strong. The problem that Dupont faces is that it has both and on its earnings call the CEO stated that she was looking for strategic alternatives for the commodities side of the business because it is anchoring down the rest of the company. With these things in mind, I'd like to take a fundamental, financial and technical look at the stock right now to determine if it is worth picking up some additional shares.
Fundamentals
Dupont currently trades at a trailing 12-month P/E ratio of 23.31, which is fairly priced, but I mainly like to purchase a stock based on where the company is going in the future as opposed to what it has done in the past. On that note, the 1-year forward-looking P/E ratio of 13.76 is currently inexpensively priced as well for the future in terms of the right here, right now. Next year's estimated earnings are $4.30/share and I'd consider the stock cheap until at least $64.50. The PEG ratio (3.01), which measures the ratio of the price you're currently paying for the trailing 12-month earnings on the stock while dividing it by the earnings growth of the company for a specified amount of time (I like looking at a 5-year horizon), tells me that Dupont is expensively priced based on a 5-year EPS growth rate of 7.73%.
Financials
On a financial basis the things I look for are the dividend payouts, return on assets, equity and investment. Dupont boasts a dividend of 3.05% with a payout ratio of 36% while sporting return on assets, equity and investment values of 8.9%, 39.5% and 11.5%, respectively; which are all respectable values. The really high return on equity value (39.5%) is an important financial metric for purposes of comparing the profitability, which is generated with the money shareholders have invested in the company to that of other companies in the same industry. In addition to a high return on equity if maybe you feel the market will retract a little more and would like a safety play then the 3.05% yield of this company is definitely good enough for you to take shelter in for the time being.
Technicals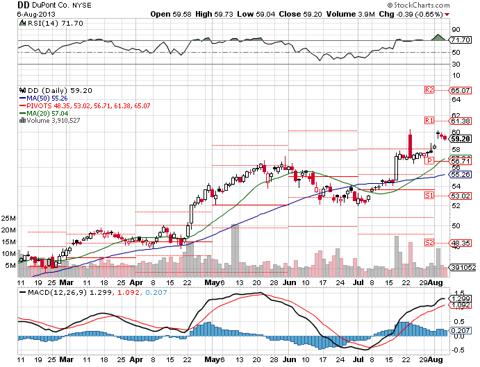 Looking first at the relative strength index chart [RSI] at the top, I see the stock muddling around in overbought territory with a value of 71.7 and with downward trajectory, which is a bearish pattern. To confirm that, I will look at the moving average convergence-divergence (MACD) chart next and see that the black line is above the red line with the divergence bars decreasing in height, indicating the stock has downward momentum. As for the stock price itself ($59.20), I'm looking at $61.38 to act as resistance and the 20-day moving average to act as support for a risk/reward ratio of 1 to 1.
Recent News
Dupont finally closed a deal to buy an 80% stake in the South African company Pannar Seed which Dupont says will greatly expand its access to new markets and help it boos research efforts and see availability for farmers in Africa. This is extremely positive news as Africa is more than likely the next frontier for investing.
Dupont declared a $0.45 per share dividend payable on 12Sep13 with an ex-date of 13Aug13.
Agriculture sales jumped 7% during the second quarter and helped offset the 9% decline seen in the Performance Chemicals division and this statistic may be the straw that broke the camel's back to be able to split off the Performance Chemicals division from the rest of the company.
Dupont reported earnings on the morning of 23Jul13 beating EPS estimates by a penny but missing revenue estimates by $0.11 billion.
Conclusion
Dupont is inexpensively valued based on future earnings but expensively priced based on future growth prospects (5-year outlook). But as I continue to learn at work, forecasting beyond one year with any real accuracy is very tricky (and very much a crapshoot) and I'm beginning to forgo the five-year earnings estimates and looking at the one-year estimates from now on. If I look at a PEG ratio for the one year earnings estimate I get a value of 1.79 which is attractive on 13.03% projected earnings increase for the coming year. Financially, the payout ratio is low and has a high return on equity. The technical situation of how the stock is currently trading is what is telling me that it can trade a bit lower for now as the stock is in overbought territory. There was much optimism about the Nelson Peltz news in that he has been amassing a large stake in the company which made the stock jump 5% that day alone and was the catalyst to propelling the stock to overbought territory. I'm going to buy a small batch in the stock for now and wait for the Nelson Peltz phenomena to fade before I begin to purchase a big lot of the stock.
Disclaimer: These are only my personal opinions and you should do your own homework. Only you are responsible for what you trade and happy investing!
Disclosure: I am long DD. I wrote this article myself, and it expresses my own opinions. I am not receiving compensation for it (other than from Seeking Alpha). I have no business relationship with any company whose stock is mentioned in this article.