I wrote a posting a couple of weeks ago looking at the rationale for gold investment and also considering some North American listed heavyweights like Newmont (NYSE:NEM) and Goldcorp (NYSE:GG). I concluded that I wanted to invest in gold equities but neither of these two names convinced me sufficiently.
Randgold Resources (NASDAQ:GOLD) has just published its Q2 2013 numbers. What can we learn from them?
First, there is correlation with the gold price, unsurprisingly. The business of the company is selling gold mined and processed at their operations and the combination of a 15% drop in the gold price and some unsold gold sitting at their mines pushed gold sales down 27% year-on-year.
Second, Randgold did have some success in controlling costs which were 7% lower quarter-on-quarter and flat year-on-year. The company typically only builds/develops mines if they are viable.
Third, the company continued to fulfill some of the preferred characteristics of gold companies, namely pushing production forward (5% increase H1 13 versus H1 12) and doing so at a competitive cost level to allow it to generate profits and cash flow from a control of the group total cash cost (average of $818/ounce during H1 13).


These statistics though do not capture the full opportunity that Randgold represents. We need to take a step back to a presentation the Randgold management gave in July. First, let's consider their asset footprint in Africa where they mine gold.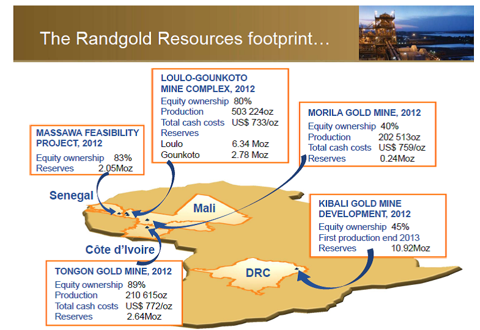 Click to enlarge
This chart shows two interesting aspects. First the company is a strong believer in joint ventures with local partners, who are usually the government. This is why they do not own 100% of any of their mines. However, by retaining operational control while fostering community relations via employment and home building programmes, the company has an attractive set-up. The company appears popular with governments in the region because of these attributes. This is very important in a region which has seen civil strife and political uncertainty (at this point it is also worth noting that such issues in Cote d'Ivoire in 2011-2 and Mali in 2012-3 did not see the Randgold mines miss a single day's production).
Second, note the large relative size of the Kibali mine in the DRC. Even adjusting for other proportional interests, on a reserve basis this is a huge mine which Randgold expect to pour gold from later on in 2013. This will be a seminal moment for the company and augments an already strong asset base.
I believe quality is the key differentiator for Randgold. The gold mining industry has struggled over recent years to keep grade (the amount of gold per tonne of earth) levels up. As shown in the chart below, the industry in aggregate is failing to do this. Falling grade helps explain why so many gold companies are struggling with rising cash costs, struggling to boost production and having to write down assets.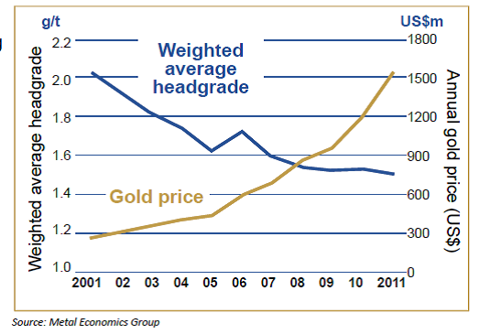 Click to enlarge
Randgold stands out in this regard with only a few global larger cap peers like Polymetal (OTC:POYYF) about to look them in the face. As the chart below shows, despite significantly building up the reserve assets the group has, Randgold has not traded off on the grade level. This is testimony to the quality of their asset book, in particularly the upcoming mine at Kibali and the Gounkoto mine complex (which is already in production).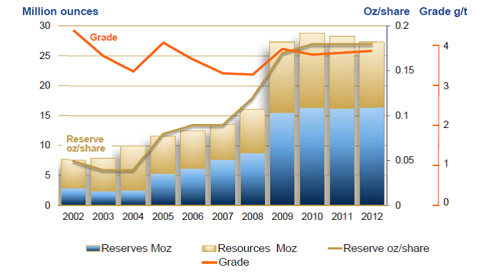 Click to enlarge
Putting this all together, with the help of Kibali, the company breaks 1m ounces of gold next year. Growth continues beyond that, as shown below, at much higher than industry peer grade levels (3g/tonne). This is good for profitability and cash cost control even if the gold price remains under pressure. Additionally, we have not even talked about potential new finds in acreage they own around their current mines in Mali, Cote d'Ivoire and the DRC.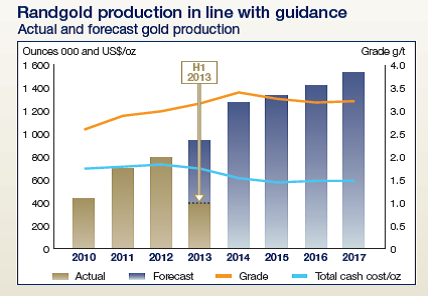 Finally, what about the balance sheet? Unlike certain other large cap gold companies, Randgold retains net cash on the balance sheet despite going through large capital expenditures to get the Kibali mine on the cusp of production. This is a solid position to be in. The company currently pays a small dividend (0.7%) and clearly via high grade, control of costs and production increases with - of course - a stabilisation or recovery in the gold price, a strong capability to generate significant further cash flow going forward.
Of course there are challenges - politics are rarely super smooth in Africa, the company does continue to have some issues around electricity/energy provision to one of its mines and ultimately they do not have any control over the gold price. In my opinion the positives significantly outweigh the negatives.
Randgold shares are sitting at/around three year lows which is the norm for much of the gold industry. I think that Randgold's share price performance versus most of the other large gold companies should start to positively differentiate from here.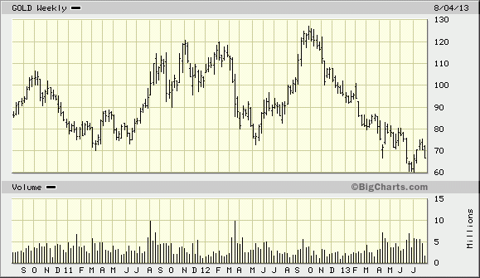 Click to enlarge
Disclosure: I am long GOLD. I wrote this article myself, and it expresses my own opinions. I am not receiving compensation for it. I have no business relationship with any company whose stock is mentioned in this article.
Additional disclosure: (To be precise I am long the London listed Randgold Resources stock.)