\Last week's close in US equity markets was particularly interesting: an initial reaction to the headline non-farm payrolls number sent prices lower, and this activity was followed by a gradual correction higher. Prices in the S&P 500 closed above 1700 and we still have yet to see material pullbacks from these elevated valuations. There are a few different explanations for why this might have occurred. Given the weight of the generalized non farm payrolls report, market reactions are often extreme but short-lived and when more minor details in the report become apparent, the initial moves often correct themselves.
Something similar happened last week as the headline NFP showed employment gains of 162,000 for July (below the consensus of 188,000 for the month). But this immediate negative was balanced to some extent by the slight improvements to the US unemployment rate, which declined to 7.4%. By the end of the trading session, valuations in the SPDR S&P 500 Trust ETF (NYSEARCA:SPY) were relatively unchanged and the closing prices held within striking distance of its all-time highs. But is this relatively optimistic view warranted? When we dig deeper into the details, this does not seem to be the case.
Questionable Quality Improvements
The biggest problem with the July jobs data are the type of monthly additions shown in the Bureau of Labor Statistics report. Jobs in food services and retail accounted for more than 50% of the additions - jobs which typically come with low wages and shorter work weeks. When trends like these are in place, it is much more likely that job-seekers with higher education levels are being forced to settle for positions that do not match their skills, and makes it more difficult for those with significant debt levels (the cost of supportive higher education) to repay those debts. Given the fact that most of the non farm payrolls reports are starting to show similar trends, it is not surprising to see that the portion of labor force workers that are part of the 25 to 54 demographic has dropped by 3.5% in the last 10 years.
Average hourly wages in the last year have shown a rise of 1.9% since the end of the 2009 financial crisis. All of this points to a much more alarming employment scenario than markets are pricing-in: Job additions are lower in quality, rising income levels are better described as stalling, and the work-week itself. Moreover, the NFP numbers for both May and June were revised lower, which means that 26,000 fewer jobs were actually created during that period. But if we look at the performance on the S&P 500 into the end of last week, it would appear that most of these troublesome details are being ignored.
On the positive side, corporate earnings have been supportive. Roughly 74% of the 393 reporting companies have beaten analyst estimates, and this does add to the bullish argument for US stock benchmarks. But this is largely a result of relatively weak analyst expectations longer term - more caution is warranted than is currently apparent in the market. Even with the most aggressively constructed projections, it is unlikely the US labor market will return to full strength until 2017. If these estimates are inaccurate in terms of the actual outcomes in birthrates, immigration numbers and the aging progression of the population, we might not see this happen before the end of the decade. Situations like these should be more of a concern for longer term investors, but even for those invested in the SPDR S&P 500 Trust ETF on a short term time horizon, buy on dips strategies are much preferred over momentum driven bullish events.
SPY Chart Perspective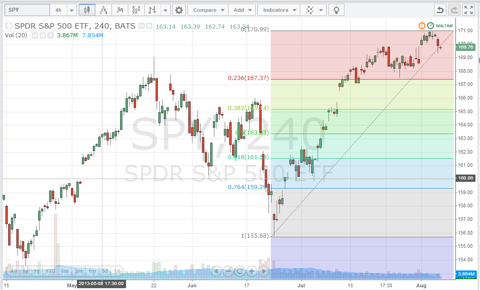 The SPDR S&P 500 Trust ETF is starting to show signs of rolling over at elevated levels, and the next important support level to the downside can be seen at 167.60. Those looking beyond short-term time horizons, however, should avoid buying until much stronger support at 165.25 is tested, as this is the 38.2% Fib retracement of the rally starting in June, as well as a gapping breakout level.
Disclosure: I have no positions in any stocks mentioned, and no plans to initiate any positions within the next 72 hours. I wrote this article myself, and it expresses my own opinions. I am not receiving compensation for it (other than from Seeking Alpha). I have no business relationship with any company whose stock is mentioned in this article.