This article supplements my preliminary review of 2Q13 results and trailing twelve months ("TTM") results recently reported by El Paso Pipeline Partners, L.P. (NYSE:EPB). I now evaluate the sustainability of EPB's Distributable Cash Flow ("DCF"), and assess whether EPB is financing its distributions via issuance of new units or debt. The task is not easy because the definitions of DCF and "Adjusted EBITDA," the primary measures typically used by master limited partnerships ("MLPs") to evaluate their operating results, are complex. In addition, each MLP may define these terms differently, and some (such as EPB) use other measures altogether. This makes comparison across MLPs very difficult. An article titled "Distributable Cash Flow" present EPB's definition and also provide definitions used by other MLPs.
Estimating sustainable DCF is an exercise that must be undertaken in conjunction with evaluating an MLP's growth prospects. Sustainable distributions coverage provides some protection in a downside scenario. When faced with such a scenario, MLPs that cannot maintain their distributions, or are totally reliant on debt and equity to finance growth capital, are likely to suffer significantly greater price deterioration.
EPB owns Wyoming Interstate Company, L.L.C. ("WIC"), Southern LNG Company, L.L.C. ("SLNG"), Elba Express Company, L.L.C. ("Elba Express"), Southern Natural Gas Company, L.L.C. ("SNG"), Colorado Interstate Gas Company, L.L.C. ("CIG") and Cheyenne Plains Investment Company, L.L.C. ("CPI"), which owns Cheyenne Plains Gas Pipeline Company, L.L.C. ("CPG").
On May 24, 2012 EPB and EPB's parent, El Paso Corporation, were acquired by Kinder Morgan, Inc. (NYSE:KMI). As part of that transaction, EPB acquired the remaining 14% interest in CIG that it did not previously own, and all of CPI and CPG. EPB's financial statements now fully consolidate CPG. Retrospective adjustments were made to prior periods to reflect this CPG consolidation.
EPB's term for earnings before depreciation and amortization ("EBDA") is "Earnings before DD&A and certain items". EBDA and DCF reported by EPB for the periods under review are summarized in Table 1 below. Given quarterly fluctuations in revenues, working capital needs and other items, a review of TTM numbers tends to be more meaningful than quarterly numbers for the purpose of analyzing changes in reported and sustainable distributable cash flows. However, I present both:

Table 1: Figures in $ Millions, except per unit amounts
Using EPB's definition, DCF per unit for the TTM ending 6/30/13 was $2.84, up from $2.44 for the TTM ending 6/30/12. In 2Q13, DCF per unit decreased to $0.60 from $0.65 in 2Q12, primarily due to higher incentive distribution rights ("IDRs") payments made to Kinder Morgan Inc., the general partner of EPB. In the TTM ending 6/30/13, contributions from the acquisition of CPG, higher revenue due to SNG's Phase III of the South System III expansion project placed in service in June 2012, and the Elba Express Phase B Expansion project placed in service in April 2013 more than offset the higher IDR payments, resulting in an increase in DCF vs. the prior year period. A reduction in maintenance capital expenditures (to $45 million in the TTM ending 6/30/13 from $74 million in the prior year period) also contributed to the increase. Whether the lower levels of maintenance capital expenditure level are sufficient is an open question.
As always, I attempt to assess how the reported DCF figures compare with what I call sustainable DCF for these periods and whether distributions were funded by additional debt or issuing additional units. Given quarterly fluctuations in revenues, working capital needs and other items, it makes sense to review TTM numbers rather than just the quarterly numbers for the purpose of analyzing changes in reported and sustainable distributable cash flows.
The generic reasons why DCF as reported by an MLP may differ from sustainable DCF are reviewed in an article titled Estimating Sustainable DCF-Why and How. Applying the method described there to EPB's results with respect to sustainable cash flowing to the limited partners generates the comparison outlined in Table 2 below: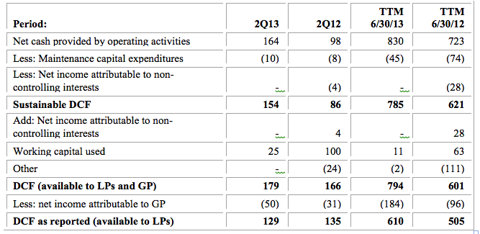 Table 2: Figures in $ Millions
The major differences between reported and sustainable DCF in 2Q13 and the TTM ending 6/30/13 are attributable to working capital changes. Under EPB's definition, reported DCF always excludes working capital changes, whether positive or negative. In contrast, as detailed in my prior articles, in deriving sustainable DCF, I generally do not add back working capital used but, on the other hand, I exclude working capital generated. Despite appearing to be inconsistent, this makes sense because in order to meet my definition of sustainability, the master limited partnerships should, on the one hand, generate enough capital to cover normal working capital needs. On the other hand, cash generated from working capital is not a sustainable source and I therefore ignore it. Over reasonably lengthy measurement periods, working capital generated tends to be offset by needs to invest in working capital. I therefore do not add working capital consumed to net cash provided by operating activities in deriving sustainable DCF.
Distributions, reported DCF, sustainable DCF and the resultant coverage ratios are shown in Table 3 below. Note that the coverage ratio I calculate compares total DCF to total distributions to all unitholders (including the general partner). DCF as reported by EPB consists of cash it calculates as being available for distribution to limited partners only (i.e., after distributions made to the general partner are deducted). The comparison of reported vs. sustainable coverage shown below therefore includes the reported number had it been calculated pre-distribution to the general partner.
Table 4 below presents a simplified cash flow statement that nets certain items (e.g., acquisitions against dispositions, debt incurred vs. repaid) and separates cash generation from cash consumption in order to get a clear picture of how distributions have been funded:
Simplified Sources and Uses of Funds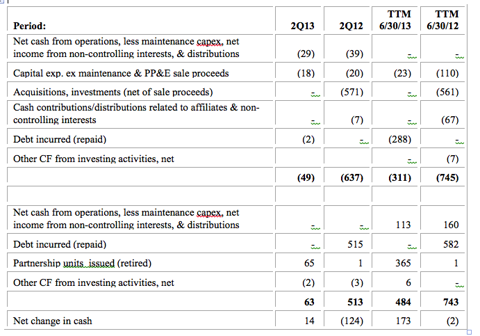 Table 4: Figures in $ Millions
Net cash from operations, less maintenance capital expenditures, less cash related to net income attributable to non-partners exceeded distributions by $113 million in the TTM ending 6/30/13 and by $160 million in the prior-year period. On a TTM basis, EPB is not using cash raised from issuance of debt and equity to fund distributions. It did so in both 2Q13 and 2Q12; but as previously mentioned, I believe TTM numbers are a better indicator than quarterly numbers.
Table 5 below compares EPB's current yield to some of the other MLPs I follow:
| | | | |
| --- | --- | --- | --- |
| | | Quarterly | |
| As of: 08/06/2013 | Price | Distribution | Yield |
| Magellan Midstream Partners (NYSE:MMP) | $56.00 | $0.53250 | 3.80% |
| Enterprise Products Partners (NYSE:EPD) | $62.46 | $0.67000 | 4.29% |
| Plains All American Pipeline (NYSE:PAA) | $54.53 | $0.58750 | 4.31% |
| Targa Resources Partners (NYSE:NGLS) | $50.94 | $0.69750 | 5.48% |
| El Paso Pipeline Partners | $42.42 | $0.63000 | 5.94% |
| Buckeye Partners (NYSE:BPL) | $71.89 | $1.06250 | 5.91% |
| Kinder Morgan Energy Partners (NYSE:KMP) | $83.36 | $1.32000 | 6.33% |
| Regency Energy Partners (NYSE:RGP) | $28.17 | $0.46500 | 6.60% |
| Williams Partners (NYSE:WPZ) | $50.45 | $0.86250 | 6.84% |
| Energy Transfer Partners (NYSE:ETP) | $51.35 | $0.89375 | 6.96% |
| Boardwalk Pipeline Partners (NYSE:BWP) | $30.30 | $0.53250 | 7.03% |
| Suburban Propane Partners (NYSE:SPH) | $48.10 | $0.87500 | 7.28% |
Table 5
In April 2013, management stated EPB is expected to purchase KMI's 50% interest in Gulf LNG Energy, LLC ("GLNG") in 3Q13. Analysts have estimated a $750 million purchase price for this asset. In a move that I find surprising, KMI recently elected to postpone the drop down of GLNG "until there is more clarity regarding a potential GLNG export expansion project." Although EPB still expects to distribute $2.55 per unit for 2013, its excess cash coverage for 2013 is expected to be lower than its budget of $25 million as a result of KMI's decision. It was also disclosed that KMI has not determined to which MLP (KMP or EPB) it may offer its remaining potential drop-down assets. So it appears uncertain to what extent, if at all, EPB will have a stake in this asset.
This highlights the conflict issue investors should think about when several MLPs share the same general partner. KMI has a fiduciary duty to act in the best interest of both EPB and KMP. This is almost impossible to achieve in a situation where both MLPs vie for the same assets. In addition, there is always a concern regarding the pricing of such related-party transactions because a higher price is advantageous for KMI but disadvantageous for its MLPs.
Absent GLNG, there seems to be only one other major growth capital opportunity, but it will take a while to develop. In January 2013, EPB and a subsidiary of Royal Dutch Shell plc formed Elba Liquefaction Company ("ELC") which is owned 51% and 49%, respectively, and that will develop and own a liquefied natural gas ("LNG") plant at SLNG's existing Elba Island LNG terminal. SLNG has received DOE authorization to export the produced LNG to FTA countries and has applied for non-FTA approval. Phase I of this project is estimated to cost $850 million; it will have capacity of approximately 210 MMcf/d (1.5 million tons per year) and requires no additional Department of Energy approval. Once the project is finalized, Shell will subscribe to 100% of the liquefaction capacity and EPB will modify its pipeline and LNG terminal to physically transport natural gas to the terminal and to load the LNG onto ships for export. EPB expects to file a project application with the Federal Energy Regulatory Commission during 2014. It is probably premature to provide an estimate of the in-service date.
Coverage ratios, while still solid, are being reduced as cash distributions have grown faster than cash generation. Distribution growth in 2013 is expected to be 13% but prospects for continued growth beyond 2013 are uncertain.
Disclosure: I am long EPB, EPD, ETP, PAA, WPZ, SPH. I wrote this article myself, and it expresses my own opinions. I am not receiving compensation for it (other than from Seeking Alpha). I have no business relationship with any company whose stock is mentioned in this article.