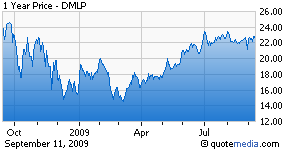 Buy-recommended Dorchester Minerals (NASDAQ:DMLP) offers unlevered appreciation potential of 22% to a McDep Ratio of 1.0 where stock price would equal Net Present Value (NPV) of $27 a share. On July 14 we reduced NPV from $32 when we reduced estimated Present Value of North American Natural Gas by 20%. Available on the Securities and Exchange Commission website by August 10, second quarter results exceeded our estimate for unlevered cash flow (Ebitda) from two months ago.
A steep geographic discount for inland natural gas narrowed, thankfully. Rebounding Ebitda supports rebounding distribution in the first half of 2010 in our projections. When we adjust volume growth for distributions paid, we see that little-known DMLP is performing competitively with our five buy-recommended large cap North American natural gas independent producers.
We also adjust volume to include amounts from a Minerals Net Profits Interest (NPI). Currently accounting for about 7% of natural gas and 5% of oil, the Minerals NPI holds recently developed properties such as those in the rapidly growing Fayetteville Shale. Recently acquired properties in the Barnett Shale are likely to be profitable considering management's conservative style and favorable performance. Reaccelerating activity in the Bakken Shale of North Dakota may add more to the Minerals NPI backlog.
Originally published on August 11, 2009.