By Bryan McCormick
U.S. stock index futures are lower by nearly a percent Monday morning after weak trading in Asia, except for mainland China, and a similarly down session in Eurozone and U.K. markets.

The weakness is being attributed to fears of a possible trade war between the United States and China after a U.S. action imposing tariffs on Chinese-made tires. China has accused the U.S. government of "rampant protectionism," according to the Financial Times.
It is also possible that, ahead of President Obama's speech on financial industry reforms, domestic markets may pause. We are, however, at the end of a long string of market gains and near year-end targets among sell-side analysts for the S&P 500, which may be reason enough for consolidation.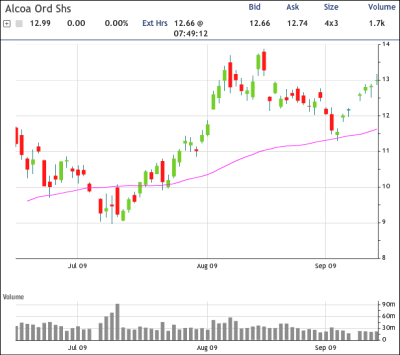 The sell side continues to be largely positive in outlook this morning, with price target raises on some major names. There is one "stealth" downgrade to note, an initiation of coverage of Alcoa (NYSE:AA) at HSBC with an $11 price target, well below where the stock closed Friday. Jefferies also cut Allegheny Energy (AYE) to a "hold" rating.

Thomas Weisel has been active in retail names Monday morning, raising targets on Coach (NYSE:COH) to $38, Kohl's (NYSE:KSS) to $69, Polo Ralph Lauren (NYSE:RL) to $73, and Macy's (NYSE:M) to $21.These are quite large boosts away from closing prices as of Friday.

Deutsche Bank bumped United Technologies (NYSE:UTX) to $69, which could be a positive factor for the Dow Industrial Average Modnay. Barclays raised its target on Campbell Soup (NYSE:CPB) to $35.

In earnings there are just a handful of companies reporting, only two of which we are mentioning here. S&P 500 component Pall (NYSE:PLL) reports after the market closes today, while one notable non-S&P name announcing today is Peerless Manufacturing (NASDAQ:PMFG).

A higher NYBOT U.S. Dollar Index is putting some pressure on commodity pricing, and crude and industrial metals trading lower as a result. All pairs in the basket are weaker against the dollar at the time of this writing.

It should be noted that there have been multiple days in which the pre-market conditions in currency have reversed in the course of regular trading, making certain relationships less reliable. That said, lower commodity prices generally still result in negative affects on producer nations such as Australia, Brazil, and Canada.

The S&P Select Materials SPDR (NYSEARCA:XLB) and Energy Select Sector SPDR (NYSEARCA:XLE), along with the underlying of each exchange-traded fund, may be active to the downside at the outset as long as the stronger-dollar/lower-commodity price conditions continue. The iShares MSCI Australia Index Fund (NYSEARCA:EWA), MSCI Brazil Index (NYSEARCA:EWZ), iShares MSCI Canada Index Fund (NYSEARCA:EWC), and the components of each ETF may also underperform in the weaker commodity environment. Foreign stocks tend to underperform on adverse currency translation when the dollar is stronger.

(Chart courtesy of tradeMONSTER)