By Eric Wesoff
SunPower's (SPWRA) Doug Rose, the senior director of technology strategy, presented at the Silicon Valley PV Society last week in a talk titled, "Technology and Economics of High Efficiency c-Si PV." Of course, the thrust of the talk was the strength of SunPower's high-efficiency solar cells and panels, and the impact of efficiency on the cost and payback of a solar system.
The high efficiency of SunPower's solar cell stems in most part from its back-contact technology – a technology pioneered by founder Dick Swanson in the early 1980s at Stanford with low-cost manufacturing breakthroughs in 2001. The back contact design avoids gridlines on the front of the cell so there's no metal obscuring the cell and therefore more light gets converted to power. According to Rose, other design advantages are gained from the back-contact architecture – it allows better optimization of the front surface through texturing, an optimized backside mirror, localized contacts, and obviously backside gridlines.
The all back-contact cells allow SunPower to get to median production efficiency of 22 percent at the cell level. And while they're at it – cell thicknesses in the 150 micron range at about 6 grams of silicon per watt.
Rose raised the question: "How can high efficiency cells be cost effective? You're not using the same platform as everyone else." The response was: "Sunpower spends a little more in cell processing to deliver savings across the value chain."
That's the value proposition of high efficiency cells. The cells are more expensive but cost savings are realized all down the line.
So how much exactly is this "efficiency bonus?"
According to research performed by crack Greentech Research analyst Shyam Mehta – gains in efficiency drive cost reductions at all steps of manufacturing on a $/W basis, from feedstock cost to module conversion – a 1 percent improvement in efficiency leads to a 5 percent to 7 percent decrease in fully loaded module cost. (Shyam's most recent report is on PV Manufacturing in the US and can be found here). His efficiency thesis is charted below:
click to enlarge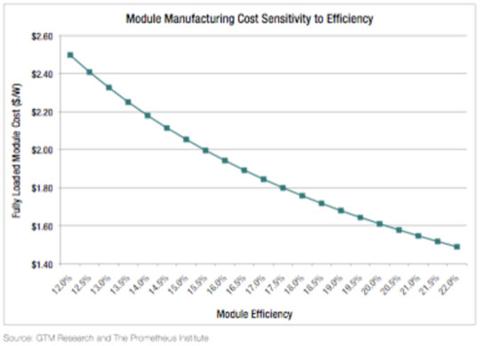 In a solar market where prices are plunging, margins are crumbling and market consolidation is on the horizon – how much of a premium can SunPower command for its high-end product? A banker friend believes the dollar per watt premium is only 10 percent to 20 percent over conventional silicon or thin film PV. With SunPower at a less than $2 per Watt module price in the fourth quarter of 2009 and some c-Si vendors below $1.50 per Watt – can SunPower command a 35 percent premium?
SunPower believes it can. My banker friend says no.
Here are some of the benefits of higher efficiency:
Lower area-related costs
Reduced installation costs
Reduced shipping costs
Reduced Balance of Plant (BOP) costs
Optimized for area constrained roofs or sites
SunPower's product has a better temperature coefficient, tighter distribution and better low-light performance
All factors resulting in a lower LCOE.
A Very Few Words on LCOE
A simplified formula for Levelized Cost of Energy (LCOE) is:
LCOE = Panel cost + BoP cost + O&M costs / Sunlight collection * Conversion efficiency
But, unfortunately it's not really that simple. SunPower has detailed calculations and displayed the many factors influencing LCOE in its presentation. NREL has its own byzantine formula for LCOE.
An accurate measure of LCOE will have to include:
Initial investment
Depreciation tax
Annual costs
System residual value
System energy production
And LCOE calculations have a very high sensitivity to certain input variables such as:
Annual panel degradation
Differences in annual discount rate / cost of capital
System life (inverter replacement, etc.)
Annual O&M
The major contributors to LCOE are:
Capital costs
Modiule $/W
Area related BPS
Electrical BPS
Project related costs
"If someone says the LCOE of my technology is x cents per kilowatt-hour, it still doesn't tell you a lot," said Rose.
Differentiation and Branding in a Commodifying Market
A healthy cost structure, a good balance sheet, and the right level of vertical integration are what will distinguish winners from losers in the coming solar shakeout. Differentiation is going to help as well. And SunPower has that technical differentiation by virtue of the highest efficiency commercial solar product – a 22 percent median efficiency in 2006 looking for over 23 percent in its Gen3 cells. Combined with itss one-axis trackers which increase capacity factor by about 30 percent to match energy production with summer load, an important point for utilities – SunPower has some of the crucial ingredients for survival in the demand-constrained solar landscape.
Of further interest in the differentiation department is SunPower's recent plunge into consumer branding of its panels. Ride a bus in San Francsisco and you'll see a SunPower-branding consumer ad campaign.
Three questions for our readers:
Do consumers care which brand of solar panel they're buying?
What is the real value, the real premium for high efficiency?
And contrarily – what is the penalty for low efficiency? Where does 6 percent to 8 percent efficient a-Si or OSC fit into the solar landscape? Or does it?
We welcome your thoughts.