By Ivan Y.
As gold continues to struggle to surpass the $1,350 resistance area, investors can take solace in the fact that September is just around the corner. Beginning this September and for the next few months after, there are some potential catalysts that could take the price of gold back to $1,500 or higher.
Diwali
Diwali, the festival of lights, celebrates the beginning of the Hindu New Year. It is one of several festivals in India from October to December, which is considered to be India's main festival period. In 2012, 261.9 tonnes (or about 9.24 million ounces) of gold were purchased by Indians during this time. It is traditional for Indians to buy gold for special days like festivals and weddings. This year Diwali begins on November 3rd and goes on for the usual five days. Demand for gold usually peaks around the time of Diwali. Due to restrictions on gold imports by the government this year, the supply will be lower, which means that premiums will be higher. However, even with higher premiums, the price for gold products should still be significantly cheaper this year considering that the spot price for gold is about $400 cheaper now than it was during Diwali in 2012.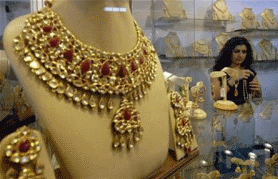 Debt Ceiling
Technically, the U.S. has already exceeded its $16.7 trillion debt ceiling. However, it is not expected to reach the borrowing limit until September according to U.S. Treasury Secretary Jack Lew. Therefore, the debt ceiling will have to be raised soon or the U.S. will risk default. Do you remember what happened to the price of gold during the debt ceiling debate in the summer of 2011? In the five weeks leading up to the passing of the debt ceiling bill on August 2, 2011, gold shot up by about $150. A few days later, S&P downgraded U.S. debt. And gold continued to go higher for another couple of weeks afterwards.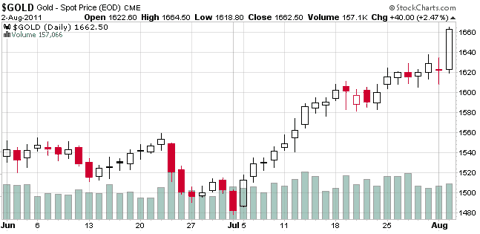 Click to enlarge
For 2013, the actual date when the U.S. can't borrow anymore is still unknown. However, the closer we get to that date without a deal between the Democrats and Republicans, the better it is for gold.
QE Tapering
Tapering of the $85 billion per month QE program will begin eventually. Some believe that it will begin at the Fed's September meeting and the cut could be about $20 billion per month. However, there are reasons to believe that the Fed will not begin tapering in September. First, Bernanke will be replaced in January 2014. Given that he will serve as the chairman for only four more months after the September meeting, he may leave an important decision like this to the next Fed chairman to make the decision. Second, July's jobs report does not support the idea that the employment picture is getting better. Not only did the amount of jobs created miss expectations by at least 20,000, but the jobs created from May and June were also revised downward. Further, many of the jobs created were low-paying jobs in "food services and drinking places."
The price of gold is down almost $500 since last September when QE3 was announced, so some may say that if tapering is delayed and QE is extended beyond mid-2014 that it will not benefit gold. However, if you look at the bigger picture, QE overall has provided a big boost to the price of gold even without price inflation. QE didn't begin last September. The first phase of QE began in December 2008. At that time, gold was trading below $850. Even with the huge sell-off this year, gold is still up over 50% since the beginning of QE.
Janet Yellen
The two most likely candidates to replace Bernanke next January are Janet Yellen, currently on the board of the Fed, and former Secretary of the Treasury Larry Summers. Of the two, Yellen is seen as the candidate who favors QE more, and thus would be more likely to delay the eventual end of QE, assuming that it does end.
Yellen is seen as being in the same vein as Bernanke and thus a continuation of monetary stimulus for longer ... Summers is a bit of an unknown monetary policy-wise for the market, increasing the risk that he may be more hawkish than the Bernanke/Yellen camp. (Anthony Cronin, Societe Generale)
Obama is expected to make his decision this Fall. If the choice is Yellen, then the expectation will be for easier monetary policy and the likelihood that QE will be extended longer past 2014. An easy monetary policy also means that the federal funds rate will remain low. One of the criticisms of gold as an investment is that it has no cash flow and pays no dividends. With low interest rates, the opportunity cost to hold gold remains low.
Final Thoughts
All of these catalysts may not play out. Gold sales in India will be strong, but it may not be as high as gold investors hope. The debt ceiling could be extended without too much anxiety, the Fed could taper by at least $20 billion in September, and Larry Summers could be nominated by Obama. If that's the case, then the investment case for gold would certainly be damaged. Gold investors will then have to fall back on longer-term catalysts like America's $16.7 trillion debt and tens of trillions more in unfunded liabilities for Medicare and Social Security, physical demand by Asians, continued QE in Japan, an eventual rise in price inflation, etc.
Disclosure: I have no positions in any stocks mentioned, and no plans to initiate any positions within the next 72 hours. I wrote this article myself, and it expresses my own opinions. I am not receiving compensation for it (other than from Seeking Alpha). I have no business relationship with any company whose stock is mentioned in this article.
Additional disclosure: I have a net long position in gold-related funds.