This time of year weather in the Southern Hemisphere (Brazil) makes or breaks the coffee market. As you can see on the chart below, though we missed a freeze by a few degrees in mid-July, the failed spike leading up to July 18th was largely due to freeze talk and accentuated by short covering. On the move, futures rallied 11.8% in 4 days H/L, lifting prices to their 50% Fibonacci level just above $1.35. After a retracement, bulls dug in their heels just above $1.15 last week as another leg higher develops with futures approaching the 20 day MA (light blue line) as of this post.
The Brazilian president announcing a government program to buy as much as 6 million bags of coffee -- approximately 12% of this season's projected output also could be a contributing factor. This is not a game changer longer term as we still need real consumers stepping up as buyers, but this dynamic could be enough to trigger more short covering. Government intervention in a different format at its best, and since coffee is one of Brazil's largest exports and the Brazilian real is getting crushed, maybe a necessary evil. So everyone is clear, Brazil is the 800 lb. gorilla in the coffee market… supplying one-third of the world's coffee supply.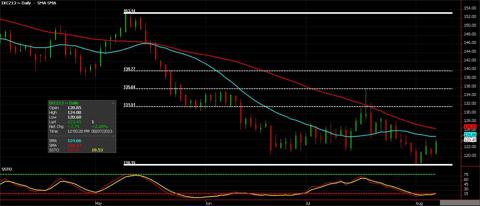 I've advised clients for several weeks now to establish bullish exposure in December contracts via futures and to use options, either buying puts or selling calls to manage the trade. At the moment, I like three legged trades:
Ø Long December futures.
Ø Sell a December out of the money call to bring in some premium; I'd say $125-135 strike.
Ø Buy an October put option ($120 - $115 strike) under the market to serve as your safety net in case of a price collapse.
Above the 50 day MA (red line), use your Fibonacci levels as seen on the chart as your upside objectives.
Risk Disclaimer: This information is not to be construed as an offer to sell or a solicitation or an offer to buy the financial products herein named. Trading futures, options, and Forex involves substantial risk of loss and is not suitable for all investors. Past performance is not necessarily indicative of future results. This report contains research as defined in applicable CFTC regulations. Both RCM Asset Management and the research analyst may have positions in the financial products discussed.
Disclosure: I have no positions in any stocks mentioned, and no plans to initiate any positions within the next 72 hours. I wrote this article myself, and it expresses my own opinions. I am not receiving compensation for it. I have no business relationship with any company whose stock is mentioned in this article.