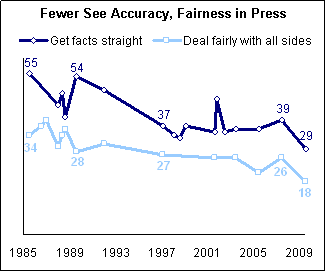 Source: Pew Research
As this chart above shows, news organizations have a serious credibility problem. This survey from Pew Research's People and Media Center underscores how far the media has fallen. In terms of public trust and confidence, news media credibility is at a two-decade low point [emphasis added]:
Press Accuracy Rating Hits Two Decade Low (Pew Research Center for the People & the Press, September 13, 2009)
The public's assessment of the accuracy of news stories is now at its lowest level in more than two decades of Pew Research surveys, and Americans' views of media bias and independence now match previous lows.

Just 29% of Americans say that news organizations generally get the facts straight, while 63% say that news stories are often inaccurate. In the initial survey in this series about the news media's performance in 1985, 55% said news stories were accurate while 34% said they were inaccurate. That percentage had fallen sharply by the late 1990s and has remained low over the last decade.

Similarly, only about a quarter (26%) now say that news organizations are careful that their reporting is not politically biased, compared with 60% who say news organizations are politically biased. And the percentages saying that news organizations are independent of powerful people and organizations (20%) or are willing to admit their mistakes (21%) now also match all-time lows…
Why is the news about the news media so bad? The advent of the Internet and its many free sources of information have posed a serious problem for media organizations with high cost structures. Not only has the Internet offered alternative sources of information, but it has also brought along serious competition for classified ads and advertising, both of which are essential to the media business model. Changes in this realm have caused newspapers to fail, magazines to fail and have hurt the value of media franchises.
However, this series of surveys from Pew Research go back many years and the surveys indicate a steady erosion of trust and confidence in the media. There is widespread belief that media stories are frequently inaccurate and often biased. That's a killer.
Some of my friends are in the media
I know many hard-working folks in the media — broadcast, print and online. The ones I know have spent years building their skills and their credibility as objective journalists. They believe in their craft and they work hard at it. Yet, on the few occasions when this topic of media bias or inaccuracy has come up, my media friends have downplayed the problems of bias or inaccuracy as being rare or unusual.
If that's the case, why does the media itself get very low marks? Bad public relations? A few bad apples? Or, is it systemic? And, why has the public's faith in the media been sliding for decades as we can see from the Pew Research findings?
The Internet passes newspapers
This chart from Pew Research shows the trend and it's bad news for the traditional news media. As you can see, the trend for television is down, but it's going down from a high level. On the other hand, newspapers are losing ground as a source for national and international news and they have just been passed by online media as a source.
That's a trend to which I can relate because I get all my news online. I don't have television at home and I don't subscribe to any newspapers or general interest magazines. So, for me, online is everything. I do still go to newspaper sites such as the Wall Street Journal (NASDAQ:NWS), Washington Post (WPO) and so on, but it's to their online sites that I go. And, I spend time at other online sites such as MarketWatch, Bloomberg as well as many financial and general blogs: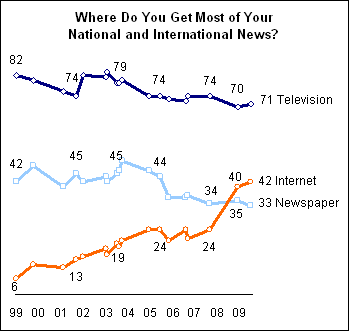 Source: Pew Research
Finally, take a peek at this chart which covers classified advertising at Craigslist versus the traditional media. Craigslist revenues (blue line) are in the millions as seen on the left hand side. Newspaper classified revenues (red line) are on the right hand side and they are in the billions. So, this is not a straight comparison, but rather a look at the revenue trend for each side. Newspaper classified revenues have fallen from $16 billion or so to about $6 billion at the same time that Craigslist revenues have ballooned by a factor of 10: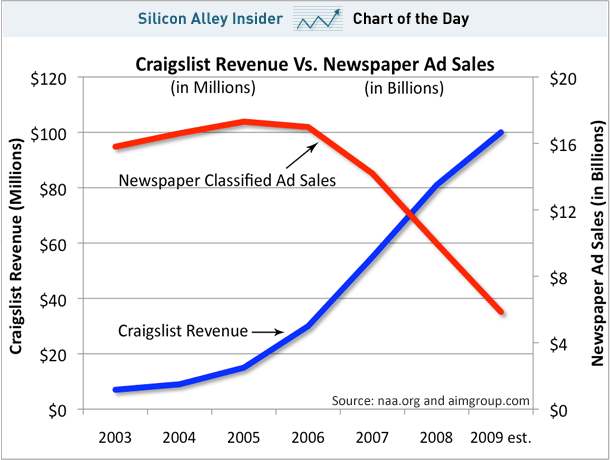 Source: Clusterstock/Business Insider
As Craigslist online ad revenues have grown, newspaper industry ad revenues have plummeted. And, along with falling revenues, newspaper valuations have tanked. Ouch.
See also: