We often ask investors if companies can pay out dividends with earnings. Almost all of them say yes. But in reality, earnings are but an accounting measure. Dividends are paid in cash, and cash-flow analysis is then, by extension, the absolute core of dividend investing. That is why we created a forward-looking assessment of dividend safety in our predictive dividend-cut indicator, the Dividend Cushion, for investors to use to supplement their own work. In this article, let's evaluate Church & Dwight's (NYSE:CHD) dividend under this unique but yet very straightforward framework.
Church & Dwight's Investment Considerations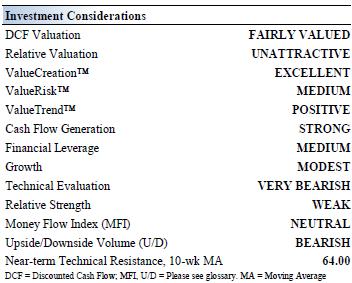 Evaluating Church & Dwight's Dividend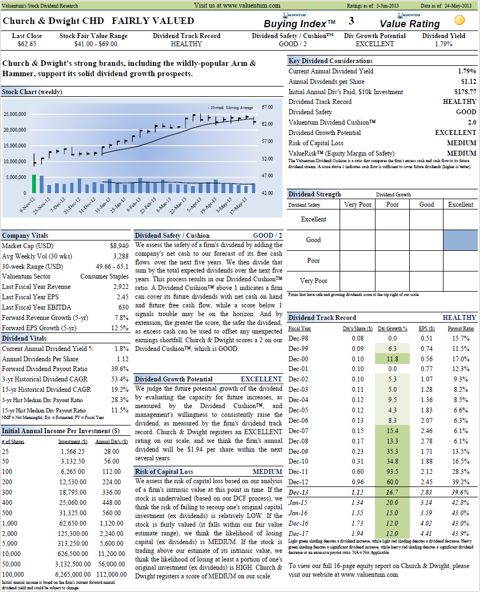 But before we get started, please select the image above, our full-page dividend report, which supplements the 16-page report on our website. You'll see at the bottom right that we're forecasting some strong growth in the firm's dividend in coming years.
We do admit, however, that Church & Dwight's dividend yield is below average, offering a 1.8% annual payout at recent price levels. We prefer yields above 3% and don't include firms with yields below 2% in our dividend growth portfolio. So Church & Dwight doesn't quite fit the bill for us.
But What About the Strength of Its Dividend?
We think the safety of Church & Dwight's dividend is good (please see our definitions at the bottom of this article). We measure the safety of the dividend in a unique but very straightforward fashion via the forward-looking Dividend Cushion™. The measure is a ratio that sums the existing net cash a company has on hand (on its balance sheet) plus its expected future free cash flows (cash from operations less capital expenditures) over the next five years and divides that sum by future expected cash dividends paid over the same time period.
Basically, if the score is above 1, the company has the capacity to pay out its expected future dividends. As income investors, however, we'd like to see a score much larger than 1 for a couple of reasons: 1) the higher the ratio, the more "cushion" the company has against unexpected earnings shortfalls, and 2) the higher the ratio, the greater capacity a dividend-payer has in boosting the dividend in the future. For Church & Dwight, this score is 2.0, revealing that on its current path the firm should be able to cover its future dividends with net cash on hand and future free cash flow (about 2 times).
For comparison to how this calculation is performed and what constitutes a good measure, please see Hewlett-Packard's (NYSE:HPQ) write-up here, Colgate's (NYSE:CL) here, Coca-Cola's (NYSE:KO) here, and Procter & Gamble's (NYSE:PG) here. These sample firms have Dividend Cushion scores that are north of +1, as well.
How Do We Determine the Growth of a Firm's Dividend?
Now on to the potential growth of Church & Dwight's dividend. As we mentioned above, we think the larger the "cushion" the larger capacity it has to raise the dividend. However, such dividend growth analysis is not complete until after considering the board's willingness to increase the dividend. To do so, we evaluate the company's historical dividend track record. If there have been no dividend cuts in 10 years, the company has a nice growth rate, and a nice dividend cushion, its future potential dividend growth would be excellent, which is the case for Church & Dwight. We like to use the board's historical track record as a way to gauge the pace at which the dividend will increase in the future, assuming the Dividend Cushion score is healthy.
Wrapping It Up
And because capital preservation is also an important consideration, we assess the risk associated with the potential for capital loss (offering investors a complete picture). In Church & Dwight's case, we currently think the shares are fairly valued, so the risk of capital loss is medium. If we thought the shares were undervalued, the risk of capital loss would be low.
All things considered, Church & Dwight's strong brands, including the wildly popular Arm & Hammer, support its solid dividend growth prospects. Still, the firm's annual yield isn't that great -- and we would point to higher-yielding peers that have an equally strong Dividend Cushion score.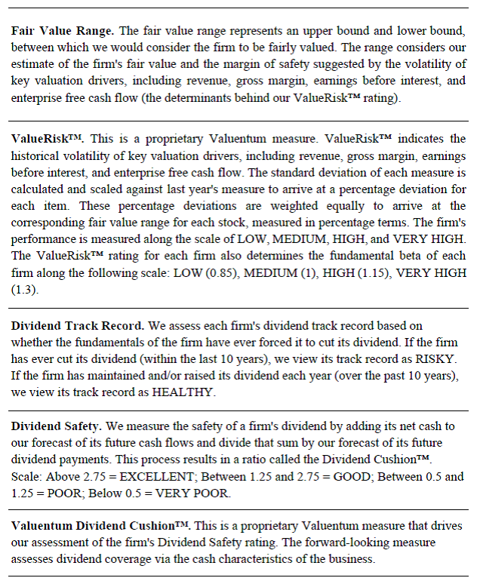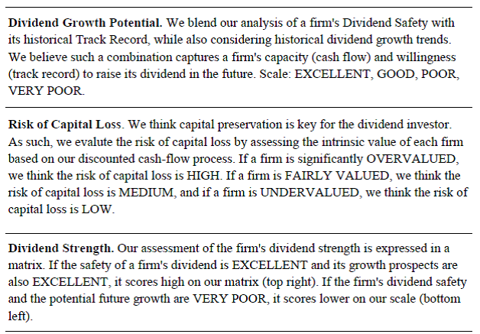 Disclosure: I have no positions in any stocks mentioned, and no plans to initiate any positions within the next 72 hours. I wrote this article myself, and it expresses my own opinions. I am not receiving compensation for it (other than from Seeking Alpha). I have no business relationship with any company whose stock is mentioned in this article.
Additional disclosure: PG is included in our Dividend Growth portfolio.