Synopsis
In this article, I review the current market share standing of Windows Phone in various European countries and give some thought as to why it is what it is and where it is likely headed in the coming year. Much of the graphs shown come from recently released data from Kantar.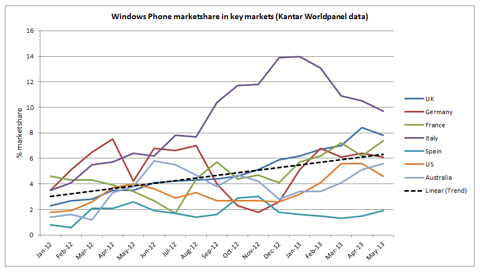 Source: Kantar
For the purposes of this review, I have equated Nokia's (NYSE:NOK) prospects and position with that of Microsoft's (NASDAQ:MSFT) Windows Phone Operating System, though it is conceivable that the latter could succeed with some other vendor at the helm. But as time passes, this appears less and less likely - for now, Nokia equals Windows Phone as it represents more than 80% of the worldwide market for this OS.
Italy
With respect to Europe, lets start with the bad new first. The biggest recent drops in Windows Phone market share are taking place in Italy and Spain. There are two parts to understanding Nokia's recent market share loss in Italy over the past 7 months. About a year ago, when Microsoft announced that Windows Phone 7 devices would not be forward compatible with Windows Phone 8, Nokia was left stranded with a pile of inventory of the older generation phones.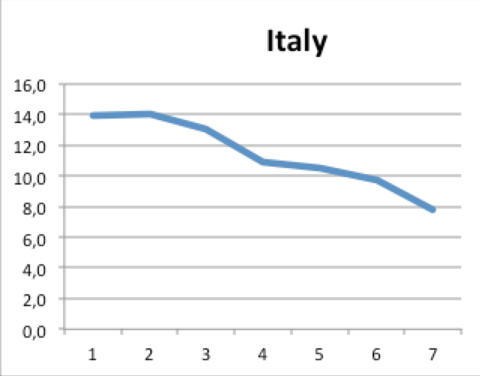 Source: Kantar; X-axis: Dec 2012-June 2013; Y-axis: WP Market Share
The company ended up dumping these orphaned devices mostly in Italy - no doubt influenced by the country's depressed economy relative to the rest of Europe and resulting price sensitivity of its consumers. I believe what we are seeing in the past several months is many of those users churning off the WP7 platform and moving toward Android. This is one part of the WP Italy story.
The other, less publicized part is that Sony and LG have introduced aggressively priced Android handsets, particularly the Sony Xperia U and LG Optimus L3/L5 models which have helped them grow significant market share in Italy (and Spain).
Even the introduction of the low-priced Lumia 520 last April was not enough to stem the loss of this share in this important European market. But it is clear that if Nokia is to recapture market share in Italy, it must introduce new lower cost handsets there. The market share lesson here is that southern Europe wants cheaper smartphones.
Germany
Nokia's market share dip, however mild, in Germany is disappointing because it appears to be, at least in part, of its own making. While there has been some excitement in Europe's best economy for new Lumia releases, Nokia for the most part has disappointed in terms of delivering volume. The introduction of the Lumia 620 is a good example. After advertising the future arrival of this phone for weeks, numerous delays followed by a severely restricted supply in early February when the phone was finally released left a bad taste in the mouths of many German consumers. I had been corresponding with another SA member from Germany during that period, a fellow Nokia shareholder. He grew increasingly frustrated with Nokia as the weeks passed. "You simply cannot find the handset available at any of the stores," he remarked.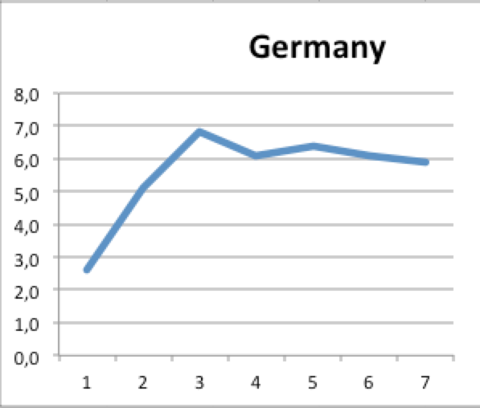 Source: Kantar; X-axis: Jan 2013-July 2013; Y-axis: WP Market Share
But it is not too late for Nokia in Germany. The consumers there appreciate good engineering. Meanwhile, the country is not as poor as many of its neighbors. I believe Germany can not only provide Nokia with a market share rebound but also some reasonable opportunities to sell the higher end Lumia models such as the recently introduced Lumia 1020. Note the following WP market share distribution by model shown below: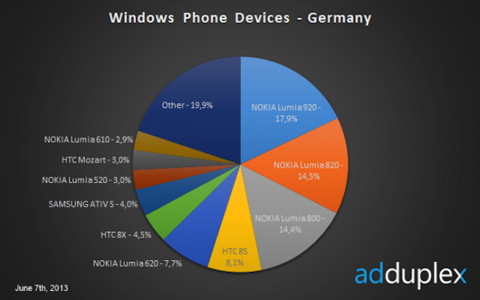 Source: adduplex
Although this chart shows data after the Lumia 520 had been out for two months and the Lumia 620 for many more, it is one of the few markets in Europe for which the higher end Lumia models still hold most of the market share. This is why I think the Lumia 1020 can do well here.
Spain
Spain remains an economic basket-case. As such, demand is heavily skewed to the low end. Android now completely dominates this market with over 90% market share.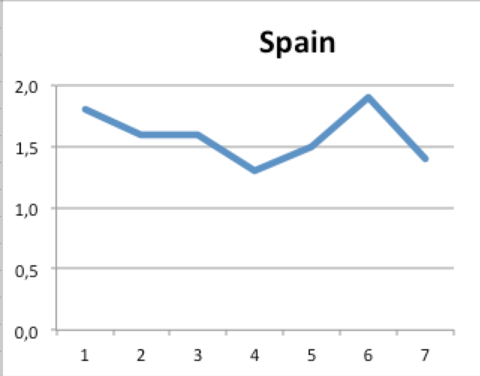 Source: Kantar; X-axis: Jan 2013-July 2013; Y-axis: WP Market Share
Nokia (and Apple) each have very low single digit share. I do not think even the low priced Lumia 520 will do well in Spain as Sony and LG are gaining huge share in Spain with their low cost Android handsets. To top things off, it appears that "Lumia" means prostitute in Spain's vernacular.
Great Britain
While I have argued previously that Blackberry (NASDAQ:BBRY) is not as big a competitor to Nokia as Sony (NYSE:SNE) going forward, the battle over England may prove to be one of the major exceptions. Historically a Blackberry stronghold, the recent missteps of that phone maker may have opened the door to a Windows Phone invasion in GB.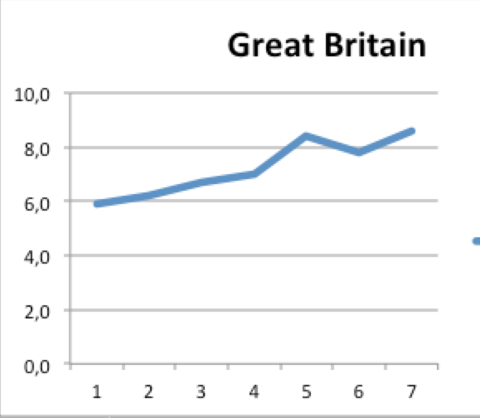 Source: Kantar; X-axis: Dec 2012-June 2013; Y-axis: WP Market Share
WP market share now hovers just under 9% - it is likely that this trend will continue higher in the coming year (especially as Lumia 520 sales continue to grow) unless Blackberry is somehow about to mount a strong comeback with its recently released Q10 or upcoming R10 or Aristo models.
France
After being one of the weakest Windows Phone markets in Europe during 2011 and 2012, the OS's prospects in France have improved dramatically as of late. Whereas WP market share stood at a lowly 2% in May 2012, France now has amongst the highest WP penetration in Europe at 9% at the end of June 2013.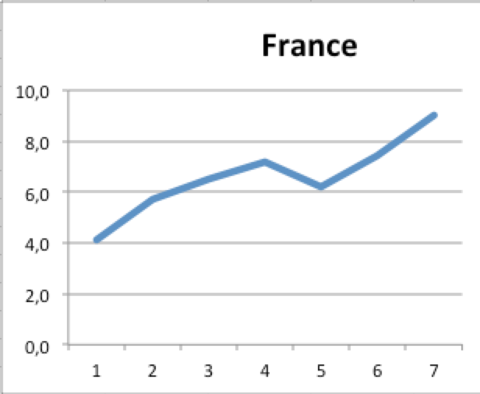 Source: Kantar; X-axis: Dec 2012-June 2013; Y-axis: WP Market Share
The upward spike in WP market share shown in the graph, above, is directly attributable to the recent availability of the Lumia 520. We believe this handset will drive additional market share gains for Nokia in France since it has only been available for a few months. Nokia's WP market share in France is slightly lower than in the rest of Europe because the HTC 8S holds about 20% of the WP market in France.
Netherlands
I do not have access to WP market share data for The Netherlands. But the chart, below, suggests that like Germany, The Netherlands is somewhat skewed toward higher end Lumia handsets.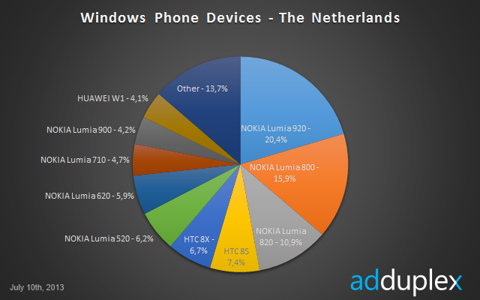 Source: adduplex
Despite the Lumia 920 now being the most popular WP handset in Holland, Nokia made some major mistakes during the rollout of its flagship in this country. Despite having strong fans and an active development community, Nokia did not introduce the Lumia 920 in Holland until mid January of 2013 after initially promising a November 2012 release date. These delays were superseded by supply limitations when the phone finally arrived. I believe this has damaged Nokia's reputation in one of its strongest markets. Nokia needs to have a smoother introduction of its Lumia 1020 in Holland as there is no sense in again upsetting your best customers. Nokia's chances for additional market share gains in Holland remain excellent if they can execute on deliveries.
Finland
Well, of course we expect Nokia to do well in Finland but only recently did the company regain its leadership status there. Nokia is also doing well in the rest of Scandinavia. While not a huge surprise, its recent market share gains in this part of the world is further evidence that it is slowly righting the ship.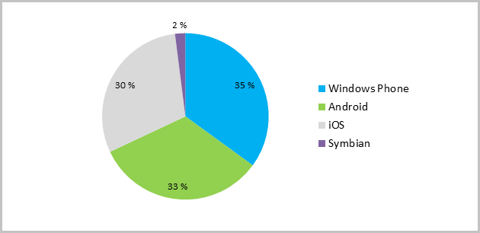 Source: WPsuperfanboy.com
Poland
Readers may be surprised to learn that Poland boasts the third largest app developer community for Windows Phone after the US and India. Microsoft VP Terry Myerson recently claimed that WP had 20% market share in Poland (and Mexico) but somewhat more objective sources (IDC) place the recent figures closer to 16% for Poland and 7% for Mexico. As such, Poland remains a major stronghold for Windows Phone (and, therefore, Microsoft) but more of a mixed bag for Nokia.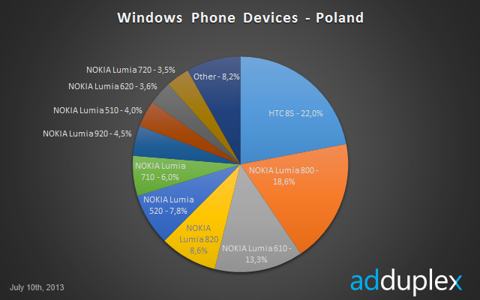 Source: adduplex
While Nokia tends to dominate the WP environment in most European countries with over 80% market share, the chart, above, shows that Poland is an exception as the HTC 8S continues to hold nearly one quarter of the WP market share in that country. I do not know why this phone is doing so much better in Poland (and France) than in the rest of Europe. Poland remains driven by low cost phones - it still sports a significant market share of older WP7 phones. Nokia's WP8 market share in Poland is about 5% by my estimate. As consumer's migrate to new handsets, the existing base of WP7 should provide some opportunities for WP8 market share growth. Nokia's future success in Poland will be tied to its ability to convert some of these WP7 customers to the new revision of the OS. Hopefully, the company will not face a repeat of Italy, in that regard. Overall, Poland is a bigger success story for Microsoft than Nokia so far.
Conclusion: Windows Phone European Market Share Climbing Slowly
The chart below shows that WP is slowly gaining traction in Europe. While some investors may not be happy at the rate of progress, nearly 2% growth in market share over 7 months is altogether not a bad showing. Near term, ongoing sales of the Lumia 520 will (continue to) be the single biggest growth driver to WP8 market share.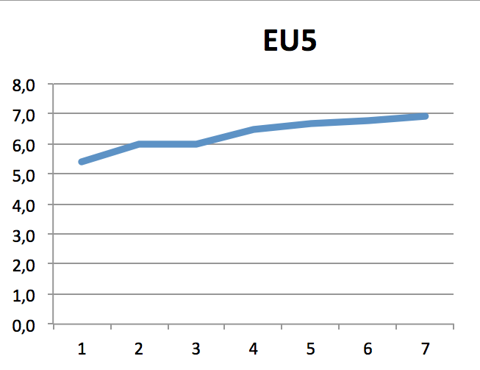 Source: Kantar; X-axis: Dec 2012-June 2013; Y-axis: WP Market Share
The EU5 countries included in the above chart are Germany, Italy, Spain, England and France. My overall conclusion from all this data is that WP market share in Europe should reach 10% sometime early in 2014 and that Nokia's smartphone market share in Europe should rebound to 10% by the middle of 2014.
Disclosure: I am long NOK, AAPL. I wrote this article myself, and it expresses my own opinions. I am not receiving compensation for it (other than from Seeking Alpha). I have no business relationship with any company whose stock is mentioned in this article.