AbbVie (NYSE:ABBV) reported better-than-expected second quarter results and revealed a number of advancements to its strong and growing pipeline. During the period, revenue advanced 4.4% (5.1% excluding currency) as the firm benefited from Humira's global sales growth of 12% (16% growth in the US) and double-digit expansion from several other products including Synthroid, Creon, Zemplar and Duodopa. Excluding the decline in TriCor/Trilipix sales due to loss of exclusivity, sales would have jumped 10.3% in the period. Second-quarter adjusted earnings per share of $0.82 beat the consensus estimate by a couple pennies.
The global biopharmaceutical firm noted significant advancements in its pipeline. AbbVie has received Breakthrough Therapy designation from the FDA for its genotype 1 hepatitus C virus (HCV) combination program, and Phase 3 studies should begin to read out later this year and into early 2014. The firm also initiated a Phase 3 study for investigational compound atrasentan (kidney and diabetes indications) and extended the Galapagos collaboration (GLPG0634) to include Crohn's disease. Humira, which accounted for about 55% of sales in the firm's second quarter, has also received approval in Japan for two additional gastroenterology indications (ulcerative colitis and intestinal Behcet's disease). We like that AbbVie continues to allocate roughly 15% of total sales to research and development initiatives.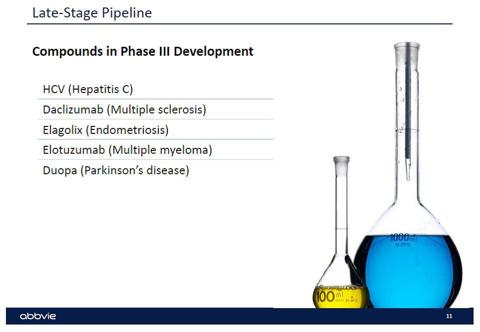 Image Source: AbbVie
Looking ahead, AbbVie raised its diluted earnings-per-share guidance for the full-year 2013 to the range of $3.07-$3.13 (was $3.03-$3.13) on an adjusted basis. The firm also issued a quarterly cash dividend of $0.40 per share, payable mid-August, and boasts a very healthy dividend yield of 3.6% at the time of this writing.
Valuentum's Take
AbbVie's separation from Abbott (NYSE:ABT) earlier this year was certainly a historical event. The new biopharmaceutical company has a compelling new product pipeline, including several promising late-stage programs, and we expect its late-stage pipeline to drive significant revenue expansion beginning in 2015 (it is actively working to obtain 15 major approvals through 2017). In the meantime, AbbVie will remain dependent on its blockbuster drug Humira, which accounts for more than half of its business. The US patent covering Humira is expected to expire in December 2016 while the European Union patent is expected to expire in the majority of EU countries in April 2018. We expect its pipeline to help cushion the blow in the event biosimilars of Humira hit the market. All things considered, we're interested in AbbVie's very attractive dividend, and we continue to keep a close eye on shares for a potential entry point in the portfolio of our Dividend Growth Newsletter.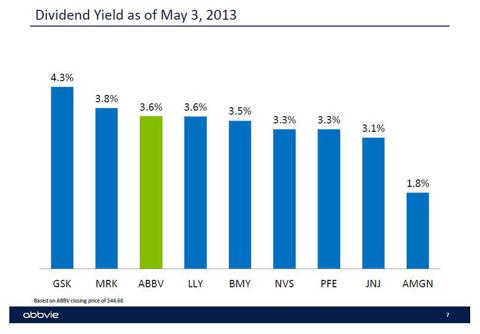 Image Source: AbbVie
Disclosure: I have no positions in any stocks mentioned, and no plans to initiate any positions within the next 72 hours. I wrote this article myself, and it expresses my own opinions. I am not receiving compensation for it (other than from Seeking Alpha). I have no business relationship with any company whose stock is mentioned in this article.