If you are going to invest in a commodity producer you have to have an opinion on the future price of the related commodity.
That is what has kept me invested in oil producers and out of natural gas producers.
I believe that over the medium and long term oil prices are going to be high (as in $80 plus) and at those prices the companies I own should do well. Natural gas on the other hand is something that I have avoided. It seems to me that any recovery in natural gas prices would soon be stopped by producers using the resulting increase in cash flows to ramp up production.
That makes sense after all, our continent (North America) imports millions of barrels of oil per day but is self sufficient when it comes to natural gas. We can greatly influence the price of natural gas with our levels of production because it is a regional commodity. Oil is a global commodity and the supply and demand market is much tighter.
Strangely though, despite betting on the right commodity, I've noticed that natural gas producers have had better performing stocks over the past couple of years than my oil producers.
One example of that is Ultra Petroleum Corp (UPL), which is a natural gas producer that I follow but don't own.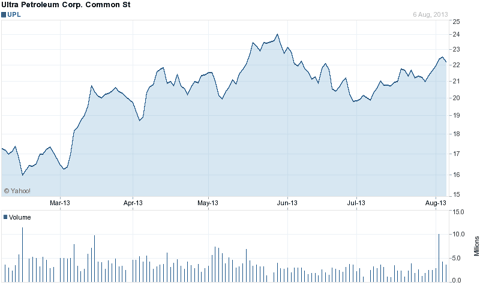 Ultra's share price has performed very well over the past six months.
I follow Ultra because it has a very well respected management team. I thought I'd take this quarter end as an opportunity to check in on what its future view of natural gas prices is. This company is a pure natural gas producer so it spends all of its time thinking about the cleanest fuel.
Ultra Petroleum's View On Natural Gas Prices
For Ultra Petroleum's thoughts on where natural gas prices are headed I checked in on the most recent conference call.
Ultra views itself as being the low-cost producer of natural gas in the United States with an all-in cost of $2.79/Mcfe in 2012. This company can handle lower natural gas prices better than most.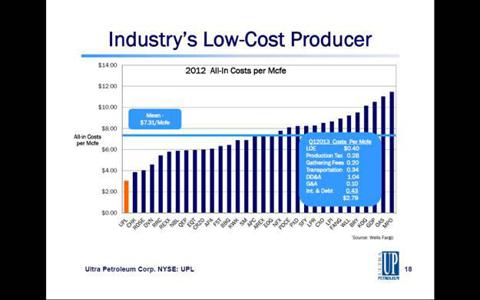 From what I read in the conference call I would view Ultra's management as being cautiously bullish on future natural gas prices.
Here is the general message that Ultra Petroleum management had about natural gas prices in the most recent quarterly call:
Well, we are halfway through 2013. And while we are in a much better place than this time last year, we're looking forward even better times in the near future. Current natural gas prices are $3.50-ish, not $3. Forward calendar year prices are a little less than $4, well above last year. Domestic production has stopped growing and is essentially flat since last July. Backlogs of uncompleted, unconnected wells are being worked off in every play. And production in most basins is declining, with one notable exception. The overcapitalization of the domestic natural gas business that occurred from early -- from 2008 to early 2012 is behind us.

One noteworthy firm estimates that an incremental $30 billion of joint venture capital was thrust into the business over that time period, which led to the astounding growth of natural gas production from 56 billion cubic feet a day in January 2010 to 66 billion cubic feet a day in November 2012, a 10 Bcf a day increase.

With an estimated 2013 Lower 48 annual base decline rate of 30% and the first full year of undercapitalizing the business, one can see how supply growth has stalled. With the calendar 2014, natural gas strip price at a little less than $4 and few plays with attractive economics at this pricing level, capital allocated to 2014 natural gas drilling will be limited, most likely resulting in a decline of natural gas supply. This paired with conservative estimates of increasing demand in excess of 7 Bs a day in the 2014 to 2016 time period, due to structural demand changes in natural gas-fired power generation, additional exports to Mexico, industrial demand growth, transportation sector growth, possibly LNG exports. And certainly, nuclear retirement should lead to a positive price response.
The interesting point that Ultra makes is that the overcapitalization of the industry is now behind us. Remember all of the joint ventures on natural gas acreage that Chesapeake Energy (NYSE:CHK) and others completed over the past five years. Those joint ventures brought in an astounding $30 billion of capital that let companies keep drilling at uneconomic prices.
The foreign entities that supplied much of that joint venture capital have lost their taste for investing money drilling for natural gas at sub-economic prices.
That wave of capital is not coming back and the industry now has to rely on cash flow being generated to fund drilling.
Finally, maybe, the best cure for low natural gas prices will be low natural gas prices.
If you assumed that every shale gas well being drilled costs about $5 million (some are more, some are less), then $30 billion of joint venture capital would have let the industry drill 6,000 wells that it couldn't have self financed over the past few years.
That covers more than half the shale gas wells that are drilled in a year!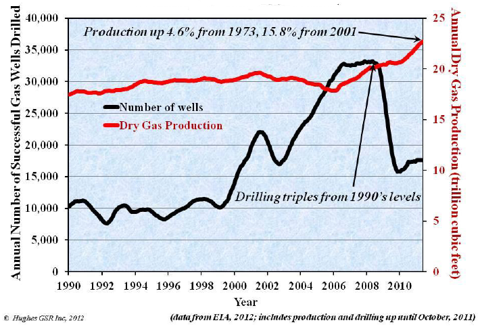 Imagine how much further along a natural gas recovery we would be if that $30 billion of joint venture capital hadn't been available?
What Are the Implications For Investors
I believe that this source of capital finally drying up means the industry can't drill us back to natural gas with a "2" handle. The foreign entities that supply this capital might still be interested in liquids rich and oil resource plays, but they aren't biting on dry natural gas drilling anymore.
There is going to be a big shrinkage in capital available to drill natural gas wells.
I don't think investors should get wildly bullish on natural gas, but I do think that a gentle recovery should continue to at least get us to the point where most of the wells being drilled in the United States are profitable. That should mean natural gas prices of at least $5/mcf.
Disclosure: I have no positions in any stocks mentioned, and no plans to initiate any positions within the next 72 hours. I wrote this article myself, and it expresses my own opinions. I am not receiving compensation for it (other than from Seeking Alpha). I have no business relationship with any company whose stock is mentioned in this article.