Banks are highly leveraged. A bank with an equity/assets ratio of 7% holds $14.29 of assets for every $1 of equity. Where does the $13.29 of borrowings come from? Many sources, the cheapest of which is short-term deposits.
Interest rates began falling dramatically in mid-2007, which lowered the cost of bank liabilities in general, but in particular the cost of deposits. Of course, the rate decline lowered asset yields too, so it was hardly an unambiguous good.
If you're a long-term bank stock investor who believes current interest rates are abnormally low, it makes sense to ask how much banks have been helped by low-cost deposits, because this help will eventually disappear. The chart below shows average noninterest-bearing deposits as a percentage of average interest-bearing liabilities for the 15 largest US banks by market cap (excluding the trust/processing banks) at year-end 2006 and at Q2 2013. Data is provided by SNL Financial LC: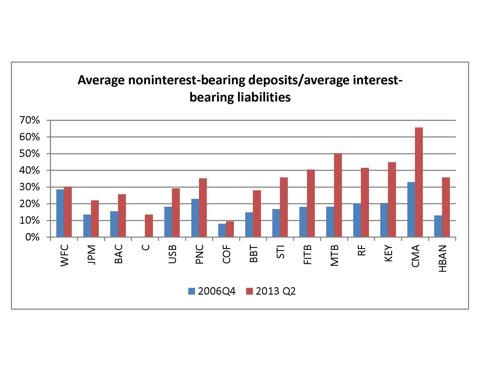 What does this chart tell us? Across the board, banks have more zero-cost deposits now than they did at the end of 2006; the average percentage for these fifteen banks grew from 17% to 34%. But some have benefited from these deposits a lot more than others. Comerica (NYSE:CMA) stands far ahead of the rest, with a ratio of 66%. M&T Bank (NYSE:MTB) is a distant second, with 50%, and three other institutions, KeyCorp (NYSE:KEY), Regions Financial (NYSE:RF) and Fifth Third (NASDAQ:FITB) are at or above 40%.
Interestingly, the largest US banks enjoy a relatively modest benefit from such deposits. Wells Fargo enjoys the highest and most consistent benefit, Citigroup (NYSE:C) the smallest (2006 data was not available for C).
Does this matter? After all, the average cost of interest-bearing deposits for these 15 banks was 3.61% at Q4 2006 but only 0.34% in Q2 2013. Well, think about how much worse CMA's net interest margin would be if it had to pay even 0.34% for its free deposits.
It's logical to expect that a rate increase will shrink those zero-cost deposit balances. It's understandable for a depositor to be essentially indifferent between 0% and 0.34%. But 0% versus 3.61% is another story.
And that means that some banks will come through the eventual rate increase with a lot more pain than others.
Disclosure: I have no positions in any stocks mentioned, and no plans to initiate any positions within the next 72 hours. I wrote this article myself, and it expresses my own opinions. I am not receiving compensation for it (other than from Seeking Alpha). I have no business relationship with any company whose stock is mentioned in this article.