(Editors' Note: This article covers a micro-cap stock. Please be aware of the risks associated with these stocks.)
My prior articles have focused primarily on the geological merits and context of technical data surrounding the Patterson Lake South (PLS) uranium discovery of 50/50 JV partners Fission Uranium (FSSIF.PK, or FCU on the TSX Venture) and Alpha Minerals (OTCPK:ESOFF, or AMW on the TSX Venture). However, in light of recent early results from the summer drill program (including what are potentially two of the best holes drilled to date based on gamma logs), I believe PLS is quickly transitioning into a takeout candidate. As such, I think a more detailed discussion regarding the potential project valuation is warranted.
A Quick Review of the Geology
Without delving too deeply into the technical merits of the geology, the uranium mineralization being discovered at PLS is along a lithological boundary that appears to be a shear zone with significant strike length. Mineralization at PLS has been proven over a strike length of over 800 meters with infill drilling now underway. Drilling density is now sufficient to define mineralized intervals with high confidence over a strike length of over 225 meters within a more loosely defined 800-meter envelope (Figure 1). All zones are open to expansion along strike and at depth, including the 800-meter envelope itself. Based on geophysics and drill data, all of this is within a prospective corridor greater than 2 kilometers in length.
Figure 1: East-to-West Cross Section Across PLS Mineralization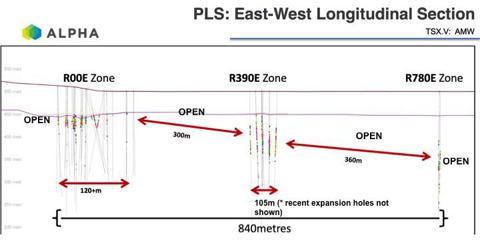 Click to enlarge
(source: modified from Alpha Minerals corporate presentation)
For context, the majority of Hathor Exploration's Roughrider zone (57 million pounds U3O8) was hosted in about 300 to 350 meters of strike length. As an early investor in Hathor, I can say that Roughrider never had as much running room as PLS does. All of this is to say that the PLS data is highly encouraging given the early stage of the project and that it is possible that the JV partners have only scratched the surface with respect to the potential of the PLS claim block. Recall that the discovery zones found to date are up-ice of one of the largest, if not the largest, uranium boulder fields ever found in the entire Athabasca Basin. Whether or not boulder field size is related to the size of the source remains to be seen, but it's certainly encouraging.
The PLS mineralization is near surface, starting at depths around 55-85 meters, and it generally deepens to the east. Grades are variable, but in general, the R00E zone appears to be in the 1-2% U3O8 average grade range, while R390E appears to be somewhere in the 2-5% U3O8 range, perhaps higher. About 50 meters of glacial gravels and only tens of meters (at most) of bedrock overlie the mineralization. Patterson Lake itself reaches only about 5 meters in water depth in the regions of drilling thus far. In short, the deposit looks to be a very good candidate for low-cost open pit mining, with simple coffer dams likely required to mine the portions of the deposit that are under the lake. The mineralization discovered thus far appears to be low in arsenic, which is a preliminary positive indicator for the metallurgy of the deposit.
Remember: Location, Location, Location…
As a reminder, the Patterson Lake South project is in the Western Athabasca Basin, Saskatchewan; a region with limited historical exploration but a proven fertile uranium province nonetheless. The historical Cluff Lake mine site is located roughly 50-60 km north on highway 955, as is the Areva/UEX Shea Creek deposit. In addition, Cameco's Centennial/Virgin River discovery is roughly 100 km away as the crow flies. Saskatchewan is arguably the best uranium-mining jurisdiction in the world when one considers factors like average grade, political stability, prospectivity, and access to skilled labor. In fact, the Athabasca Basin is sometimes referred to as the "Saudi Arabia of Uranium." Enough said.
Figure 2: Western Athabasca Basin Map, PLS, and Nearby Deposits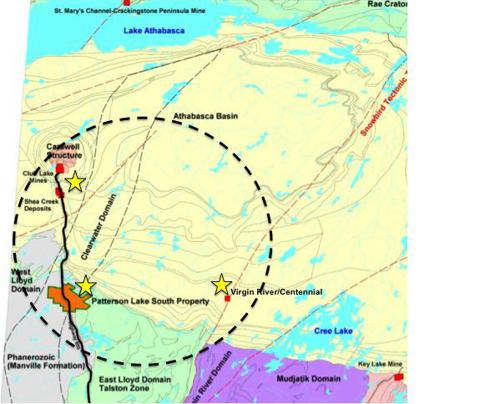 Click to enlarge
(source: modified from Alpha Minerals corporate presentation)
Infrastructure is excellent, with power within tens of kilometers along all-season highway 955, and the highway itself actually runs right through the PLS property. Logistical support via Fort McMurray is highly likely, which is located about 175 kilometers away. Mining and earthworks equipment should be easily staged and mobilized from Fort McMurray.
Strategically, Patterson Lake South appears to be the key to unlocking the Western Athabasca basin. There are no mills on the western side of the basin right now, yet there are two known uranium deposits in the vicinity; Shea Creek and Centennial. Both Shea Creek (96 mmlbs) and Centennial (size not published) are deep deposits… around 800 meters deep. As a result of their depths, Shea Creek and Centennial can be expected to have higher mine development and operating costs than a deposit like PLS, which means that burdening those deep deposits with the full capital costs of a mill might be expected to impact their economic value somewhat. However, if Patterson Lake can support a mill, the benefits of that mill could flow through nicely to the future economic value of Shea Creek and Centennial. In essence, I believe that whoever controls PLS (and hence the mill) will control the Western Athabasca Basin for the foreseeable future, which would make PLS a critical piece of the puzzle for anyone hoping to mine anything on the western side of the Athabasca Basin.
Valuation: Using Global All-in Costs to Put PLS in Perspective
To date, discussion surrounding the potential valuation of "pounds in the ground" for Patterson Lake South has generally involved analysts using past transactions as historical "comps," sometimes with an arbitrary (downwards) adjustment based on the current spot price of uranium (currently about $36 per pound, www.uxc.com). Hathor Exploration is the most recent direct comparable for PLS, hands down. After a bidding war with Cameco, Rio Tinto bought Hathor's Roughrider deposit for $11 per pound in late 2011 based on a 57 mmlb M&I resource. The indicative economics of the Roughrider deposit were summarized in a preliminary economic assessment (PEA) prepared by SRK Consulting in Q3 2011. The capex parameters used by SRK in the Roughrider PEA are shown below in Figure 3.
Figure 3: SRK Roughrider PEA Inputs

(source: company reports)
The Roughrider PEA plan involved an underground mining operation with life-of-mine operating costs of about $14-15/lb U3O8, with a dedicated mill on site. Note that the total pre-production capital estimate was in the $500mm range, or roughly $10/lb U3O8 resource. Also note that mineralization at Roughrider was significantly deeper than that at PLS. Roughrider mineralization ranges from about 250-400 meters deep, while PLS mineralization ranges from just 50-175 meters deep to date.
To put Roughrider in context versus PLS, it is worth pointing out a chart that Joe Mazumdar at Canaccord Genuity included in his recent initiation report on both Fission Uranium and Alpha Minerals. In his report, Mr. Mazumdar presents a bar chart of the all-in costs for a selection of global uranium projects, shown below in Figure 4.
Figure 4: Canaccord Genuity All-In Costs for Global Uranium Projects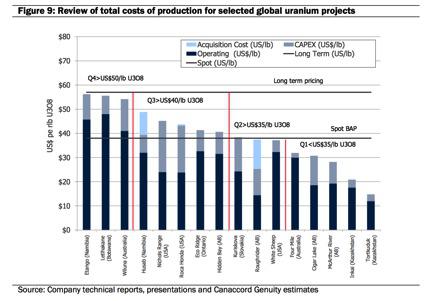 (source: Canaccord Genuity)
I believe this chart is the key to generating a simple, fundamentally based understanding of the potential valuation for the PLS "pounds in the ground." Given that the PLS resource is not going to be sold into the spot market, the current spot price is relevant only in the passing perception of the market's valuation of the project. I believe that industry players recognize this and are unlikely to weigh the spot price very heavily (if at all) in their current evaluation of the project.
In Figure 4 above, notice that Canaccord's all-in total costs for global uranium projects shows roughly $40 per pound as an average. That includes acquisition costs, development costs (capex), and operating costs over the life of mine for 16 selected projects. Note that Hathor's all-in cost is roughly $35-37 per pound.
In terms of development capex, the Hathor PEA parameters above show that Roughrider development was estimated to cost $567 million, which is/was about $10/pound. Hathor was bought for $11-12 per pound of resource, and its operating costs were estimated to be in the $14-15 range. All-in Roughrider costs were therefore in the $35-37 per pound range, which is still quite attractive even with a $60/pound long-term U3O8 price view. Note that Roughrider did not have any particular regional strategic value. Also note that Roughrider was modeled as an underground mine, whereas PLS is almost certainly open pit-able.
Bringing It All Together
If you assume operating costs of $10/pound for the Patterson Lake South open pit (that opex is based on my guesstimate for a low-cost, high-grade open pit) and capex on par with that in the Hathor PEA of $10/pound, things start to look interesting quickly. If PLS were bought for $500 million (roughly $8/share for Alpha and $1.50 for Fission), that would be $30/lb of all-in cost on a 50 mmlb resource, which would place it in the first quartile of the comparative Canaccord data in Figure 4 above. The potential for significantly more than 50 mmlbs is certainly on the table when one looks at the scale of the PLS mineralizing system relative to other known large uranium deposits, and that upside potential would come for free. The strategic value of the asset would come for free as well.
It is interesting to consider that if PLS was bought for $15/pound, assuming my $10/lb assumptions on opex and capex are okay, the project could be valued at $750 million on a 50 mmlb resource. Some people would balk at the suggestion of a $15/lb buyout, but I think it's worth pointing out that it would still place PLS in the 2nd quartile of global projects (right next to Roughrider) in terms of all-in costs, and the strategic benefits (plus any resource upside) would still come for free.
I think that if the drill results to date are any indication of future success at PLS, the real question is, "How long do larger players let the PLS JV drill before taking them out?" Right now, I believe that a $1.50 Fission bid (~$8/sh for Alpha) would have a decent shot at winning the asset. With drilling ongoing and recent holes potentially adding anywhere from 2-5 million pounds of U3O8 each, it may not be long before a larger player says, "Enough is enough." With my back-of-the-envelope math drawing a "soft circle" around 30 million pounds already at PLS (depending on your assumptions for deposit parameters), I believe a pre-emptive move based on a 50 mmlb assumption would not be unwarranted given the above arguments.
Both Fission and Alpha are very well capitalized with a combined fully diluted cash position over $50 million. Considering that this year's entire PLS capex program should add up to something in the $12 million range on a 100% basis, I believe investors have the luxury of patience as the PLS drilling continues. In any case, deposits like PLS don't come around very often (it's been said that no one has found a deposit with these grade-depth characteristics in the Athabasca in over 30 years), so it should be an interesting road ahead as Alpha and Fission continue to drive value through the drill bit.
Disclosure: I am long OTCPK:ESOFF and OTCQX:FCUUF. I wrote this article myself, and it expresses my own opinions. I am not receiving compensation for it. I have no business relationship with any company whose stock is mentioned in this article.