By Carla Fried
The latest S&P/Case-Shiller home price index for the 20 largest metro areas reported a 12.2% year-over-year increase.
That said, investing in the housing rebound is looking way long in the tooth right about now.
For starters, keep in mind that the latest Case-Shiller report is for sales data for the three months through May. In March and April mortgage rates were still at record lows; it wasn't until Ben Bernanke's late-May taper talk bomb that mortgage rates rose off the floor of 3.5% to today's 4.3%.
While mortgage rates are still historically low, it's the Case-Shiller report that comes out in October that will be truly telling, as it will be the first to cover a three-month period at today's higher mortgage rates (assuming of course there's no slip back under 4%.)
David Stiff, chief economist at CoreLogic Case-Shiller forecasts that overall home price gains for the 12 months through the first quarter of next year will be in the vicinity of 6.5%. That's still remarkably strong when you consider housing's long-term norm is to barely keep pace with inflation, which lately is running below 1% or 2% depending on whether you follow the CPI, or like the Federal Reserve focus on the PCE.
But it's nonetheless a cool down from the current frenetic pace. And the thing is, housing stocks aren't exactly pricing in a moderation.
Trulia (TRLA) and Zillow (NASDAQ:Z) have unquestionably revolutionized how consumers hunt for homes. But investor enthusiasm seems a bit much. Both stocks have nearly doubled since their IPOs (Trulia in October 2012, Zillow in June 2011).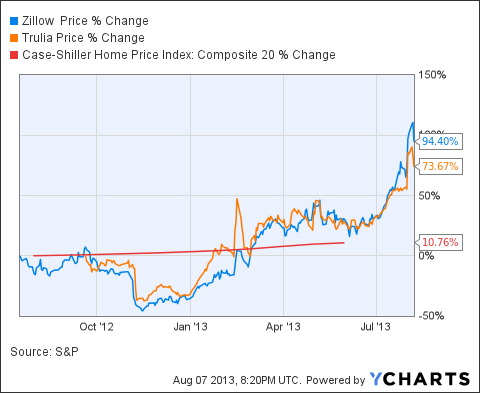 Z data by YCharts
Investors piled into Trulia on Thursday-sending the stock up 25%-when the company reported an astounding 77% jump in quarterly revenue. Thing is, this is still an insanely small company; quarterly revenue was under $30 million.
We're talking about two companies with combined market caps of more than $4 billion generating less than $200 million in revenue over the trailing 12 months.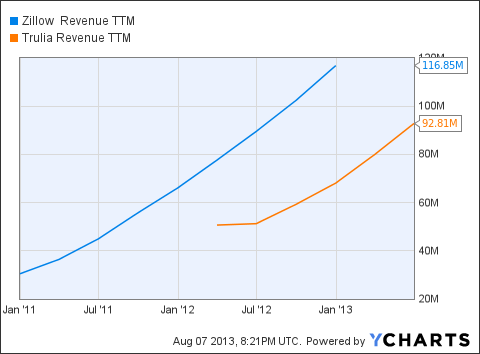 Z Revenue TTM data by YCharts
Investors are also all too happy to expect Home Depot (NYSE:HD) and Lowe's (NYSE:LOW) will continue to profit from renewed investment in home repair and renovations. Home Depot's stock has tripled the return of the S&P 500 over the past year, and Lowe's has merely managed to deliver double the market's strong return.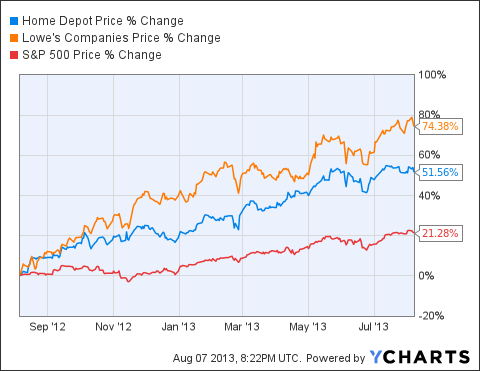 HD data by YCharts
If only they had a level of earnings growth to back up that vote of confidence. Take a look at the forward p/e estimate for both companies: not only are both now north of 20, they are higher than at any time over the past decade. Including the real estate bubble.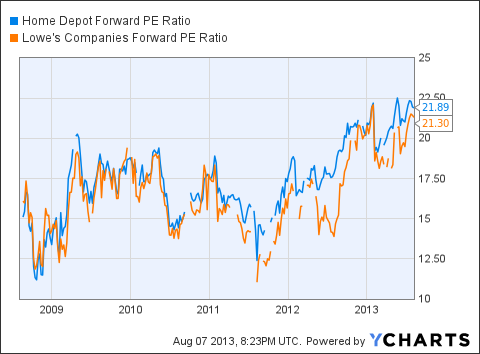 HD Forward PE Ratio data by YCharts
Harvard's Joint Center for Housing Studies forecasts remodeling activity. The four-quarter moving average has indeed been trending higher, and is expected to peak at $151 billion in the fourth quarter of this year, a near 20% rise year-over-year. But starting in the first quarter of 2014 the expectation is for the pace of remodeling spending to slow down. As Kermit Baker, director of the Remodeling Futures program at the JCHS explained: "…with housing starts leveling off in the second quarter and financing costs beginning to edge up, we may be seeing the beginning of more measured growth in the residential markets…Given normal timing patterns, this suggests that the pace of growth for home improvement spending should begin to moderate as we move into 2014."
That doesn't seem to support Home Depot and Lowe's trading at historically high price/earnings multiples.
Disclosure: I have no positions in any stocks mentioned, and no plans to initiate any positions within the next 72 hours. I wrote this article myself, and it expresses my own opinions. I am not receiving compensation for it. I have no business relationship with any company whose stock is mentioned in this article.