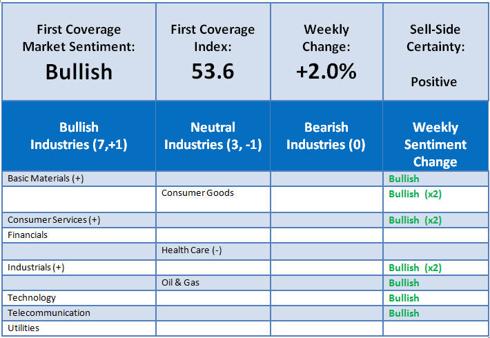 On One-Year Anniversary, Sell-Side Looks Forward - Not Back
Exactly one year since the beginning of the so-called end, the sell-side continues to suggest to their buy-side clients that the worst is behind us, or at the very least, not ready to return any time soon. Whether you want to attribute this to short-term memory, systemic optimism or an inability to jump off this six-month rally train without hobbling their career is still uncertain.
The last week was not only good for the market but also apparently good for the psyche, as well. Getting past the first week of September without a major market decline was enough to put a veritable spring in the sell-side step as overall sentiment grew by a heady 2.0%. Once again, the conversations that are percolating through Wall Street are hesitant to suggest that the buy-side take their chips off the table.
President Obama Speaks…and Nothing Happens
He came, he spoke and …nothing happened. On the bright side for his administration, at least that's better than the tailspin that seemed to occur every time someone from the last administration decided to talk about the markets.
And, to be frank, when President Obama spoke to Wall Street on Monday afternoon, he could have hardly expected anything to rally based on his much anticipated and thoroughly unsurprising commentary discussing increased transparency and avoiding complacency.
Just getting through that speech without any "gotcha moments" seemed to be enough to elicit a collective sigh of relief from the industry.
It's still too early to tell if there is any long-term impact the president's comments might have, but Financials have recovered a bit of the sentiment lost over the last couple weeks and now are, along with six other industries, in the midst of an uptick in overall sentiment.
Sell-Side Continues to Suggest Market Has Room to Rally
In what continues to be the current mind-set of the market, the sell-side remains oblivious to anything that isn't large, flashing and screaming "DANGER." In short, they remain advocates of being long until there is a data point, be it economic or otherwise, that will be so incontestable that people will have no choice but to sell their positions. Clearly nothing in the president's speech fell into that category and no economic data point has come close in the last couple months.
This market remains "reactive" instead of proactive, and as we begin to see the end of 2009 in our sights, the desire of market participants to continue to push this higher to the end the year on a strong note will likely grow.
Over the last week, seven industries saw meaningful increases in their sentiment numbers, including Financials and Basic Materials, which both were losing some of the lustre a couple weeks ago, and the consumer based industries along with Industrials, which all saw a second straight week of meaningful adoration by the institutional crowd. All in all, when the street is falling back in love with the consumer and Industrials, it doesn't sound like they are very worried about much of anything.
Stocks the Sell-Side Likes and Dislikes This Week
As always, here are the five stocks that underwent the most dramatic shifts in sentiment from both a bullish and bearish point of view. As a note to those keeping score from last week, the most bullish financial stock this week could be found ranked at number eight. In fact, the eighth through thirteenth stocks ranked by bullish sentiment shift were all Financials. A far cry from last week!
Bullish:

Bearish:

Until next week …