Barron's cover story this past weekend focused on the bottoming process in the advertising industry and how the internet should continue to receive ad dollars previously dedicated to print media.
While stalwarts like Yahoo (NASDAQ:YHOO) and Google (NASDAQ:GOOG) can be expected to see a pick-up in their search business as the economy slowly improves, a small behavioral targeting company named interClick Inc. (ICLK) has seen its business accelerate of late as well. ICLK has been gaining new clients and market share in the fast growing behavioral targeting ad market and it appears to be just getting started.
We previously featured our thoughts on ICLK about a month ago (here), and after speaking with the company's new CFO and an analyst currently covering the company, we thought the time was ripe for an update on the ICLK growth story.
Last week we spoke with interClick's new CFO, Roger Clark, and came away from the call with a new appreciation for the leadership he is bringing to the company. With nearly 15 years of experience under his belt, including his most recent title of CFO at IAC Search & Media, Mr. Clark brings the kind of qualities ICLK will find essential as it works towards scaling up to a $100M company by 2010-2011.
Some highlights from the call include:
ICLK has a 12-18 month technological lead on its competitors. Due to this edge, the company is offering transparency and improved ROI's to their clients and also enjoying pricing power and impressive market share gains.

ICLK continues to attract impressive talent, a key factor that brought Mr. Clark to the company.

Mr. Clark sees a lot of leverage in ICLK's business model.

The company is making progress with Sarbanes-Oxley compliance, setting the stage for a listing on the NASDAQ, if and when the stock trades above $4.
A good portion of this bullish commentary was confirmed by a second conversation with MDB Capital analyst, Jon Hickman. Based upon his own discussions with management, Jon believes his estimates and gross margin assumptions are way too low for the second half of the year. In his research note published on September 4th, Hickman points to a very strong start to the quarter for ICLK and thinks the company is tracking well ahead of the Q3 guidance, issued in early August.
Operating margins also seem to be trending higher and should come in above margins seen in Q2. Hickman confirmed CFO Clark's sentiments, declaring that ICLK has "a genuine leadership position involving the use of third-party data streams such as Bluekai and Bizo that provide complete transparency for both advertisers and the publishers. This technology capability is a significant competitive advantage."
While it is certainly reassuring to hear such glowing praise for ICLK, the true measure of a company is always reflected in the stock's price and volume action. For now, our bullish conversations were confirmed last Thursday when ICLK surged through the $2 price level on explosive volume. A look at the 1-year chart below shows strong accumulation in the stock as it bounced back above its 50-day simple moving average:
ICLK 1-Year Chart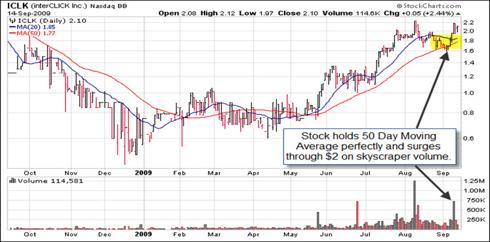 Source: StockCharts.com
We are continued buyers of ICLK on any and all pullbacks to $2 this week. With revenues potentially reaching $50M this year and $80-90M next year, GAAP profitability around the corner, and a strengthened management team in place, we feel ICLK is at an important inflection point, one that could result in a much higher stock price later this year and in 2010.
ICLK STOP LOSS: $1.69
DISCLOSURE: We are long ICLK and continued buyers of the stock.