Tian Xia II (TX2) reached quarter-high usage last Sunday. Based on my tracking in the chart below, NetEase's (NTES) online game, TX2, reached 168750 Peak Concurrent Users (PCU) on Sunday, September 13. This is the game's highest usage level so far in 3Q09. My tracking also shows TX2's average daily usage was flat in August compared with July. This indicates a great summer for TX2 as the game's seasonally strong performance in July was maintained in August. Based on these data points, I forecast TX2 will generate about $11 million revenue in 3Q09, accounting for approximately 9% of NetEase's online game revenues.
Last week's strength bodes well for open beta. TX2 is scheduled to start open beta on September 20. The quarter-high usage recorded last weekend shows TX2 has gathered strong momentum ahead of its open beta. I note that TX2 achieved such performance despite a server merger on September 2 in preparation for the open beta. In my opinion, such resilience indicates TX2 has started to attract new users at a faster speed as NetEase ramps up its large-scale marketing campaign to significantly increase TX2's media exposure and public awareness. Driven by aggressive marketing and the attractiveness of free-to-play policy, I believe TX2 will likely reach 250K PCU in 4Q09, surpassing the PCUs of competing 3D games Aion and JX Online 3.
Game tracking methodology. My tracking methodology is based on these articles: Article 1; Article 2; Article 3. If you have any suggestions on improving the tracking, feel free to contact me.
Chart: PCU and ACU Trends of Tian Xia II in 3Q09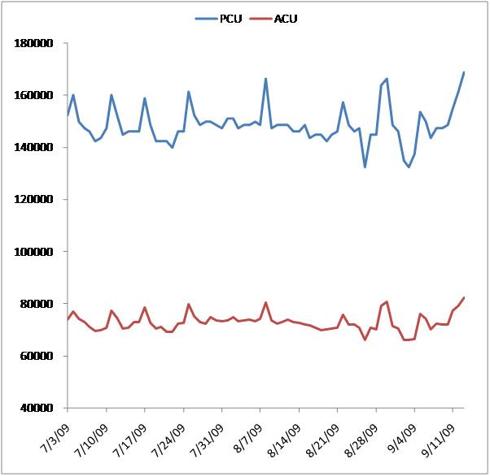 Source: Tracking by Xiaofan Zhang
Disclosure: No positions