Below is a list we've been updating throughout earnings season of the stocks that have had the best one-day reactions to their earnings reports. For stocks that report in the morning, we use that day's change. For stocks that report after the close, we use the next day's change.
Two companies that reported pretty early this earnings season remain at the top of the list. Federal-Mogul (NASDAQ:FDML) has had the biggest gain on earnings with a one-day change of 30.62%, followed closely by Facebook (NASDAQ:FB), which gained 29.61%. Questcor (QCOR) ranks third with a one-day gain of 28.41%, while Digital Generation (NASDAQ:DGIT) moved into the number four spot today with a gain of 26.35%. Active Network (NYSE:ACTV) rounds out the top five with a gain of 24.31%.
The 50 best performing stocks so far this season all gained more than 14% on their report days. Along with Facebook (FB), some of the other notable names on the list of big winners include Yelp (NYSE:YELP), Trulia (TRLA) and TripAdvisor (NASDAQ:TRIP).
The bottom line is that all of these companies did something right this quarter, and shareholders rewarded them for it.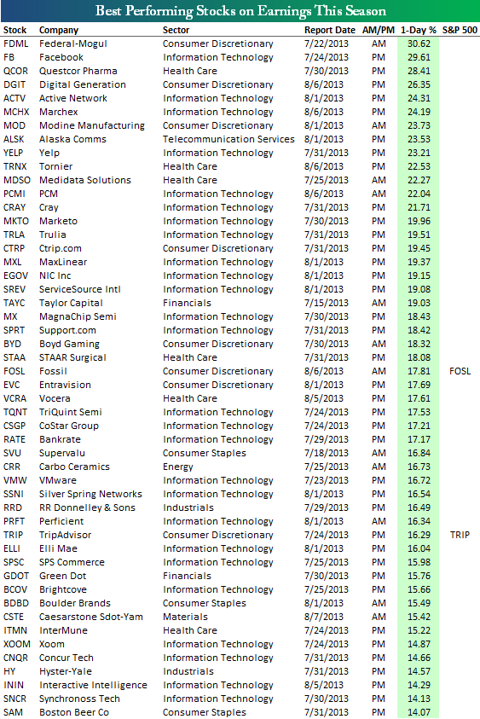 On the flip side is the list of the 50 worst performing stocks on their earnings report days this season. These 50 stocks all had one-day declines of more than 13%. JAKKS Pacific (NASDAQ:JAKK) takes the cake for the biggest one-day decline at -39.07%, followed by Furniture Brands (FBN) at -38.01% and Body Central (OTCPK:BODY) at -32.27%. Some of the bigger names on the list of earnings losers include Expedia (NASDAQ:EXPE), Broadcom (BRCM) and First Solar (NASDAQ:FSLR).
Most of the stocks on the list of earnings season losers are from the Consumer Discretionary or Technology sectors. One notable sector that is absent is Financials, which used to have quite a few blow-ups each quarter only a few years ago. The Financial sector has clearly gotten much healthier as this bull market has progressed.