Also trading on the TSX Ventures Exchange, Canadian based Aurcana Corporation (OTCPK:AUNFF) the Vancouver, BC junior mining company is also listed on the OTC market in the U.S. The company owns 100% of the Shafter silver mine in Texas and 99.9% of the La Negra silver-copper-lead-zinc mine in Mexico.
Aurcana's goal is to advance from a producing silver mining company to a mid-tier silver producer, on its way to an ultimate goal of becoming a senior silver producer.
Can they do it?
The company is currently trading at $1.84 with a market cap just north of $107M as of this writing, but Aurcana's ore grades and production capabilities are what are most intriguing. I want a closer look.
The Shafter silver mine Presidio County, (Big Bend region) in southwest Texas, shows an NI 43-101 report of silver resources at 24.6 million ounces (24.6M oz. Ag), measured and indicated (M&I). A quick example of what they're working with here shows 2,900,000 tons of ore grading at 8.48 ounces of silver per ton (8.48 op/t Ag) and more as some zones are showing 10 op/t Ag. That's ounces per ton not grams, with a potential mine life of nine years.
Aurcana acquired the Shafter silver mine in 2008. All necessary infrastructure was in place with a major power line and paved highway crossing the property. An electrical sub-station lives on site with a 1,050 foot shaft serviced by an 80 ton per hour hoist for 5,100 feet of underground development.
Aurcana has lofty goals.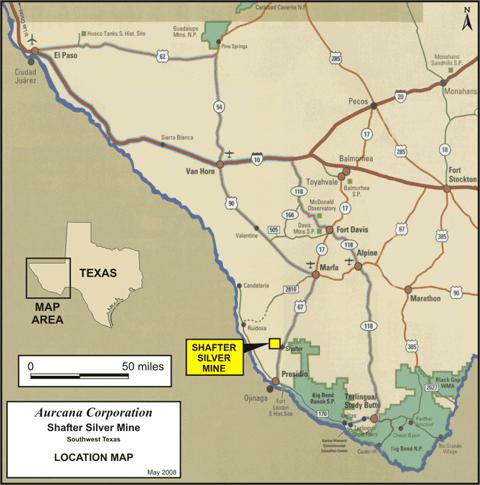 Click to enlarge
The still developing Texas project, which saw Aurcana go from processing 600 tons of ore per day tp/d to 1,000 (1K tp/d) in June/July, is ultimately shooting for annualized throughput up to 3K tp/d. At that rate, using a conservative grade of just 8 op/t Ag output could mount to (8.6M oz. Ag) per year. According to the company, new milling and processing equipment is scheduled to continue arriving through end of Q3 this year that will, after installation, set the mine to a commercial production rate of 2K tp/d by year-end.
And the company continues to add jobs, having partnered with the local school board in the nearby town of Presidio, Texas to jointly set up a mining school. The mining school has received tremendous support from the residents. The first class of locally trained miners is expected to begin working at Shafter in September to work alongside the existing experienced miners.
Where there are jobs there is growth. And with the new equipment being put in place and an increased work force, increased production at Aurcana's Shafter Mine will be a reality.
2014 should be a very good year
The company's completed pre-feasibility study supports that, once the mine and mill are operating at full capacity (3K tp/d), Shafter will be the second largest, pure-silver producing mine in the U.S. and capable of supplying 10% of U.S. silver demand, according to the company's web site.
What also feels comfortable here is that mining activities are solely on private land removing the Federal microscope for a majority of normally applicable regulations. In other words, principle regulations are not applicable to the Shafter Project, and the necessary compliances have already been achieved according to the pre-feasibility study. [pdf]
All necessary permits for Aurcana to proceed at Shafter are in hand, and where such permits may need modification in the future to reflect changing project configurations, the amendment process is well advanced. It's full steam ahead.
Soon with two mines piling up production so will Aurcana pile up cash. And exploration will not slow at both the Shafter and La Negra as updated resources continue to be announced.
Texas catching up with Mexico
In 2009, the La Negra mine in Queretaro State, Mexico, was milling 1,000 tons of ore per day (1K tp/d), by 2012 capacity had expanded to 2.5K tp/d. Currently, 2013 capacity has expanded to 3K tp/d, though at slightly lower ore grades. A new NI 43-101 report released for La Negra in August, 2012 identifies 115M oz. Ag, M&I underground, and re-establishes the mine life projection to 30 years.
2014 should be a good year. If the company can realize 6K tp/d throughput, with its high ore grades, a combined output from Shafter and La Negra could total more than 12M op/y Ag.
In a quick comparison of other very reputable silver producers we see First Majestic (NYSE:AG) with five operating mines in Mexico producing between 11 and 12M op/y Ag in 2013 while Endeavour Silver (NYSE:EXK), now with three operating mines in Mexico is looking for production to increase to more than 5M op/y Ag in 2013 - to be fair Endeavour will also see near 49K oz Au. But I think you get the picture. For Aurcana Corporation trying to work its way into the big time, it appears they have a good tow-hold.

Click to enlarge
Conclusion: Now is a very tough time for miners, especially the small caps who feel the extreme pressures of facing production-cost versus product-price, with less than robust cash flow. Some companies will survive, others will not. I want my money working for me in a company that will.
After doing my homework I determine if I can trust a company by looking at the "six rule of thumb qualities" that a good metal mining investment should have. I'm looking for good management - check, good ore-grades - check, lots of reserves and resources - check, low-price-to-cash-flow ratios - check, the ability and strength to get the job done - check, and little to no country risk - double check.
Oh, and this company is not burdened by debt. Check.
This all adds up for me. And I am bullish silver, so, Aurcana is on my radar because I think Aurcana can. I may find myself on the buy-side sometime soon. This is not to say you should follow me, unless this all adds up for you, too. But please, if it doesn't, don't.
I would like to thank Catalin Chiloflichi, Aurcana's Corporate Communications Director for speaking with me.
Disclosure: I have no positions in any stocks mentioned, and no plans to initiate any positions within the next 72 hours. I wrote this article myself, and it expresses my own opinions. I am not receiving compensation for it (other than from Seeking Alpha). I have no business relationship with any company whose stock is mentioned in this article.