Like most in the financial sector, real estate investment trusts (REITs) are enjoying a renaissance. Yet with a wave of commercial real estate foreclosures in the making, and the possibility that widespread unemployment will keep residential housing under wraps, investors wonder how long REITs can tow the "economic recovery" line.
Indeed, it's fairly well-established that a number of REITs have extraordinary debts coming due. Some have been paying dividends from stock instead of earned revenue or cash on hand, watering down the stake of current shareholders. And while some of the REIT index companies may have fairly stable assets in medical office buildings or health-related, long-term care facilities, many other office and industrial complexes are being crushed.
At best, if credit remains loose enough for these business entities, they may be able to borrow their way out of disaster. If credit tightens, REITs may get beaten up yet again. With REIT ETFs surging so quickly, the risk-reward seems dicey at best.
Yet some suggest there's a way out of the commercial property smackdown. Some private real-estate developers could go public, avoid bankruptcy, and use the increase in their asset price to get through the commercial property uncertainty. Meanwhile, A.D. Pruitt for The Wall Street Journal, as cited by my friend Tom Lydon at ETF Trends, noted the extraordinary success of real-estate investment trust stock for hotel companies. Apparently, there's a belief that improving credit has allowed hotel operators to refinance debt and/or issue additional shares.
Nevertheless, U.S. REIT ETFs seem a highly speculative choice for most portfolios. Why do I say that? Because they need so many things to go right when it is equally probable that a few key things may go wrong. After all, is the performance of U.S.-based REIT ETFs in 2009 that impressive relative to alternatives?
Do U.S. REITs Really Have the Right Stuff?
YTD %
iShares DJ US Real Estate (NYSEARCA:IYR)
11.2%
Vanguard REIT (NYSEARCA:VNQ)
10.2%
S&P 500 SPDR Trust (NYSEARCA:SPY)
16.1%
SPDR Financial Select (NYSEARCA:XLF)
16.1%
iShares FTSE/NAREIT Global exclude US (NASDAQ:IFGL)
39.7%
iShares FTSE/NAREIT Europe (NASDAQ:IFEU)
34.5%
iShares FTSE/NAREIT Asia (NASDAQ:IFAS)
41.2%
It seems to me that foreign real estate companies are in the driver's seat and their investors are rewarded in two ways. First, they're getting a hedge against the U.S. dollar's weakness as foreign real estate companies earn profits in foreign currencies. And second, foreign real estate investment trusts may not have to minimize existing shareholders by issuing more stock to pay off ongoing debts.
If REIT ETFs are your "thing," go global. U.S. REITs may emerge from the mess, but why gamble domestically if the more optimal "risk-reward" exists globally?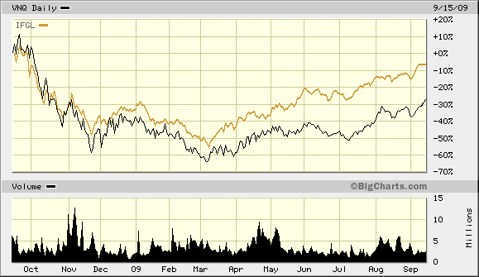 Click to enlarge
Full Disclosure: Gary Gordon, MS, CFP is the president of Pacific Park Financial, Inc., a Registered Investment Adviser with the SEC. The company may hold positions in the ETFs, mutual funds and/or index funds mentioned above.