Lindsay Corporation (NYSE:LNN) is a company that sells irrigation systems that are primarily used in the agricultural industry. The purpose of these irrigation systems is to maintain or increase crop production while saving resources such as water, energy, and labor. It also offers various infrastructure products such as barriers, railroad signals, and diameter steel tubing. The company, founded back in 1954, is headquartered in Omaha, Nebraska and has 1,082 full time employees.
As the graph featured below portrays, the company has been increasing both revenues and profits in a consistent manner for years. The only interruption was experienced around 2008 and 2009, during the time of the recession (marked by the different shading). But the company, showing its resilience and ability to get through struggles, made a strong turnaround and is back on its feet.
LNN Revenue Annual data by YCharts
Lindsay reported third quarter results for 2013 that were quite impressive. Revenues set a new record with $219.5 million, a 28% increase from last year. Net earnings were $26.1 million ($2.01 per diluted share) compared to last year's $18.8 million ($1.47 per diluted share). Although infrastructure sales decreased 17%, this is somewhat acceptable considering they only made up $18.6 million of revenues. The growth came through where it mattered though. Irrigation sales were up 34% to $200.9 million. Even more significant was the increase in international irrigation sales, which was 88%, as they added up to $82.6 million. It is an encouraging sign to see this type of growth in the business. There are plenty of potential markets for Lindsay's products throughout the world, and the company is finally starting to really reach them. The higher revenues this year were driven by increased demand for the company's products as a result of higher farm incomes, higher commodity prices, and robust demand internationally. Gross margin increased slightly to 28.7% as a result of higher prices and manufacturing productivity that was somewhat offset by lower margin sales in international irrigation and infrastructure.
Annual results from fiscal 2012 were impressive as well. Revenues were up 15% to $542.5 million. Diluted EPS went from $2.90 to $3.38. Unfortunately, though, infrastructure sales decreased 30% last year. This segment is not nearly as critical to the company's success as irrigation (which made up 87% of the company's revenues), but the decline still hurts the company. In the most recent quarterly report, CEO Rick Parod, when talking about the infrastructure segment, said, "we are seeing indications for modest improvement from recent sales trends." Hopefully the segment will be back on track sooner rather than later.
So overall, I would say that Lindsay has quite a bright future. One of the main areas the company will look toward for growth in the future is international irrigation. The company has the manufacturing productivity to make this growth happen, and the macroeconomic conditions will benefit Lindsay as well. Throughout the rest of the world, mainly in countries that are less developed than the US, there are a few issues that increase demand for irrigation systems. They are water scarcity, rapid population growth, and food security. As other countries continue to struggle with these problems, Lindsay can step in and help them out. And for this, they will be rewarded financially. Also, irrigation is currently less developed in many areas around the world when compared to the United States. The revenues derived from this area of the business, though, can be inconsistent and are project based. But this does not take away the fact that it will be a key driver of the company's growth.
As the company drives steady growth in the US and exponential growth internationally from their irrigation system, revenues and profits will continue to rise, especially if the infrastructure segment rebounds, as management expects it to. With these earnings increases, the stock price will rise over the long term, driven by the catalysts of earnings reports. The graph below shows the strong correlation between EPS and market price. As EPS rises, so does the stock. And with the amount of growth expected in the future, it is hard to believe that EPS will not grow significantly and be followed by the stock price.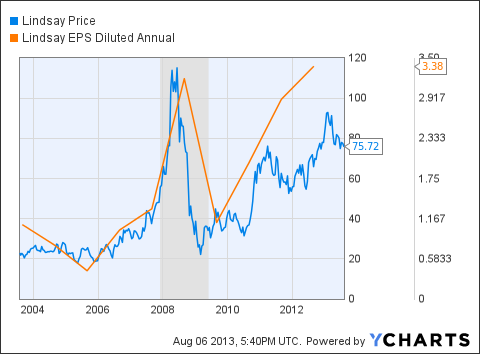 I am generally optimistic about Lindsay's future. Although the infrastructure segment has been lagging, it can be expected to have a rebound in the coming years. Management is looking forward to this rebound as well, as I pointed out earlier with the quote. The main idea is that the US government will increase spending in coming years on transportation. As a result, there will be more highways and streets under construction, which will result in an increased demand for Lindsay's barriers and other products. The agricultural segment has an even brighter future. This segments growth can continue to be somewhat derived from US sales, but I am really looking forward to seeing what the company can do internationally. The growth in their irrigation segment is what truly makes Lindsay such an attractive investment. As the issues I addressed earlier become more prominent (water scarcity, food security, and population growth), there will be an increased market for irrigation systems as farms try to preserve resources. As long as the farms can afford the capital expenditures in the future, this segment should grow rapidly. Already, we have seen consistent and strong growth from this segment. From 2010 to 2011, this segment increased sales by 43%. From 2011 to 2012, they increased 28%. This may seem like a large drop off in terms of revenue growth comparisons, but I believe that the company will continue to experience at least 15-20% growth in this segment in the coming years. This will be a result of the previously addressed issues spreading across countries internationally, especially less established ones. As a result, earnings will increase and the stock price will be driven higher.
Of course, there are a few risks involved as well. One of the risks is the fact that the irrigation segment's sales are largely dependent on the agricultural industry and other factors, such as crop prices, crop profitability, farm income, commodity prices, climate change, and rainfall. If these factors do not lineup correctly for Lindsay Corporation, the company could be adversely effected. Weather conditions such a droughts, hurricanes, and floods can make sales fluctuate rapidly just like the economic situation of the agricultural industry. If farms are struggling, they may have to cut back on capital expenditures and demand for Lindsay's products would fall.
A second risk for the company is competition. There is one major company that Lindsay is battling for sales with, and that is Valmont Industries (NYSE:VMI). Let's compare the two:
| | | |
| --- | --- | --- |
|   | LNN | VMI |
| Revenue | $670.27 million | $3.24 billiom |
| Net Income | $68.90 million | $288.90 million |
| Operating Margin | 16% | 14% |
| Gross Margin | 28% | 28% |
As you can see, Valmont is a very strong and formidable competitor. Lindsay seems to have slightly better margins, beating them by 2% in terms of operating margins. If Lindsay can maintain their current customers and beat Valmont to the spot on the acquiring of new ones, their exponential growth will continue. If not, there is not much standing in Valmont's way. In reality, though, it is an unlikely scenario for either of these companies to really hold that much of a dominating position. Valmont, being the larger company, may acquire more sales in the future, but it won't be starting any irrigation monopolies. As the demand for irrigation increases, both companies will always have plenty of room to grow.
Another risk is that the infrastructure segment will not recover. This segment's sales rely largely on government spending to improve transportation. The demand for infrastructure products such as barriers will sink rapidly if there are a lack of projects going on throughout America's roads and highways. If economic conditions suffer and the government chooses to avoid deficit spending as much as possible (an unlikely scenario in the US), then the infrastructure segment could suffer. Of course, global economic conditions could hurt the irrigation segment as well. A decline in purchasing power of farms could result in spending cuts on capital expenditures, which would mean that farms would go a longer period of time either with an amateur irrigation system or with an older one. In order for Lindsay to sell their products, farms across the world have to be able to buy them.
A final risk is that expansion does not go as planned. The company "routinely considers" expanding both domestically and in foreign nations in the form of acquisitions, partnerships, and joint ventures. These methods of expansion require significant amount of capital, and this capital may not be recovered if the expansion does not go as planned or is a failure.
As you can see, there are not guarantees that an investment in Lindsay will work out, but the reward definitely seems greater than the risk. And thankfully, there is a significant margin of safety. The company is trading at only 14.17 times earnings. It has a price/sales of 1.47 and a price/book of 2.65. Also, the risks are shrunk by the fact that the company has very little debt, totaling just over $1 million. This makes for a debt to equity ratio of .0029. Lindsay is a great company that has significant chances for growth and is currently available at quite an attractive price.
Disclosure: I have no positions in any stocks mentioned, and no plans to initiate any positions within the next 72 hours. I wrote this article myself, and it expresses my own opinions. I am not receiving compensation for it (other than from Seeking Alpha). I have no business relationship with any company whose stock is mentioned in this article.