Recently Uni-Pixel (NASDAQ:UNXL) came across my radar as a stock with the makings of another very compelling "value play" opportunity. There appears to be a striking similarity to another stock that I discovered and wrote about here called Questcor (QCOR), which turned out to be highly profitable for my followers.
Questcor and Uni-Pixel are two companies whose share prices have been victimized by vicious Bear Raid campaigns. Remarkably, in both cases each company and its prospects have had little change. As it turned out, QCOR rebounded hard from the low $20s to the high $60s and now UNXL may be poised to do the same after a breathtaking drop from low $40s to low teens in the past few months. A bottom may be in and a reversal may be pending. You will have to review the chart below for more to see what I am referring to.
Most long-term investors' views haven't changed about UNXL despite the recent drop. It all comes down to contracts for UniBoss, the company's flagship metal mesh technology, and whether or not any clarity on contracts will be announced in the coming days.
Bulls believe there is high probability that Uni-Pixel will announce contracts in the near term and begin to ship its product later this year. The company is building two product lines in its own Texas plant and eight more at the Eastman Kodak (EKDKQ.PK) campus located in Rochester, New York under a partnership agreement between the two companies. To date, Kodak has invested about $25 million in plant and equipment to house the UniBoss production lines, plus they are contributing their decades of experience with print technologies. Recently, the Kodak CEO names the partnership with Uni-Pixel as one of the cornerstones for their upcoming emergence from bankruptcy.
Some Background
Uni-Pixel is a "production stage" company that engages in the research, development and commercialization of color display technology. The company's thin film high volume roll to roll or continuous flow manufacturing process offers high fidelity replication of advanced micro-optic structures and surface characteristics over a large area, combined with the option of a thin film conductive element. Its subsidiary is Uni-Pixel Displays and the company sells its films under the name of Diamond Guard brand as well as private label to original equipment manufacturers.
The Timing of Commercialization
The timing element as you may be aware is uncertain, hence The Bear Raid campaign. Logic says that when there is No news or uncertainty, the Bears / Shorts will take their best shot at driving stocks down, and they have done just that. Please note that there have been delays in Microsoft (NASDAQ:MSFT) Windows 8.1 which would most likely push volume production into the following few quarters, namely Q4.
Most bullish traders' views haven't changed despite the recent drop. It all comes down to what contracts are in the works and if any will be announced in the coming week(s). Bulls feel that the probability of the Uni-Pixel and Kodak agreement will reap huge rewards.
The Uni-Pixel Kodak Agreement
April 16, 2013 -- Eastman Kodak Company and Uni-Pixel, Inc. have entered into a manufacturing and supply agreement to produce next-generation touch sensors based on Uni-Pixel's UniBoss™ multi-touch sensor film. Under the agreement, Kodak and Uni-Pixel will open a new manufacturing facility within Eastman Business Park in Rochester later this year to produce touch screen sensors for the dynamic and growing touch module market. Some industry experts have predicted that it will more than double to $32 billion by 2018. Uni-Pixel and Kodak have already begun to construct a state-of-the-art manufacturing and testing facility with nearly 100,000 square feet of manufacturing space for the UniBoss roll-to-roll printing and plating lines.
According to Uni-Pixel's CEO, Reed Killion: "The agreement to this manufacturing and supply chain partnership with Kodak represents another major milestone in the commercial roll-out of UniBoss and in scaling up Uni-Pixel's supply chain for touch module customers." Furthermore, going on to say that; "Kodak will play a pivotal role in the immediate, high-capacity scale-up of UniBoss touch sensor production. Kodak's unparalleled expertise and core competencies in materials science, deposition technologies and large-scale commercialization and manufacturing allow us to vertically integrate the use of base materials that are utilized in the manufacturing process, thus offering the most synergistic and aligned infrastructure in the world as it relates to our flexible printed electronics."
The Bulls Case
1) Metal mesh is "real" and a viable technology and ground floor opportunity. UniBoss offers the unique advantages of metal mesh touch sensors based on an additive, roll-to-roll, flexible electronics process, as compared to the traditional subtractive ITO-based and subtractive ITO replacement-based touch sensor solutions. These advantages include higher touch response and sensitivity, superior touch distinction, better durability, lower power requirements and extensibility to many sizes and form factors.
2) The hardware industry is starting to realize that not only is metal mesh real but it offers huge cost savings along with the added performance
3) Like any new technology or product introduction, obstacles are plentiful, but can often be removed as the technology becomes closer to the adoption process
The Bears Case
Bears have used the fact of lack of clarity and production delays to effectively depress the stock down. That's what they do and they have been good at it too. The shorts believe that Kodak commercialization project will never happen and they point to the company's smallish size and inexperience as underpinnings for their position.
As expected, and during the news lull between quarters, the bears have been on the attack with a series of articles that contain what I would call partial truths and some untruths about the commercialization progress of UniBoss. Sometimes unsubstantiated untruths are used to breed fear into investors. Going back to my Questcor example, it's almost the same scenario. The CEO there was bashed for claiming that its injectable treatment ACTHAR wasn't what he was claiming it to be. Well, the shorts miscalculated big time. As it stands, Questcor's ACTHAR treatment currently has 19 indications for medical treatment use. That in itself is quite impressive to say the least. Not one use but 19 indications and there may be other uses that could follow down the road. It is also working on an Amyotrophic Lateral Sclerosis (ALS) study that could be very lucrative.
Getting back to Uni-Pixel, another criticism from the shorts is that a technology that's expected to gain huge market acceptance needs to have more than $10 million invested in R&D. Not true. Successful ideas don't have to cost multi-millions or billions in research and development to become the best innovations. Some of the greatest technological advancements and ideas were started on a budget in either a dorm room or garage. Here are some prime examples.
Short Interest As An Accelerator
The short interest appears to be 50% of the float.
Insider Buying (A Positive Sign)
A recent positive indicator was an insider Buy from CEO, Reed Killian.
Just This Week Volatility Was Elevated
Uni-Pixel August call option implied volatility is at 127, September is at 110, October is at 116, December is at 113, January is at 113; compared to its 26-week average of 103 according to Track Data, suggesting large price movement into the expected release of Q2 results on August 8. This could be because of nervous short covering?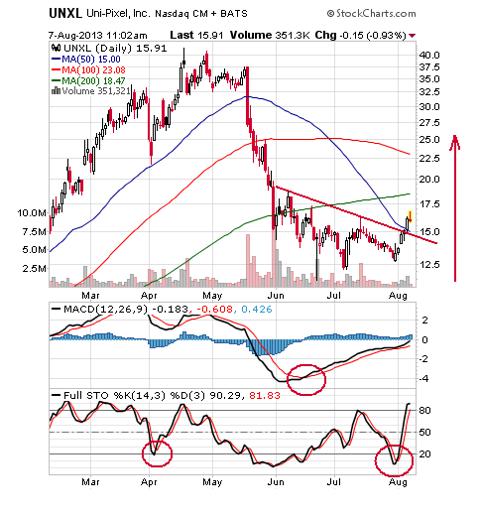 Click to enlarge
(Click to enlarge)
In Summary
Near term, the shorts have won the battle, but will they win the war? I don't think so. I don't see it, other than we have seen a small delay that should soon correct itself once the company is able to explain its expansion plans when it can. This can all change rapidly for UNXL and I really can't stress the importance of its relationship with Kodak who are teamed up for faster growth within the $16 billion global touch sensor market. A market that is predicted to more than double to $32 billion by 2018.
Lastly, I suspect that the Q2 earnings report will not bring any surprises with little to no sales to speak of yet. I do believe that the CEO will give investors some indication as to its PC partnering commitment(s) moving forward. Also, remember that Williams Financial Group's analyst just reiterated a Buy rating on the shares of this touch-screen technology vendor with a price target on the shares of $45.
Let's see what happens when UNXL reports this Thursday, August 8, 2013 after the close.
Disclosure: I am long UNXL. I wrote this article myself, and it expresses my own opinions. I am not receiving compensation for it (other than from Seeking Alpha). I have no business relationship with any company whose stock is mentioned in this article. While I just recently sold my QCOR position on a huge surge, I may look to re-enter the stock within the next 72 hours because the LT picture and prospects for QCOR have not changed.