US automaker General Motors (NYSE:GM) announced solid second quarter results, echoing the strength we saw from competitor and Best Idea portfolio holding Ford (NYSE:F). Revenue increased 4% year-over-year to $39.1 billion, modestly exceeding consensus estimates. Earnings-per-share was also strong, though down 7% year-over-year to $0.84 on an adjusted basis. Automotive free cash flow was $2.6 billion, approximately 7% of total revenue.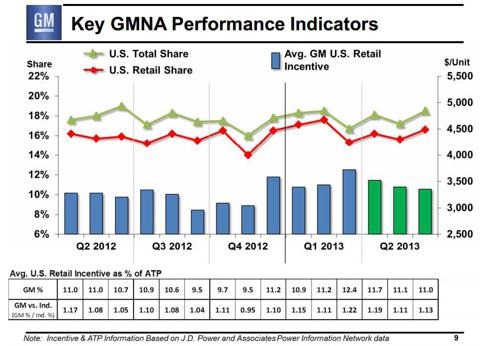 Click to enlarge
Image Source: GM 2Q 2013 Charts
As with Ford, North America drove profitability as revenue increased 9% year-over-year to $23.5 billion, and segment EBIT increased 5% year-over-year to $2 billion. Even as the broader auto market recovery has advanced, we can see from the above chart that GM hasn't increased incentive spending. In fact, we saw incentive spending come down during the course of the second quarter. GM's incentives remain above those of its peers, but we think it is largely related to a pickup refresh and to combat Ford's F-Series, which is selling at an exceptional clip. We did see GM lose some market share during the quarter, as it fell 20 basis points year-over-year to 18%.
On the positive side, losses in Europe moderated, as GM lost "only" $110 million during the second quarter compared to a loss of $394 million during the second quarter of 2012 (revenue declined 5% year-over-year to $5.2 billion). In Europe, GM gave up 30 basis points of market share, but it appears the company held the line on pricing. We think Europe will turn the corner in terms of profitability more quickly at GM than it will at Ford, but we're optimistic that Ford's structural changes will make it the more profitable carmaker in the region over the long haul.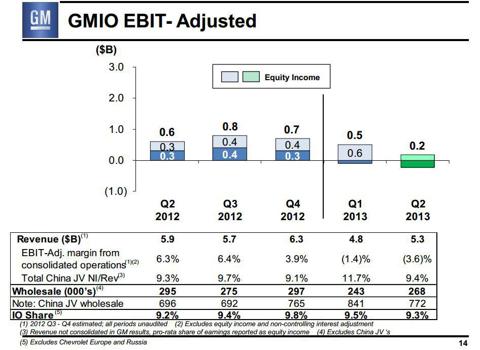 Click to enlarge
Image Source: GM 2Q 2013 Charts
GM's international operations experienced a slight decline in revenue and profitability, but we did see Chinese JV wholesale volumes jump 11% year-over-year to 772 thousand units. Management showed little concern for recent poor macroeconomic indicators, as CFO Dan Ammann said on the conference call:
"…our industry view is still to see the industry up high single-digits for the year 7% to 9%. We are obviously participating nicely in that and both from a share point of view and margin management point of view. So, our outlook remains reasonably favorable, but obviously, we are keeping a close eye on the short-term dynamics in our credit markets and all those things."
Though earnings before interest and taxes (EBIT) declined in GM's international operations, EBIT in South America more than tripled year-over-year to $54 million, despite enormous currency headwinds. Market share declined 100 basis points year-over-year to 17.1% in the country, but overall market growth and favorable pricing helped the firm's profitability.
Valuentum's Take
Overall, GM's second quarter results were strong, though clearly not as robust as the results we saw out of competitor Ford. At this time, we believe Ford has a better management team, a more efficient operations infrastructure, and a more attractive product suite than GM. Thus, we are maintaining Ford as a core position in the portfolio of our Best Ideas Newsletter.
Disclosure: I have no positions in any stocks mentioned, and no plans to initiate any positions within the next 72 hours. I wrote this article myself, and it expresses my own opinions. I am not receiving compensation for it (other than from Seeking Alpha). I have no business relationship with any company whose stock is mentioned in this article.
Additional disclosure: F is included in our Best Ideas portfolio.