By Jason Napodano, CFA
On August 6, 2013, Acadia Pharmaceuticals (NASDAQ:ACAD) reported financial results for the second quarter 2013. Revenues totaled $451,000 compared to $599,000 for the second quarter of 2012, slightly above our estimate of $300,000. These revenues were derived from the company's collaborations with Allergan, Inc. (NYSE:AGN), as well as funding from research and development grants.
Net loss for the quarter totaled $9.1 million, or $0.11 per share, compared to a net loss of $5.4 million, or $0.10 per share, in the second quarter of 2012. The net loss included $1.1 million in non-cash, stock-based compensation expense. Loss was driven by $7.1 million in R&D expense and $2.5 million in SG&A expense, each of which was somewhat above our expectations. The additional expense was associated with increased pimavanserin R&D expense, personnel expenses, and professional fees. Company guidance suggests continued substantial and increasing R&D costs associated with CMC and supporting clinical trials in the pimavanserin Parkinson's disease psychosis (PDP) program and with the initiation of phase 2 studies in Alzheimer's disease psychosis (ADP).
Acadia exited the second quarter of 2013 with approximately $205.5 million in cash, cash equivalents, and short-term investments. The cash position was strengthened by a $107.9 million equity raise in May 2013. An aggregate of $12 million in cash was used to fund activities in the first half. The company expects cash burn to increase in the second half of 2013 and beyond in association with advancing the PDP program toward an NDA, the acceleration of pre-commercialization activities, and the broadening of the pimavanserin program to address other indications, including ADP. Nonetheless, the company expects to end 2013 with cash and investment securities of at least $183 million. We find this amount to be sufficient to fund operations until the approval of pimavanserin in late 2015.
Continued Progress Toward Approval and Commercialization
The company continues to focus on completing the remaining elements of the pimavanserin PDP development program that are needed for submission of a U.S. NDA. This includes final aspects of the CMC development, including stability testing of pimavanserin registration batches and customary supporting studies, including drug-drug interaction studies.
The rate-limiting step for the PDP U.S. NDA submission is the completion of CMC activities. As noted in our previous reports, these involve the development of analytical chemistry methods, the preparation of registration batches of drug product, and stability testing. Stability testing, which requires testing the purity of drug product intermittently over a full 12 months, must be performed with material manufactured at the pilot plant scale under the same procedures used for commercial production. On the conference call, the company stated that it is well under way with preparations of the registration batches and has completed the development and validation of the necessary analytical methods for the drug product. We're encouraged to see that progress is ongoing at the previously guided rate. Nevertheless, 12 months of stability testing is 12 months of waiting prior to the NDA filing, so the NDA is not expected until late 2014.
Meanwhile, the company is also conducting supporting studies, including drug-drug interaction studies required for the NDA. We don't expect any surprises here given the extensive experience in the prior trials administering pimavanserin to elderly patients taking a wide range of medications.
… Data Continues to Roll in from the -015 Extension Study …
Encouraging safety and efficacy data continues to roll in from the PDP Phase III open-label extension study (dubbed the -015 study). Interim data from this study was presented at the 17th International Congress of Parkinson's Disease and Movement Disorders. A total of 458 PDP patients from 14 countries with a mean age at study-entry of 71 years had rolled over into the -015 study from the six-week pivotal, placebo-controlled efficacy, tolerability and safety trial (the ‑020 study) and two earlier six-week placebo-controlled trials (-012 and -014 studies). About half of the patients stayed in the open-label study for more than a year. We expect that this number could increase when Acadia provides an update after its third quarter financials considering the -020 study only just completed enrollment in September 2012. There may be several patients in the -015 extension study nearing the one year mark.
Regardless, the data suggest that long-term administration of 40 mg of pimavanserin is generally safe and well-tolerated in patients with PDP. In addition, the rate of discontinuation due to adverse events in the -015 study appears to be lower than that recently reported in a third-party study of patients over 40 years old who used one of four commonly prescribed atypical antipsychotic drugs.
Safety continues to look extremely promising for pimavanserin. Over 200 patients with PDP have been treated for one year or longer, over 100 additional patients have been treated with pimavanserin for at least 2 years, and one patient from the phase 2 extension study has now been on treatment for 7 years. Although it would require additional studies to prove, we ponder whether or not pimavanserin confers some sort of survival benefit to patients with PDP. We remind investors that the development of PDP is the number one reason patients with Parkinson's disease are admitted to nursing homes (falls is No. 2). According to a paper published in Medical Science Monitor (Fernandex HH, 2002), the overall 3-year mortality for a Parkinson's patient admitted to a nursing home is 50%.
An additional upside from the trial was provided in the form of data suggesting persistent efficacy over a longer period than the six weeks examined in the -015 trial. Patients who entered the -015 study from the 40 mg treatment arm of the previous six week efficacy studies maintained about the same mean improvement in SAPS-PD scores one month later. Those that entered from the placebo arm displayed a marked improvement in the SAPS-PD scores after one month in the -015 study. A follow-up Phase IV trial would presumably be needed to add this long term efficacy observation to the label, as it was not a primary endpoint of the trial. Nevertheless, the company has also expressed interest in looking at other outcomes-related endpoints in a Phase IV trial, including delay of nursing home care and mortality.
… And Regulatory and Commercialization Timelines are On Track …
The company continues to guide toward a U.S. NDA submission near the end of 2014. Importantly, it is taking advantage of the time interval between now and the NDA filing to begin pre-commercialization activities, including recruiting a Chief Commercialization Officer. The company has already begun market research, education, and outreach, and begun work on branding development to ensure a successful launch. In the U.S., the company plans to market pimavanserin alone; this increases both risk and potential reward to shareholders.
Discussions with representatives of individual European countries are scheduled to begin next year, with the goal of discussing the program and the implications of the trial results, and obtaining guidance on the next steps. On the call, management expressed openness to partnering in Europe, but the immediate goal is to continue to build value by pushing the program into and potentially through the regulatory process. Thus, we do not model a EU partnership for pimavanserin until 2015.
Label Expansion in ADP, Schizophrenia
Preparations continue for the initiation of a Phase II feasibility study in ADP patients this year. This will be a 12 week trial comparing pimavanserin to placebo, with psychosis as the primary endpoint and secondary endpoints including agitation, aggression, sleep, and nighttime behavior as secondary endpoints. The trial will have the very important advantage of incorporating the lessons learned from the very successful -020 study in PDP. Mainly, it will incorporate a similar run-in period with brief psychosocial therapy, and similarly limit the number of raters in order to reduce variability. Longer term, the company continues to plan for addition studies of pimavanserin in schizophrenia, building on the positive Phase II combination therapy data.
Our Analysis Of The Data and Market Opportunity
We've noted in the past, PDP is a high unmet medical need and a debilitating effect on patients with Parkinson's disease. There truly are no effective medications for patients with PDP. Clinical management of PDP starts with primary prevention; but PDP progresses rapidly as the Parkinson patient deteriorates, and often ends with the undesirable use of atypical antipsychotics.
Prescription tracking data shows that half of Parkinson's disease patients are taking antipsychotic agents to control PDP, which may lead to worsening Parkinson's symptoms. A paper published by Dr. Laura Marsh, MD, in Primary Psychiatry (2005;12(7):56-62) does an outstanding job of highlighting the issues with the current treatment paradigm for PDP. From the paper: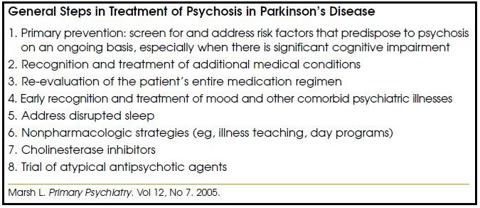 Click to enlarge
(Click to enlarge)
Atypical antipsychotics with a low potential for inducing parkinsonism (rigidity, bradykinesia, and tremor) are used in PD. Among those currently available (clozapine, risperidone, olanzapine, quetiapine, ziprasidone, and aripiprazole), only quetiapine and clozapine are consistently recommended.
Clozapine is currently the gold standard of antipsychotic agents in PD given its demonstrated safety and efficacy in controlled trials without worsening parkinsonian symptoms. Sedation or confusion can occur at low doses in this fragile population and most patients respond to <50 mg/day, though some require higher doses or an additional low dose in the mornings. The most common side effects are sedation, orthostasis, confusion, and drooling. Motor fluctuations worsen in some patients, but dystonia, dyskinesias, and tremor can improve. Weekly phlebotomy is required to monitor for potential agranulocytosis. Any inconvenience of this is offset by therapeutic benefits.
Quetiapine is a common first choice because it can be used without the risk of agranulocytosis and weekly blood monitoring. However, quetiapine has not been subject to controlled trials. Its safety and efficacy profile in open-label studies is favorable, but inadequate symptom control or increased parkinsonism or motor fluctuations can occur. Lower doses are used initially because patients with hypotension or orthostasis may not tolerate higher doses. Sedation and confusion are common side effects, but a recent open-label study showed improved cognitive functioning on quetiapine.
For the reasons outlined above, we see pimavanserin as serving a fairly high unmet need. We know of no other drug in late-stage development for PDP, and believe that pimavanserin should have meaningful market exclusivity upon launch. As such, we think that Acadia and its commercialization partner could capture up to a third of the market. At a price similar to antipsychotics, pimavanserin offers a $900 million U.S. opportunity.
$900 Million = 1 Million PD patients x 50% with Psychosis x 30% Penetration x $6,000 per year.
The Phase II ADP program, dubbed -019, is expected to start during the second half of 2013.There are an estimated 1 million Parkinson's patients in the U.S. There are an estimated 5.2 million Alzheimer's patients. Data shows the rate of psychosis per patient population, and thus the target opportunity for pimavanserin, is similar. Therefore, we see the ADP market as 5X that of PDP. We think accelerating the development timeline in PDP also accelerates the development timeline in ADP.
And, once approved in PDP, we expect significant off-label use in ADP. Physicians that treat both Parkinson's and Alzheimer's patients are already using antipsychotic agents like quetiapine off-label, so we see little impediment to the use of ADP off-label assuming Acadia can generate the same type of data in the planned Phase II ADP program that just so recently impressed analysts, investors, and the U.S. FDA.
Conclusion
We believe shares of Acadia remain attractive given the market potential of pimavanserin in PDP and the upside that could emerge with similar data in ADP. We have conducted a discounted cash flow analysis on the shares and believe that fair-value is roughly $26 per share.
Disclosure: I have no positions in any stocks mentioned, and no plans to initiate any positions within the next 72 hours. I wrote this article myself, and it expresses my own opinions. I am not receiving compensation for it. I have no business relationship with any company whose stock is mentioned in this article. PropThink is a team of editors, analysts, and writers. This article was written by Jason Napodano, CFA. We did not receive compensation for this article, and we have no business relationship with any company whose stock is mentioned in this article. Use of PropThink's research is at your own risk. You should do your own research and due diligence before making any investment decision with respect to securities covered herein. You should assume that as of the publication date of any report or letter, PropThink, LLC and persons or entities with whom it has relationships (collectively referred to as "PropThink") has a position in all stocks (and/or options of the stock) covered herein that is consistent with the position set forth in our research report. Following publication of any report or letter, PropThink intends to continue transacting in the securities covered herein, and we may be long, short, or neutral at any time hereafter regardless of our initial recommendation. To the best of our knowledge and belief, all information contained herein is accurate and reliable, and has been obtained from public sources we believe to be accurate and reliable, and not from company insiders or persons who have a relationship with company insiders. Our full disclaimer is available at www.propthink.com/disclaimer.