According to its website, Apollo Global Management (NYSE:APO) is "a leading global alternative investment manager. We are contrarian, value-oriented investors in private equity, credit and real estate, with significant distressed expertise." Today, however, it is APO itself that is a "value-oriented" investment. I will highlight 4 key reasons as to why APO is a good investment, with at least 20-30% upside over the next few months.
Fundamentals
APO currently trades at a price to earnings (NYSE:PE) ratio of 9.66 times earnings. Meanwhile, the Capital Markets industry has an average PE ratio of 19.99, or more than double that of APO's. Compared to its peers, APO trades at one of the lowest PE multiples. Even if APO were trading at a PE of 12-13, which is still low, that would represent a 33% increase from its current multiple. Another intriguing aspect of APO is the fact that the company has been raising its dividends over the last two years [see figure 1]. If we compare each quarter of the last two years we can see that the dividend has increased. The only quarter that did not see a dividend change was August, which saw the dividend remain at $0.24 (however, this quarter the dividend is expected to be $0.28). In the four quarters beginning 8/18/2011 and ending 5/17/2012 APO paid out $1.15 in dividends. The next four quarters it paid out $2.26. All in, APO has increased its dividend by 100% over the last year whereas the industry average is 24.81%.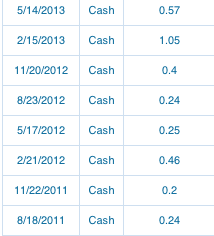 Figure 1 Source: Nasdaq Dividend History
Recent Successful Investment Exits
APO has had two recent investments soar after debuting on the market. First, Sprouts Farmer's Market (NASDAQ:SFM) soared 123% during trading after debuting for $18 a share. Another company, Athlon Energy (NYSE:ATHL) went public a few days later and rose 30%. Apollo Global Management has taken advantage of the strong bull market and has taken some of its investments public with great success, which should translate into substantial revenue and earnings growth.
Growth
Speaking of growth, Apollo Global Management has planned to open an office in Toronto that will focus on providing capital to middle-market companies. The firm will focus on mezzanine capital, a structure that gives the lenders a base interest rate plus a share of the upside. This upside is usually in the form of equity warrants. APO is entering a new aspect of private equity that can potentially be very rewarding and comes with limited risk. As someone who has worked for a firm that specializes in giving mezzanine loans to small businesses, I can tell you firsthand that the risk is limited while the upside is tremendous. A loan is typically structured with 12% cash interest, 2% PIK (payment-in-kind), and 6% (or more) of warrants. These loans can result in a return of 20% or more depending on the value of the warrants. The best part about mezzanine investing is that the loss rate among such loans is minimal.
Exposure
On August 6th 13, Sterne Agee research analyst Jason Weyeneth initiated coverage on Apollo Global Management with a buy rating and a $33 price target, or 18.3% higher than its current price. The analyst said:
Following what has been a strong run in the shares, the combination of continued substantial private equity portfolio company exit activity and multiple expansion driven by rapid growth of higher multiple fee-related earnings can drive future returns to unit holders.
Conclusion
APO is undervalued no matter how you slice it:
Fundamentally, the stock trades at a serious discount relative to its peers.
The successful

IPOs

of its investments should translate into strong earnings and revenue growth.
The company is expanding into a new lucrative niche of private equity, mezzanine investing.
Recent coverage of the stock has been positive in the days leading up to earnings on August 8th, 2013.
I fully expect APO to beat earnings and we will see a rise in share price.
Disclosure: I have no positions in any stocks mentioned, and no plans to initiate any positions within the next 72 hours. I wrote this article myself, and it expresses my own opinions. I am not receiving compensation for it. I have no business relationship with any company whose stock is mentioned in this article.