Arbitron (ARB) is a media market research company that is based in Columbia. The company works by compiling radio, TV, mobile and cable viewership ratings using several metrics such as the size and composition of audiences. The information gathered is then sold to advertisers and broadcasters. Arbitron was launched in 1912 and currently employs 1,292 people.
Arbitron's stock has been quite bearish of late, ever since the firm released its less-than-ringing second-quarter results in Aug. 1, 2013. The lackluster results fell short of consensus estimates and, consequently, triggered a cycle of heavy selling. There has been plenty of insider shorting activity going on in the past three weeks or so. Key technical indicators, however, are now sending signals that Arbitron's stock is getting into oversold territory.
Bearish stock now oversold
Warren Buffett, the legendary investor and founder of Berkshire Hathaway, the conglomerate holding company, is famous for his maverick, yet highly successful investment style that incorporates, among other features, a portfolio containing just a few key stocks which he holds for long periods of times, sometimes for more than a decade. Mr. Buffett's typical portfolio consists of less than half the number of stocks you will find in an average fund manager's portfolio. His key investment mantra: always be fearful when the masses are greedy but greedy when they show fear.
The case of Arbitron perhaps fits Mr. Buffett's advice to a Tee. By using a technical analysis indicator referred to as the RSI (Relative Strength Index) on Arbitron's stock, you can deduce that the stock is now hovering around oversold territory. The company's shares recently tanked to as low as $45.76, equal to a 29.8 RSI . Stocks with RSI readings below 30 are considered oversold. The average S &P 500 ETF RSI is 57.8. Arbitron's share price now stands at $46.20, with the one-year range bracketed between $34.56 on the lower end and $47.20 on the higher end. Take a peek at the graph below to see how the prices have been moving in the past one year.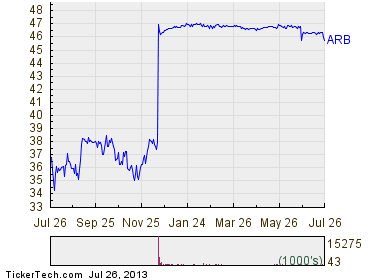 Excessive short interest
Arbitron's stock recently recorded a lofty 349,436-share increase in short interest around mid-July this year, corresponding to a 27.59% increase when compared to the same time last year. The ''days to recover'' period shot up by a staggering 126.36% from just 2.79 days to 6.32 days. ''Days to recover'' is commonly used to measure the severity of shorting activity by estimating the number of days required to cover all short positions, assuming the traded shares all went to close the short positions. Arbitron's historical ''days to recover'' averages are shown in the chart below.
Smart investors should therefore look for entry points into Arbitron's buy side since there exists a good opportunity.
Second-quarter earnings
Arbitron recorded an adjusted EPS of $0.43 for the second-quarter, equal to a 16.22% increase compared to Q2 2012's EPS of $0.37. Revenue rose marginally to $107.4 million, equal to a 2.86% increase. Compared to Q1 2013, revenue fell 3.92% while EPS plummeted a significant 28.33%. GAAP earnings are $7.1 million while the GAAP EPS stands at $0.26 per diluted share.
Wall Street expected Arbitron to return an adjusted EPS equal to $0.47 and $108.93 million revenue. Arbitron, therefore, missed both Wall Street revenue and earnings estimates.
Arbitron's Competitors
AC Nielsen (NLSN), the giant media research company, is in the process of acquiring Arbitron. The company has agreed to buy Arbitron for $48 per share, representing a significant premium to the current share price. AC Nielsen performed respectably in the second-quarter as far as both revenue and earnings are concerned. The company's earnings came in at $0.49 EPS, representing a 16.67% increase from the $0.42 EPS recorded in Q2 2012. Revenue rose marginally by just 0.07% to $1.39 billion.
Wall Street expected AC Nielsen to return a $0.49 EPS and record revenues of $1.4 billion. The company, therefore, met Wall Street's earnings expectations but missed its revenue expectations by a whisker.
comScore (SCOR) is another close peer of Arbitron, although it occupies a different niche and does not, therefore, compete directly with Arbitron. comScore provides digital analytics solutions to its customers on-demand. comScore returned record earnings of $69.9 million, primarily driven by the company's strong momentum recorded in its Digital Analytix and vCE (validated campaign essentials) platforms. Despite the impressive earnings, comScore only managed to return a $0.01 loss per share, thereby beating consensus estimates of $0.06 loss per share. comScore has been operating in the red for quite some time now.
Compared to its two close peers, Arbitron's performance was, therefore, nowhere nearly as bad as the rampant short-selling of the company's stock suggests. Moreover, in its defense, Arbitron is not alone in recording lackluster results in the second-quarter of the current year. A record-breaking 87 companies listed in the S&P 500 had earlier issued ''below-par'' earnings guidance. Many of these companies operate in the IT sector where Arbitron belongs. The ones that have already reported their Q2 2013 results are plagued by falling revenues and earnings.
Why Arbitron is a good investment
Arbitron's lower-than-expected revenue and earnings should be viewed by long-term investors as just a slight hiccup in the company's otherwise impressive track-record. Arbitron currently occupies a unique moat in a specialized niche that is known to have high entry barriers. The kind of customers that Arbitron serves are primarily concerned with the reliability and credibility of the media research data they buy. This naturally makes it very challenging for new upstarts, with no proven track-records, to cut their teeth in this game. Apart from AC Nielsen and maybe a handful other companies, there simply aren't that many radio or TV research companies that can really threaten Arbitron's lead, especially in the radio research market segment.
Arbitron has a long and enviable track-record of uninterrupted growth coupled with strong gross margins as shown in the graph below:
A smart investor knows that earnings can sometimes be bungled by unscrupulous companies to make them a wee bit more attractive to investors. It therefore pays to check whether other company fundamentals, such as the FCF (Free Cash Flow), tally with the earnings reported in the headlines. Take a peek at the graph below to see Arbitron's FCF in the past few years.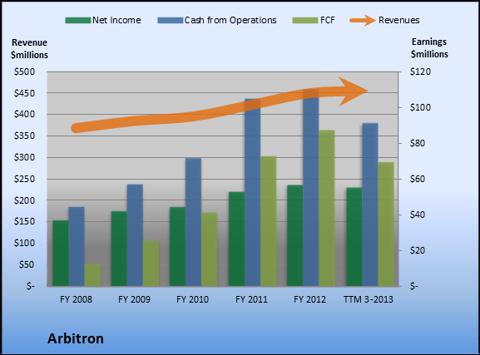 From the graph, you can see that Arbitron generated $69.5 million FCF during the past FY and returned a $55.4 million net income. To put that into perspective, Arbitron turned 15.3% of all its revenue into FCF. That's quite impressive.
PPM Device
Arbitron is regarded as the forerunner of the revolutionary PPM (Portable People Meter) device. The Portable People Meter is a highly unique audience measurement device that is capable of measuring broadcast media from the audience's radio or TV or even podcasts downloaded directly from the internet. The PPM system is quite revolutionary in that it provides a new means of measuring non-traditional communication platforms such as internet-enabled devices as well as digital and satellite broadcasting. Arbitron recently entered into several commercial agreements with information services companies by granting them licenses to use its PPM technology in audience measurement services. A good case in point is Canada's BBM. The Canadian Audience Ratings Industry Cooperative is one of the organizations that are now licensed to use Arbitron's PPM technology in their official audience rating system. Another firm that uses this system is UK's TNS which uses Arbitron's PPM audio encoding technology in several European, Middle Eastern, Asia-Pacific and African countries. These PPM licensing agreements are a good source of non-traditional revenue for Arbitron and will improve the firm's bottom-line.
Arbitron Inc. currently faces stiff competition in its Mobile Audience Services segment from, ironically, Telephia - AC Nielsen's subsidiary. The Arbitron-AC Nielsen merger will, no doubt, take care of this small anomaly. I would like to strongly recommend investors to hold Arbitron Inc.'s shares.
Disclosure: I have no positions in any stocks mentioned, and no plans to initiate any positions within the next 72 hours. I wrote this article myself, and it expresses my own opinions. I am not receiving compensation for it (other than from Seeking Alpha). I have no business relationship with any company whose stock is mentioned in this article.