An interesting trade idea: Buy puts on the natural gas producers and calls on the natural gas tracker ETF UNG. This is very much against any long term investing position I'd normally consider in the natural gas sector, since UNG has cost of carry and contango effects to deal with. But now may present a time window to take the opposite side of "common sense."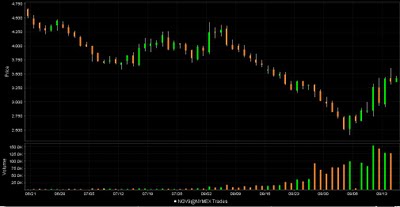 By the chart above, natural gas appears to have technically put in a bottom. As painful as the 15 or so month gas bear market has been, I have a hard time believing the "recovery" will be a pitiful few days. Of course, this might be a headfake since the fundamentals are still relatively lousy (despite being so well known).
Regardless, contango is wide enough between the front months that those spreads have room to continue to close in. If they do, the UNG and any natural gas front month tracker will likely do well.
At the same time, the fundamentals of a natural gas producer stock are different, since they are priced off of future earnings of production as well as today's. A producer such as Chesapeake (NYSE:CHK) is in the mid-28 price range, whereas two months ago it was in the 17s. That is a 65% price recovery.
During that same recovery period, a distant natural gas contract such as December 2010 has oscillated minimally in the 6-7 range. The trade here is based off the idea that CHK should be priced to longer term expectations of the natural gas market, not merely the whims of what is happening to today's gas. An earnings stream of 5 years of gas at $2.00 this year and $6.00 the following four years justifies reducing the relevance of the front month's volatility to a producer stock's price.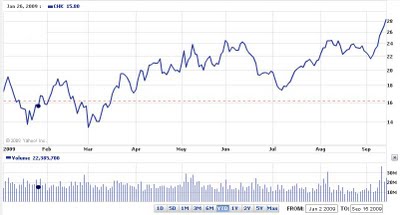 For context of long dated December 2010 gas (relatively unchanged) versus a producer like CHK (shown above):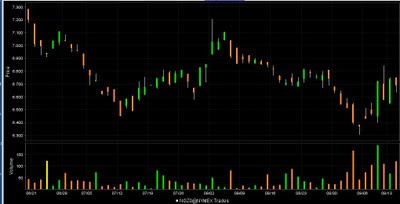 Even Chesapeake's 27% move up during the last two weeks was accompanied by much less fireworks in the long dated gas. Clearly, there is multiple expansion and/or economic recovery getting priced into the broad equities market. This is of course affecting Chesapeake and other gas producers, probably explaining the bulk of this move (as opposed to natural gas price).
In the end, the fundamentals reign. If front month gas continues to move exuberantly, UNG (and CHK) will benefit. Entering this long UNG call / long CHK put trade is a limited exposure long natural gas play, one especially valuable in an already generally long equities portfolio. If equities decide to reverse, the portfolio will have some negative coverage in an already extended natural gas sector.
Disclosure: Long UNG October 10 calls. Long CHK October 27 puts.