by Chris McKhann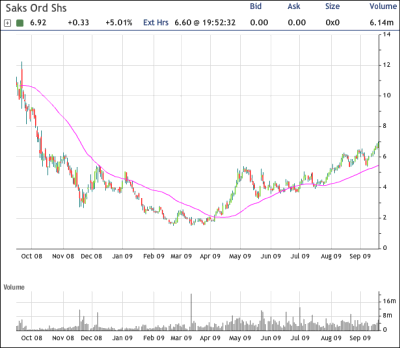 While other retailers were seeing bearish options activity, the bulls appear to still be running in Saks (NYSE:SKS).

SKS climbed 5 percent on the day, finishing at 6.92. This is the highest level since last October and represents a 360 percent gain from the February low. The price will still need to almost double to get back to levels of a year ago.

One trader was looking for further gains over the next few months as our systems show more than 17,000 of the November 7.5 calls, with 16,416 bought in one block for .65. This is against open interest of 12,511 contracts at that strike.

The implied volatility of those calls is 70 percent. This is just below the average IV, which is at its lowest level since last September having come down from 221 percent back in November. The 30 day historical reading is at 69 percent, ticking up from 60 percent a month ago, but having been as high as 160 back in May.
(Chart courtesy of tradeMONSTER)