Several weeks ago, Bank of America (NYSE:BAC) beat earnings expectations on both lines, reporting Q2 EPS of $0.32 and revenue of $22.9B. The bank's Q2 profits skyrocketed, up 70%, assisted by cost cutting and investment banking. Bank of America, the second-biggest bank in the country, managed to cut expenses about 6%. It cut about 18,000 jobs and reduced total employees by about 11%.
No sooner did I pen an article arguing 3 more reasons to get behind Bank of America, and causally stating that things will get better for them when their legal woes are behind them, than the DOJ files a civil lawsuit against them. One of the big reasons that I stated that Bank of America is still a buy? The recovering housing market. What is the DOJ alleging in their civil suit? Fraud on investors involving $850 million of residential mortgage-backed securities. I had to laugh. Some weeks, you feel like you just can't win; and although it's been an ugly headline for Bank of America this week, I'm predicting it'll come and go through the ebb and flow of the company's legal department in short order.
In all seriousness, this legal onslaught is a battle that the company has been at since earlier this year, as CEO Brian Moynihan has been systematically knocking lawsuits out of the way slowly, steadily, and one at a time. The year started with a $1.7 billion settlement with mortgage insurer MBIA, which was mostly cash with a small investment in MBIA securities.
Although this DOJ civil suit is likely to give investors pause when they see the headline, it's likely to be settled for a much smaller amount than the others once it goes through the legal ringer headlines.
CNBC.com, who has put the headline in giant bold letters on the front page of their website for the majority of the week, reported:
The Justice Department and the U.S. Securities and Exchange Commission filed the parallel suits in U.S. District Court in Charlotte, according to the court filings.

The securities date to about January 2008, the government said, putting them just at the beginning of the global financial crisis.

Bank of America responded to the lawsuits with a statement: "These were prime mortgages sold to sophisticated investors who had ample access to the underlying data, and we will demonstrate that."

"The loans in this pool performed better than loans with similar characteristics originated and securitized at the same time by other financial institutions. We are not responsible for the housing market collapse that caused mortgage loans to default at unprecedented rates and these securities to lose value as a result."
I wasn't exactly blindsided by this case, as BAC had already alluded to potential civil charges in a filing two weeks ago. I suspect other investors in tune with Bank of America weren't surprised either.
As I touched on earlier, Bank of America has already made progress settling other legal affairs, like their $8.5 billion settlement between themselves and investors reached a couple over year ago; also regarding mortgage backed securities.
As Marketwatch.com stated:
The case involved bonds issued by mortgage lender Countrywide Financial Corp, which Bank of America bought in 2008. While 22 institutional investors accepted the settlements, others, led by American International Group Inc. AIG , have objected, saying the settlement offered them only a fraction of the money they lost.
In the scheme of things, although $850 million seems like a lot to allege, it's on the lower end of some of the legal issues that Bank of America has dealt with already this year. The settlement in a case like this is likely to fall far below the $850 million stated in the suit.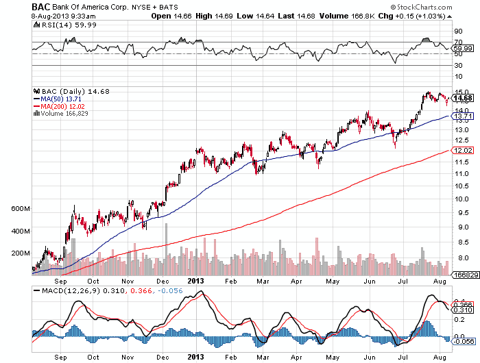 Click to enlarge
(Click to enlarge)
Bank of America's stock, fueled by cost cutting, branch closing, and getting litigation behind them, has rallied over the past year. The stock is up 12.7% in the last 3 months, 26.4% year to date, and 91.3% over the past twelve months. Investors continue to point to a likely dividend increase if the bank continues trending as it has, and I still argue it's one of the better banking stocks to get into if you're looking to invest the sector.
I remain bullish on Bank of America, even in the midst of these recurring legal troubles. One by one, as they're settled, they cannot be brought up or dealt with again in the future. A settlement in this case essentially knocks out another piece of the total litigation spawning from the 2008 collapse. Soon, there will be no one left to deal with.
Sure, it's likely to cost the company some money in the interim, so we may not see a significantly reduced amount of spending in terms of legal expenses, but as the company continues to go "lean and mean", cutting branches and employees, it shouldn't make a difference.
In addition, I'd argue it's a forward thinking move to invest in Bank of America here. After all of this legal mess wraps up (which will probably be in the not-too-distant future), investors who will presumably have been benefiting from Bank of America's mortgages and housing growth (as long as the housing market continues to grow) will also benefit from a substantial reduction in legal costs; causing Bank of America's profits to likely receive a boost.
I'm ignoring the legal woes and remain bullish on Bank of America. I wish all investors on both sides of the coin the best of luck.
Disclosure: I have no positions in any stocks mentioned, but may initiate a long position in BAC over the next 72 hours. I wrote this article myself, and it expresses my own opinions. I am not receiving compensation for it (other than from Seeking Alpha). I have no business relationship with any company whose stock is mentioned in this article.