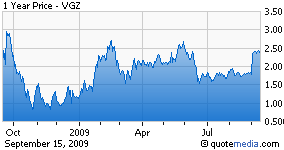 Junior resource financings continue to draw investor attention, with Vista Gold (NYSEMKT:VGZ) pulling in $17.6-million (U.S.) late Tuesday to fund projects and possible acquisitions.
Vista will issue 8.8-million shares, a 10 per cent increase to its float, at $2.25 each (the shares closed Tuesday at $2.40). Another 1.32-million shares are available to cover over-allotments. Vista is based in Colorado, and trades in both the United States and Toronto. It owns gold projects in Mexico, Australia and the United States.
Dahlman Rose & Company and Wellington West Capital Markets are handling the offering, which is expected to close Monday.