Current State
With huge fanfare, Apple (NASDAQ:AAPL) has been the first choice for shoppers for numerous cutting-edge products, but can the same be said for investors? Taking a look at the share price over the last 30 days, the answer would have to be "yes". However, as we all know this hasn't always been the case - the key question is: will this trend continue?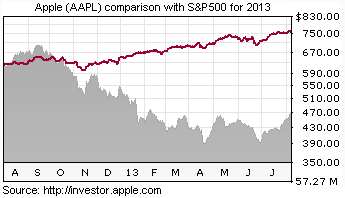 It's no secret that Apple has been losing market share among two key verticals; iPhones and iPads. Notably, the two products which have played such a pivotal role in Apple's growth in recent years.
Global tablet shipments fell by 9.7 percent in Q2 2013 as compared to Q1, while iPad shipments have declined by 25 percent in Q2 2013. The results? Year-to-date, Apple has posted a share price decline of over 12 percent.
With cut throat competition, vendors like Lenovo (OTCPK:LNVGF) and Acer (OTC:ACEIY) have reentered the top five shippers in the most recent quarter. But volatility is nothing new to Apple. IDC Mobility Tracker Program Manager Ryan Reith recently said: "The tablet market is still evolving and vendors can rise and fall quickly as a result." The impact on sales as a product of this rapidly changing market can be seen in the below table. Apple sales in all verticals (other than the iPhone) have dipped on year-over-year basis.

Click to enlarge
(Click to enlarge)
Consequently, the impact to bottom line has been born out in their quarter-over-quarter revenue numbers.

Click to enlarge
(Click to enlarge)
Valuation & Analyst Recommendations
Shares of Apple are currently hovering slightly above its 50-day moving average of $426; with the current 52-week low at $385.10 and 52-week high $705.07. With a current P/E ratio of 11.63 and share price of $464.98; we can back into the priced-in revenue growth rates of Apple. Using a DCF valuation with a discount rate of 12%, the current share price is reflective of a 7% growth rate for the next 10 years, dropping to a terminal growth rate of 3%.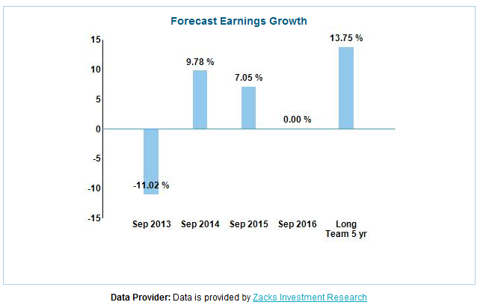 Click to enlarge
(Click to enlarge)
In the forecast provided by Zack Investment Research (through the NASDAQ.com website) above, we can see that, if our DCF valuation is correct, the current share price is reflective of much lower revenue growth projections than many analysts are forecasting. Hence, the strong "Buy" recommendations that have been issued by numerous research analysts.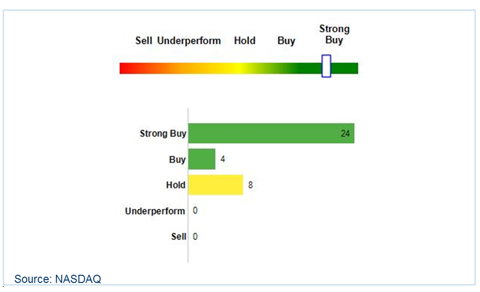 Click to enlarge
(Click to enlarge)
Conclusion
But how can research analysts expect such high revenue growth levels when, clearly, product sales are declining? Alongside these positive analyst reports, International Data Corporation recently reported that we can expect similar product and sales declines from Apple in Q3. So what are we to make of this conflicting news? The share price appears undervalued; however, product sales seem to be in a continual decline. Any valuation based on long-term growth forecasts in the tech sector is, by necessity, fraught with issues. So is our data wrong? The answer lies in a classic Apple market strategy.
CEO Tim Cook has hinted at a new product launch, which has been held in reserve for holiday season of Q4 2013. The launch of the iPhone 5S, or wrist watch running iOS, could be in the cards for this year. There is also some speculation surrounding a cheaper, plastic-body colored iPhone.
Product launches, such as these, are what have propelled Apple to their current position as the market leader. Will these new launches yield the same results as previous years? Will the company get back its growth momentum and resume the same, consistent share price growth that they have shown in last few years?
Investors can only hope the CEO Tim Cook keeps the legacy of Steve Jobs alive by delivering another market-changing product launch. While any thoughtful investor may have their doubts; all I know is I won't be betting against them.
Disclosure: I have no positions in any stocks mentioned, and no plans to initiate any positions within the next 72 hours. I wrote this article myself, and it expresses my own opinions. I am not receiving compensation for it (other than from Seeking Alpha). I have no business relationship with any company whose stock is mentioned in this article.