Green Street Advisors released the monthly update of their Commercial Property Price Index (CPPI) on Tuesday, Aug. 6. During the month of July, commercial property prices decreased by about 1%. According to Peter Rothemond, an analyst at the firm, "low rates were the primary reason that property values recovered as much as they did, so it's no surprise that pricing would take a breather at this point."
Click to enlarge images.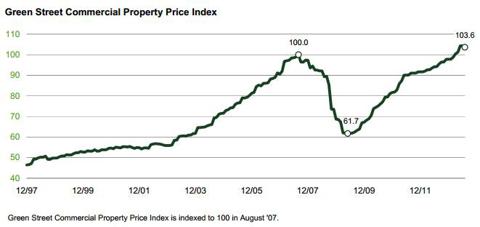 For me personally, I am a bit surprised that commercial property prices did not hold steady in July. According to the Green Street Advisors June report, prices held steady in June, which had a much larger jump in rates than the month of July. Perhaps there is a one-month lag in commercial prices and interest rates?
Looking at the REIT market, I was also surprised to see that REITs actually ended positively for the month of July. The SPDR Dow Jones REIT ETF (NYSEARCA:RWR) added 0.72% per share in July, and the Vanguard REIT ETF (NYSEARCA:VNQ) added 0.90% per share. It is also worth mentioning that both of the above-mentioned REIT ETFs added a little over 5% mid-month, but saw dramatic sell-offs at the end of the month that have continued to spill over into August.
Right now, it doesn't seem as if there is a lot of traction between the REIT share prices and actual commercial property prices. Between June and July there was an approximately 1% decline in commercial prices, but between both months there was about a 2% decrease in REIT share prices.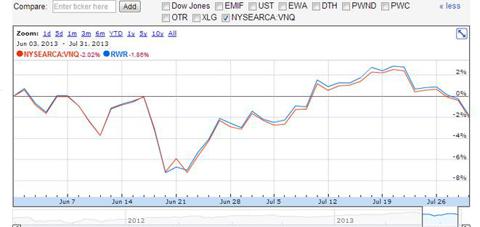 I understand that the stock market is supposedly "forward looking," and factors in predictions about future conditions. But it seems to me that transactions would be forward looking as well, and probably more accurate because most transactions involve professional appraisals that examine market conditions.
The sell-off in REITs has spilled over into the month of August, and it leaves me scratching my head. How long can REITs continue to separate themselves from their underlying asset values before a correction is due?
Disclosure: I am long LTC, O. I wrote this article myself, and it expresses my own opinions. I am not receiving compensation for it (other than from Seeking Alpha). I have no business relationship with any company whose stock is mentioned in this article.