Most people have the pleasure of seeing spam e-mails outside of their inbox these days. E-mail providers like Google Inc. (NASDAQ: GOOG) Gmail or Yahoo! Inc. (NASDAQ: YHOO) Yahoo! Mail automatically scan incoming e-mails to classify them as legitimate or spam. While this is great for consumers, legitimate companies can have a hard time getting their e-mails read. These companies might be sending coupons to opt-in customers, but, since the e-mails contain spam-related keywords like "free" or "deal," they may destine for the spam folder.
SMTP Inc. (SMTP) helps companies avoid this problem by letting them use its own servers to send the e-mails. Unlike normal e-mail servers, the company diligently works with Internet Service Providers ("ISPs") and e-mail providers to ensure that all e-mails sent from them avoid the spam box as a "trusted" sender. The company also provides reputation management, compliance auditing, abuse processing, and issue resolution services designed to help its clients keep out of the spam box and realize a higher return on their e-mail marketing.
Rapidly Growing Industry
E-mail marketing has been consistently ranked as one of the most effective forms of online marketing, despite the ongoing rise in spam e-mails and the rise of new technologies. According to a study by ExactTarget Inc. (NYSE: ET), some 77% of consumers prefer to receive permission-based marketing communications via e-mail compared to texts, social media, etc. And, a separate survey found that 56% of businesses would increase e-mail spending in 2013.
Consider the following survey that compares many popular forms of online advertising: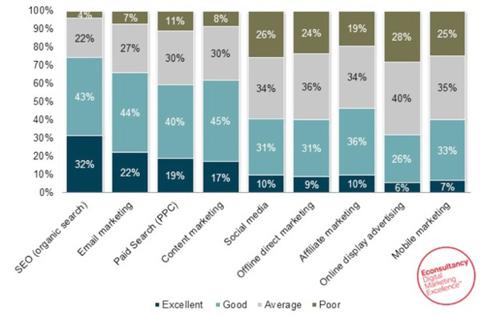 Click to enlarge
Figure 1 - E-Mail Marketing Survey (Source: Econsultancy)
In total, the e-mail marketing industry is expected to grow from $1.5 billion in 2010 to some $6.5 billion by 2018, according to Transparency Market Research. The growth is being driven by both the ongoing growth in e-mail marketing (due to its effectiveness) and the growth in Internet users in the U.S. and around the world. Mobile usage has also made checking e-mail far more common than it once was, contributing to the popularity of e-mail marketing.
With this tremendous growth and the clamping down on spam, companies are increasingly looking for ways to increase their deliverability and avoid the spam box with their marketing messages. And, it's these trends that are creating a big opportunities for companies like SMTP, alongside e-mail marketing providers like Constant Contact Inc. (NASDAQ:CTCT) or Responsys Inc. (NASDAQ:MKTG) that provide similar, albeit broader, services.
Strong Player in the Market
The industry's strong growth has helped SMTP report strong top- and bottom-line results, while future growth prospects should help the performance continue ahead. The company generates its revenues by offering low-volume solutions (2,000 to 100,000 e-mails per month) at between $5 and $130 per month, and high-volume solutions involve anywhere from 100,000 to millions of e-mails per month, where it charges an average of $357 per month. These services are marketed through online advertising (80%) and marketing agreements (20%).
Between FY2010 and FY2012, SMTP's top-line revenues grew from $2,735,752 to $5,353,550, representing a CAGR of about 40%. Bottom-line net income also grew from $394,901, or $0.03 per share, to $1,069,607, or $0.07 per share, representing a CAGR of about 65%. Meanwhile, trailing 12-month top- and bottom-line results suggest ongoing growth moving through FY2013, although at a slightly slower growth rate judging by the current numbers.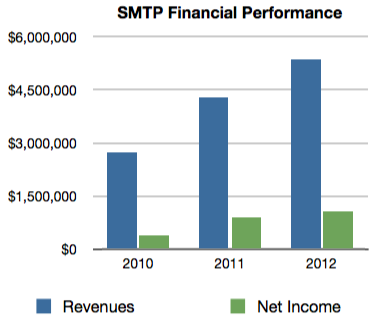 Figure 2 - SMTP Inc. Revenues and Net Income (Source: SEC Filings)
According to its most recent 10-Q filing, most of this growth is organic:
Revenues increased for the three months ended March 31, 2013 as compared to the three months ended March 31, 2012, due to increased sales of our email service products to consumers. Revenue growth is attributable primarily to an increase in our number of subscribers of these products. Most of this growth is by organic growth in our customer base.
Looking ahead, the company plans to grow its business primarily through acquisitions and expanded distribution channels, according to regulatory filings. While management has offered no public guidance, growth rates have been trending higher over the past few months.
Significantly Undervalued
SMTP is unique among many micro-cap equities in that it offers a dividend yield of $0.02 per share, or 6% based on a $1.20 share price. On August 1, 2013, the company announced that it would increase this dividend to $0.023 per common share to shareholders of record at the close of the business day on August 20, 2013. The August 31, 2013, dividend represents a 27.8% increase over the prior quarter's $0.018 per share dividend rate.
According to Chairman Semyon Dukach, "The increase in our dividend rate, which is up 53.3% versus the same quarter in 2012, reflects the continued growth of our business and the strength of our balance sheet. While we continue to make the necessary investments in our business to produce stable growth and profitability, we are pleased to once again return cash to shareholders through our regular quarterly dividend payment."
In addition to its rare dividend yield, the stock trades at a discount to its peers when it comes to price-earnings, price-sales, and price-cash ratios. Figure 3 below shows that these comparisons are sometimes half of the industry averages, suggesting that the stock price could double in order to reflect an appropriate peer valuation. For example, if SMTP were to have a 30x price-earnings multiple, the stock price would be closer to $2.10 per share versus $1.20 per share.
| | | | |
| --- | --- | --- | --- |
| | SMTP | Industry Average | S&P 500 |
| Price/Earnings | 16.2x | 30.9x | 17.2x |
| Price/Book | 18.7x | 4.6x | 2.4x |
| Price/Sales | 3.2x | 6.5x | 1.5x |
| Price/Cash | 12.7x | 23.1x | 10.3x |
Figure 3 - Valuation Comparison (Source: Morningstar)
Finally, the company also appears undervalued given its growth rates. Assuming that a price-earnings to growth ratio of 1.0 is fairly valued, the company's current price suggests a long-term growth rate of just 16%, when its historical averages have been 40% on the top-line and 65% on the bottom-line. This strong historical growth rate and the favorable industry outlook suggest that the company could significantly outperform that modest 16% growth assumption. And, a rate closer to even 25% could mean a stock price of $1.75 versus $1.20 per share.
Risks and Conclusions
There are many sizable risks that investors should consider before committing capital, despite the company's favorable growth and valuation:
Short-term Contracts - Most of the company's services are sold via short-term subscription agreements in a highly competitive industry, which means that the rise of a new competitor or change in paradigm could quickly influence its financial results.
Low Barrier to Entry - The company holds little in the way of proprietary technology, with solutions that are based primarily on open-source software. Potential competitors have low start-up costs, while there are several larger competitors in the space.
Governance Concerns - Approximately 90.21% of the company's shares are controlled by officers and directors, which means that investors have little say, while a single person holds most of the company's positions - including CEO and Chairman.
Micro-cap Stock - The company's market capitalization stands at just $18 million, with fewer than 4,000 shares trading on the average day, which means investors may have liquidity issues when trying to accumulate or sell shares.
Financings - The company recently raised $2.5 million in a share offering and could choose to do the same down the road. These actions could further dilute existing shareholders and reduce earnings per share metrics.
Since these concerns are fairly serious in nature, investors in the company must accept that they are essentially leaving their capital in the hands of entrenched (but capable) management that has traditionally been keen on paying themselves via dividends as majority owners and has been very successful thus far in growing the business. And, based on this performance, the stock might be available at a bargain relative to its peers and growth rate.
Disclosure: I have no positions in any stocks mentioned, and no plans to initiate any positions within the next 72 hours. I wrote this article myself, and it expresses my own opinions. I am not receiving compensation for it (other than from Seeking Alpha). I have no business relationship with any company whose stock is mentioned in this article.