Value investing makes sense but it is more difficult to actually execute because it often entails buying stocks that may have dropped in value or are just plain unloved. Value investors are often considered to be contrarians and frequently buy when other investors are fearful or negative and selling at cheap levels.
Warren Buffett is one value investor who has been a contrarian. For example, he was bullish on Bank of America (NYSE:BAC) shares when that stock was trading for just a few dollars and it now trades for more than $14. Mr. Buffett has become one of the richest men in the world by buying what is cheap, and that is not typically what is popular. With this in mind, here are some contrarian picks that appear to offer great value and are worth considering at this time:
Caterpillar, Inc. (NYSE:CAT) shares have underperformed in 2013, and the company has faced a number of challenges. Caterpillar management has also disappointed some investors by lowering guidance and with a recent acquisition. However, even with all the bad news in recent months this stock does not seem to want to go much below $80. Many investors and analysts believe that it is a bullish sign when a stock refuses to drop significantly when facing bad news. Let's take a look at the chart below and review why it might reward investors to be contrarian and buy Caterpillar shares while so many are bearish at this time: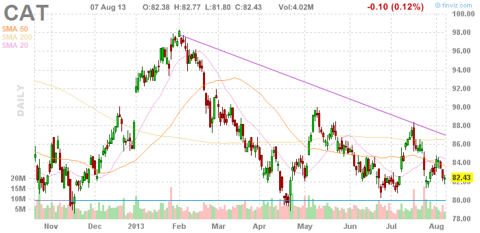 As the chart above shows, this stock hit highs at around $98 in February and it has also been pushed down to about $80 a couple of times. However, it just doesn't seem to want to go significantly below that level, and it has rebounded sharply on each attempt to trade at or just below $80. This could be indicating that the stock is already pricing in most or all of the negatives that the bears have focused on. I was also bearish on this stock over the past several months, but I have been impressed with the fact it keeps rebounding around the $80 level in spite of numerous reasons for it to trade lower.
A few weeks ago, Zacks Investment Research downgraded Caterpillar to a strong sell and it cited downward estimate revisions after Caterpillar reported disappointing financial results. For 2013, estimates were revised downward by 14.8% to $6.90 per share. For 2014, estimates were revised downward also by about 14.8% to $8.10 per share.
Earlier this year, analysts at Goldman Sachs (NYSE:GS) also downgraded Caterpillar to neutral from buy. The research report from Goldman Sachs stated:
We remain constructive on Caterpillar's leading returns and franchise and its structurally higher construction-equipment margins, but in an over-supplied commodity environment we no longer see upside to consensus earnings expectations.
In July 2013, noted short seller Jim Chanos made a bearish case against Caterpillar at the "Delivering Alpha Conference." A CNBC article details his view by stating:
Expanding on his thesis, Chanos said that a reversion to the mean in capital spending for mining equipment would strike deep into Caterpillar's profitability. He also argued that there are "accounting issues" arising from the way Caterpillar had written down the value of recent acquisitions. And he got a bit personal, saying the chief executive was too "promotional." He was referring to Douglas R. Oberhelman.
I think Mr. Chanos makes some good points, but I also think these concerns are well-known by the market and that is why many analysts have downgraded the stock as mentioned above. With all these downgrades, and with shorts piling on, Caterpillar shares still have rebounded from the $80 level, and if that is where it tends to trade when so many investors and analysts are bearish, just imagine what the stock can do when the outlook improves. It's worth noting that Mr. Chanos was also bearish on Hewlett Packard (NYSE:HPQ) late last year and that stock has been one of the best-performing stocks in the Dow Index for this year.
At this point, the challenges Caterpillar has faced and the continued headwinds are well-known by the investment community. What remains is a company with a globally recognized brand name and a stock that continues to show strong support at about $80. The S&P 500 Index (NYSEARCA:SPY) now trades for nearly 16 times earnings and if Caterpillar shares had a multiple that was close to that level, it would make sense to be bearish on this stock. However, consensus earnings estimates have been reduced in the past few months and now appear more realistic. The company is expected to earn $6.34 for 2013 and $7.35 for 2014. This means Caterpillar is trading for just around 11 times earnings estimates for next year, which is a discount of roughly 40% to the market average. Furthermore, the stock offers a dividend yield of 2.8% which rewards investors while waiting for a higher share price.
Caterpillar management also seems to think the stock is worth buying as it recently announced a deal to buy $1 billion worth of stock from a French bank. This follows other stock buy backs which the company announced in June which were also significant. When a company buys back stock, it reduces the number of shares outstanding and this can help boost earnings in the future. The markets seem focused on the negatives, but the solid dividend yield, stock buy backs and a below market price to earnings ratio are all positives that should not be overlooked. Furthermore, it appears that the economy in Europe is bottoming and that means that sales in the Euro region could be poised to rebound in 2014 and provide upside potential for Caterpillar shares.
Here are some key points for CAT:
Current share price: $81.89
The 52 week range is $79.49 to $99.70
Earnings estimates for 2013: $6.34 per share
Earnings estimates for 2014: $7.35 per share
Annual dividend: $2.40 per share which yields 2.8%
I also have found two bargain picks for value investors seeking above average yields. One is the Helios High Yield Fund (HHY), which I recently wrote about at length, since it offers an outstanding yield of about 9.6%, a short duration, and it currently trades at a 9% discount to net asset value. This fund historically trades right around net asset value which is currently $10.37. With the stock at just $9.50, a rebound back to net asset value could provide significant gains, along with a generous monthly dividend payment. A recent Barron's article titled "Contrarian Alert: Bond Funds on Sale" also profiled this closed end fund as a stock for "savvy" investors to consider since it is trading at a discount and appears cheap now. The article states: "Some closed-end bond funds have been battered while their net-asset values have risen, making for bargains for the savvy." There is another closed end fund which has similarly positive characteristics that is also a bargain for value and income investors to consider buying now:
Pioneer Diversified High Income Trust (NYSEMKT:HNW) is a closed end fund or "CEF" that invests in high yield bonds. This fund's share price has come under pressure due to the sell-off in the bond market. However, investors selling at these levels appear to be making a mistake because this fund has a very short average duration and a dividend yield that is nearly 10%. Plus, it is trading below net asset value.
This fund has around 427 holdings which shows it is well diversified. This diversification lowers risks for investors. Another potential downside for bond investors is duration risk. However, this fund has an average duration of just 3.16 years which greatly diminishes this potential risk. In fact, the vast majority of this fund's top ten holdings are maturing in 2014 or 2015. Fund data shows that 47.5% of the portfolio is maturing in 1 year or less, 32.4% is maturing in 4 years or less, 17.6% is maturing within 5 to 9 years and just 2.5% is maturing in more than 10 years. This means the portfolio is well-positioned to limit the downside risks of rising rates and even benefit from it since the fund has so many short duration bonds that are going to mature within the next year. This is a big reason why this fund does not deserve to be part of the recent sell-off in many bond-like assets.
For the past year, this fund has traded (on average) at a 4.4% premium to net asset value or "NAV." However, a rare buying opportunity has been created by the bond market selloff which allows investors to buy at a discount of about 2.6%. This fund normally trades at a premium to NAV because of the short duration average and because of the high yield.
Some CEFs pay out more than what is earned on a monthly basis, and that can be a downside risk, however, this is not the case with this fund. Recent data shows that this fund has average monthly earnings of about 18.45 cents per share. Since this fund pays out 16 cents per share on a monthly basis, the dividend appears secure and sustainable.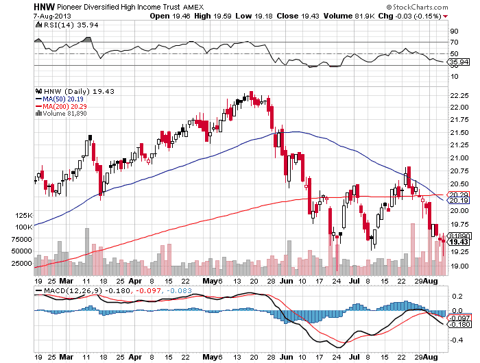 As the chart shows, this fund was trending up and traded for over $22 per share in May. However, it has been bouncing around the $20 level and recent pullbacks have created an ideal buying opportunity. The 50-day moving average is $20.23 and the 200-day moving average is $20.29, which have been key levels in the past. This fund is now oversold and it could be poised to rebound back to around key support levels of just over $20.20. If history repeats and this fund trades back at the average premium of 4.4% to net asset value that it has seen over the past year, the share price could be at about $21 in the near future. Furthermore, a dividend payment is coming soon and that could provide additional support for a rebound in the coming days.
Investors who buy this fund soon will be eligible to receive a dividend very shortly. This fund will pay the next monthly dividend of 16 cents per share to shareholders of record on August 16, 2013. The ex-dividend date is August 14, 2013, and the dividend will be paid on August 30. Investors wanting to receive the next dividend payment could also help push the share price upwards as we get closer to the ex-dividend date. The coming dividend can also act to almost immediately reduce the cost basis for investors who buy soon.
With a very short duration portfolio, a yield of nearly 10%, dividend payments that are made on a monthly basis and a share price that is trading below net asset value, there is plenty for value investors to like with this fund.
Here are some key points for HNW:
Current share price: $19.58
The 52 week range is $18.56 to $22.69
Earnings estimates for 2013: not applicable
Earnings estimates for 2014: not applicable
Annual dividend: $1.92 per share (or 16 cents per month), which yields 9.82%
Potash Corp. (NYSE:POT) shares were trading for more than $40 this year but recently plunged after some key members decided to cease involvement in a global potash mining cartel. Investors fear that without the cartel intact to control prices potash prices will fall. However, major global corporations are generally not in the business of setting destructive policies. That could mean that important cartel members will come together once again, or that the price of potash may not decline as much as the market might expect, based on the plunging stocks in this sector. Potash is a key ingredient for fertilizer and while this news has created plenty of short-term volatility, the long-term outlook is bright. Fertilizers are a key component for global crop production. As the world population continues to grow, and as emerging market consumers spend more on food, the demand for fertilizer will probably rise over the years.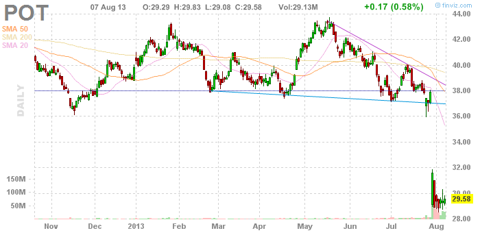 As the chart above shows, this stock was trading for about $40, just a couple of weeks ago, but it now trades below $30. This sell off could be a major overreaction by investors and the stock appears to have a lot of bad news priced into it now. Even if the cartel members do not fully reunite, a cartel breakup does not mean that industry players will be willing to sell potash at much lower prices. Furthermore, potash demand is likely to rise over time and that could offset the impact of a breakup in the cartel. One recent article details the solid outlook for potash demand in the coming years and it states:
All of this is in the face of rising long-term demand. Trade group the International Fertilizer Industry Association (IFA) predicts that fertilizer consumption will rise by 11% by 2016. Likewise, researcher Freedonia predicts similar findings. The group predicts that global demand for fertilizers will increase by 3.8% per year through 2014, with the Asia/Pacific region leading that demand.
While many investors have done some panic selling in this sector, contrarians might want to consider building a small position in this stock. Downside risks remain and if Potash prices decline more than analysts expect, this stock could drop further. This is why it makes sense to reduce risks by taking only a small position and perhaps, average in over time. Analyst estimates have come down but even at reduced levels the stock is now trading for about 11 times earnings. That is significantly below the market average. Consensus estimates are at $2.52 for 2013 and $2.49 for 2014. Another reason why this stock looks compelling now is because it yields 4.8%. With the dividend at $1.40 per share and with earnings estimates of roughly $2.50, the payout ratio is reasonable and does not appear to be at risk of being reduced.
While many retail investors seem to have been getting out of this stock, many analysts see upside potential. For example, on July 26, analysts at Barclays gave Potash shares an "equal weight" rating and set a $41 price target. On July 31, analysts at UBS gave these shares a neutral rating and set a $33 price target. The $41 price target implies upside potential of about 35% and the $33 price target could lead to gains of over 10% from current levels. With this stock at oversold levels, and at just 11 times earnings investors could be missing out on a cheap stock that is in an industry poised for long-term growth.
Here are some key points for POT:
Current share price: $29.58
The 52 week range is $28.55 to $44.82
Earnings estimates for 2013: $2.52
Earnings estimates for 2014: $2.49
Annual dividend: $1.40 per share which yields 4.8%
Data is sourced from Yahoo Finance. No guarantees or representations are made. Hawkinvest is not a registered investment advisor and does not provide specific investment advice. The information is for informational purposes only. You should always consult a financial advisor.
Disclosure: I am long CAT, HHY, HNW. I wrote this article myself, and it expresses my own opinions. I am not receiving compensation for it (other than from Seeking Alpha). I have no business relationship with any company whose stock is mentioned in this article.