In one of his many enduring essays on value investing, Howard Marks, chairman and co-founder of Oaktree Capital Management, offers a compelling anecdote of contrarian investing he defines as the falling knife:
According to Marks, investors begin thinking it is too dangerous to catch a "falling knife" when considering an out of favor or uncertain security. As Marks sees it, they are going to wait for the dust to settle, but what they are really saying is they are frightened and unsure of what to do.
Marks further laments:
The one thing I'm sure of is that by the time the knife has stopped falling, the dust has settled and the uncertainty has been resolved, there'll be no great bargains left . When buying something has become comfortable again, its price will no longer be so low that it's a great bargain. Thus, a hugely profitable investment that doesn't begin with discomfort is usually an oxymoron.

It's our job as contrarians to catch falling knives, hopefully with care and skill. That's why the concept of intrinsic value is so important. If we hold a view of value that enables us to buy when everyone else is selling - and if our view turns out to be right - that's the route to the greatest rewards earned with the least risk.
In his informative SA article on Apollo Group, Inc. (NASDAQ:APOL), Brian Grosso opined how this phenomenon of investing was invariably tied to that education company's current intrinsic value.
Here, I will argue how Bridgepoint Education, Inc. (NYSE:BPI) has gone from a falling knife of investment opportunity before the recent accreditation action for its Ashford University unit and subsequent Q2 2013 earnings release, to perhaps a fallen knife now firmly in the ground despite continued appearances of compelling value in its metrics.
First, a review of Bridgepoint's Q2 2013 earnings release and conference call [see SA transcript]:
What the Numbers are Saying
Population, Revenue, Expenses, and Income
Total student enrollment for the quarter ending June 30, 2013 was 71,685 compared to 92,620 for the same period in 2012, a 22.6% decrease. New student enrollments for Q2 '13 were 10,600 compared to 19,300 for same period 2012, a marked decrease of 45.1%.
Revenue was $197.6 million for Q2 '13 compared to $256.3 million for same period 2012, a 22.9% decrease which corresponds to the similar drop in total enrollment.
For the first six months of 2013, Bridgepoint spent 49.5% of revenue on educational services and 36.3% on general, sales, and admin. This resulted in an operating income of 14.2% vs. 23.6% during same six month period in 2012.
Bad debt for Q2 2013 was 9.4% of revenue. The company includes bad debt in educational services, otherwise inflating what appeared to be closer to my industry recommendation of 50% in the current regulatory environment. Typically, bad debt is reflected in general, sales and admin.
Operating income was $16.0 million compared to $68.8 million in Q2 '12, or a significant decrease of 76.7%. Net income for Q2 '13 was $10.4 million, also down 76% from $43.3 million earned in same period 2012.
Earnings per share was $0.19 for the quarter against $0.77 in Q2 '12. The Q2 '13 EPS included a $5.9 million or $0.06 per diluted share charge for severance packages from previously reported lay-offs.
Balance Sheet and Cash Flow
From December 31, 2012 to June 30, 2013, the company realized a 4.2% increase in cash on hand from $514.7 million to 536.2 million, and generated $32.3 million in cash flow for six months ending June 30, 2013 vs. $76.8 million for same six month period in 2012.
The following chart illustrates what I consider leading indicators (among literally hundreds) when looking at a company's performance in a simplified screen. It focuses on an investing discipline of fundamentals, valuation, and margin of safety (F+V+MoS).
CVCR F+V+MoS Chart* for Bridgepoint Education, Inc.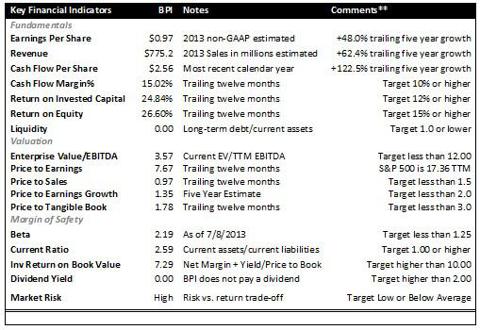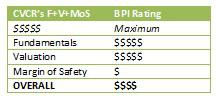 Source: Charles Schwab & Co.: Thomson Reuters/S&P Capital IQ/Market Edge **Targets are generalized to market, not BPI or education industry
*Disclaimer: CVCR Charts are produced by Country View Capital Research, LLC. The specific indicators used in the above chart(s) are based on David Waldron's for own account personal portfolio and investment philosophy that has returned a cumulative 116.31% since inception on 7/1/2004 vs. 49.32% for the S&P 500 during same period (as of July 31, 2013). His personal equity portfolio consists of a basket of large cap global companies supporting an investment objective of buying and holding dividend paying, well managed, financially sound companies that produce easy to understand products/services, have enduring competitive advantages, enjoy strong free cash flow, and are trading at a discount to their intrinsic value. The CVCR F+V+MoS chart, and personal investment objective are for illustrative purposes only and not meant as investment advice nor as a recommendation to buy/hold/sell or short BPI or any other security. Readers should always engage in further research and/or consider consulting a certified financial planner, licensed broker/dealer, or registered investment advisor before making any investment decisions.
Clearly, Bridgepoint appears fundamentally sound with overall good earnings history, strong free cash flow, attractive investor returns, and no debt. Its valuation is also compelling with key price multiples at seemingly bargain basement levels.
Where the stock begins to look riskier is the all important intrinsic value measurement of margin of safety. BPI has been assigned a high beta relative to the market, and its investor return on book value is in "hold" territory at less than 10%. I believe, as learned from the wisdom of legendary value legends Ben Graham and Warren Buffet, investor yield on tangible book is a good indicator of a company's intrinsic value as it measures the ultimate return generators of net profit and dividends in relation to the company's real or liquidated value per share.
Naturally, as are most U.S. education companies operating in today's regulatory black cloud, Bridgepoint is deemed a high risk in its risk/return trade-off.
According to its most recently filed 10-K with the Securities and Exchange Commission, Bridgepoint reported Ashford University had an 86.4%, and its University of the Rockies, an 87.3%, in 90/10 calculations as of December 31, 2012.
Simply put, both universities are deriving close to 90% of their net cash revenues from federal financial aid disbursements. The 90/10 calculation is regulated by the United States Department of Education (USDOE) and curiously applies only to for-profit institutions authorized to award federal student loans and grants to its students.
Per the regulation, any school that exceeds 90% of net revenue from financial aid during any one year reporting period is subject to USDOE sanctions. Exceeding 90% in two consecutive reporting years results in the institution losing its Title IV financial aid eligibility. It is commonly known as a "death nail" proposition in the education services industry.
Ashford and the Rockies three-year draft cohort default rates are 19.8% and 3.3% respectively, putting the company's universities safely below the soon to be enforced 30% cap by the USDOE scheduled for this September.
What Management is Saying
As is customary on investor conference calls, Bridgepoint's management team attempted to gloss the disappointing quarterly numbers with emphasis on previously reported positive developments, absent of any new noteworthy events.
Andrew Clark, chief executive officer, began his prepared comments by bringing listeners back to the early July public notice and investor conference call regarding Ashford University's announcement it was granted initial regional accreditation by the Western Association of Schools and Colleges (WASC). This highly publicized achievement allows Ashford to ultimately navigate away from its troubled status with the Higher Learning Commission (HLC) of the North Central Association.
In Clark's defense, this was a tremendous accomplishment for Ashford and its parent company, with Bridgepoint Education's stock price jumping 26% on the news at the time. Any adverse accreditation action may have led to dire consequences for the company, including the worst case scenario of possible loss of Title IV student financial aid eligibility, and in the best case, a damaged reputation, resulting in a potentially decimated market capitalization. The university and company's performance, leading to the relatively positive WASC decision, literally saved the ship.
Echoed in its action letter, WASC praised Ashford for its dramatic improvements since a previous denial in 2012, but granted only the minimum five year initial accreditation with a required two year follow-up visit.
CEO Clark emphasized Bridgepoint's "best in class value proposition of a quality education at an affordable tuition," supported by increases in full-time faculty and student services support teams. Also underlined was the re-launching of a previously successful branding campaign focused on its higher education technology and brand awareness as this had proved effective in increasing the quality of media inquiries and subsequent enrollment conversions.
Having Dr. Jane McAuliffe, the company's chief academic officer, contribute to the call was a nice diversion from the typical CEO/CFO dominance of earnings releases. She reiterated the positive WASC action for Ashford, and the renewed company emphasis on continuous academic quality improvements.
Dan Devine, chief financial officer, offered a cursory review of the financial results, but did address the importance of improving accounts receivables that led to a previously announced auditor action as well as this quarter's reported 9.4% bad debt.
What the Analysts are Saying
For Q2 2013, Bridgepoint missed brokerage analyst estimates for both EPS and revenue.
During the end of call Q&A, analysts in attendance queried the new start erosion and what the company sees for improvement. CEO Clark squared the blame on the prior accreditation black cloud that apparently affected admissions performance.
When asked about bad debt effect from students departing early in their tenure, CFO Devine suggested as many as 1/3 of new enrollments drop out within three months of starting classes. I would consider this an alarmingly high early attrition rate regardless of any "limited financial exposure" as underscored by Devine. Often, the effectiveness of a college or university in how it manages students from inquiry to enrollment to initial faculty engagement, is evidenced by early term persistence of students.
Following the Q2 earnings release, Corey Greendale at First Analysis upgraded Bridgepoint from "equalweight" to "overweight," with a price target of $20. The stock rose almost 5% on the news during trading on August 7th.
In the wake of the WASC accreditation announcement in early July, Jeff Silber at BMO Capital Markets had reiterated his "neutral" rating on Bridgepoint, but raised his price target from $12 to $16. In a note to clients, he applauded the company for its positive accreditation action, but remained concerned about student reaction to its tarnished brand.
Around the same time, Deutsche Bank had reiterated its "hold" rating and raised its price target from $9 to $13. The analysis was favorable toward the company's resolved accreditation issue and cost-cutting, "but not convinced that Ashford can return to new enrollment growth in Q4 as management guided."
Below is the current analyst consensus for Bridgepoint Education: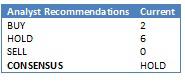 Source: Yahoo Finance
What Isn't Being Said
When looking at Bridgepoint's historical price chart since going public in 2009, it is clear the stock became a falling knife in late 2012 and early 2013. This is the same timeframe it battled Ashford's accreditation decisions with WASC and HLC amid declining enrollments from primarily industry driven events.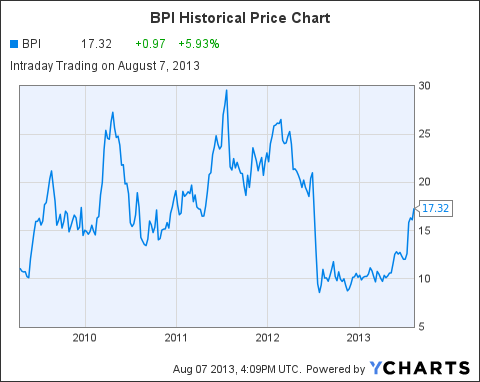 With a proverbial nod to hindsight being 20/20, Bridgepoint was a great value after dropping from above $25 to below $10. This is where the lesson of Howard Marks' falling knife takes hold. Investors with the courage to withstand the uncertain accreditation outcome at the time were able to buy the stock at a more than 60% discount to its post IPO high.
Granted, buying or selling anything based on historical charts is a game best reserved for technical traders and quants. The point being Bridgepoint has apparently become another case study in buying when others are selling, avoiding, or holding "out of fear of loss" as famously touted by both Marks and his friend Buffett.
In another excellent essay published in his book, The MOST IMPORTANT THING, Uncommon Sense for the Thoughtful Investor (Columbia Business School Publishing), Marks speaks of a bull market cycle theory that is hard to dispute whether observed in a larger economy or individual security. He illustrates the cycle in three stages:
First, a few forward-looking people believe things will get better;
Then, most investors realize improvement is actually taking place;
Finally, everyone concludes things will get better forever.
Of course, by the time "most" or "everyone" jumps on the bandwagon, the cheapest, most compelling price for the market or stock had already presented itself to the first "few."
It appears Bridgepoint's stock may now be in the middle to late stages of this time tested theory from an astute practitioner and observer of investing like Howard Marks.
Arguably, some upside in price potentially remains as investors realize improvement in Bridgepoint's value proposition is taking place, or even getting some permanent legs. But it mostly appears to be a knife whose handle had already fallen into the grasp of savvy, forward-looking investors.
Disclosure: I have no positions in any stocks mentioned, and no plans to initiate any positions within the next 72 hours. I wrote this article myself, and it expresses my own opinions. I am not receiving compensation for it. I have no business relationship with any company whose stock is mentioned in this article.