The second edition of Fitch Ratings' annual 'Credit Encyclo-Media' report makes for some grim reading.
As was the case last year, The Interpublic Group (NYSE:IPG) is only rated issuer with a "Positive" outlook . All other companies are either Stable or Negative:
Diversified Media –CBS Corporation (NYSE:CBS) ('BBB'; Outlook Stable) –Cox (COX) Enterprises ('BBB'; Outlook Stable) –Discovery Communications LLC (NASDAQ:DISCK) ('BBB'; Outlook Stable) –Liberty Media LLC ('BB-'; Outlook Negative) –The McGraw-Hill Companies (MHP) ('A+'; Outlook Stable) –News Corporation (NASDAQ:NWS) ('BBB'; Outlook Stable) –Thomson Reuters Corporation (TRIN) ('A-'; Outlook Stable) –Time Warner Inc.(NYSE:TWX) ('BBB'; Outlook Stable) –Viacom, Inc. (NYSE:VIA) ('BBB'; Outlook Stable) –The Walt Disney Company (NYSE:DIS) ('A'; Outlook Stable)
Publishing, Printing, TV and Radio Broadcasting –Belo (NYSE:BLC) ('BB-'; Outlook Negative) –The McClatchy Company (NYSE:MNI) ('C'; No Outlook) –R.R. Donnelley & Sons Co. (NASDAQ:RRD) ('BBB'; Outlook Stable) –Univision Communications (Pending:UVN) ('B'; Outlook Stable)
Entertainment – Movie Exhibitors, Music –AMC Entertainment ('B'; Outlook Stable) –Regal Entertainment (NYSE:RGC) ('B+'; Outlook Stable) –Warner Music Group (NYSE:WMG) ('BB-'; Outlook Stable)
Business Products/Services, Ad Agencies –The Dun and Bradstreet Corporation (NYSE:DNB) ('A-'; Outlook Stable) –The Interpublic Group of Companies ('BB+'; Outlook Positive) –The Nielsen Company ('B'; Outlook Stable) –Omnicom (NYSE:OMC) ('A-'; Outlook Stable)
The 200-page report outlines the key market, operating and credit trends in the Media and Entertainment sector. It addresses issues related to automotive advertising, cable network saturation, DVD market maturation, digital cinema transition, and e-Book adoption, in addition to upfront, political, ad measurement and ad pricing trends.
It also provides an overview, outlook and volatility analysis for 22 different sub-sectors; ranking them by economic sensitivity, hit-driven variability and secular issues.
Fitch said it is monitoring a number of topics that could drive incremental risk for bondholders in the current environment, including:
Changes in acquisition appetite given depressed multiples, improving access to capital,and growing cash hoards.
Long-term threats to the DVD business model.
Potential longer-term risks to cable networks.
Weakness in the automotive sector.
Access to capital and refinancing risk.
With valuation multiples still low and access to capital improving, Fitch expects acquisition activity could accelerate.
Fitch says
a certain level of activity can be accommodated as some acquisition risk is factored into the investment-grade ratings that many media companies carry.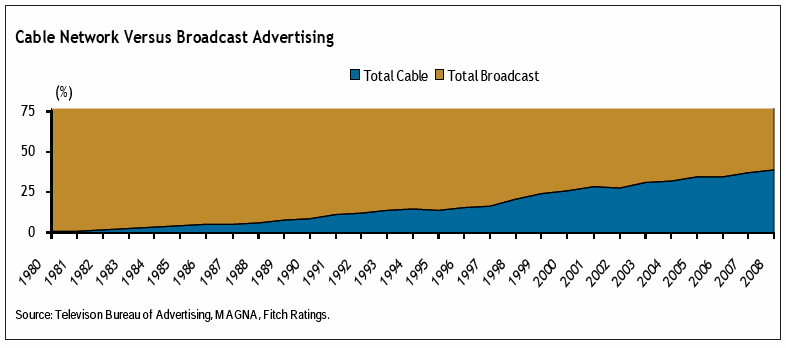 Advertising:
In general, Fitch believes that premium-priced outlets like broadcast TV and newspapers are most likely to face pricing pressure while other mediums like outdoor, online and cable networks will likely face less pricing headwinds. Cable networks that can offer synthetic purchases by aggregating the audiences of all of their cable networks might be better able to close the CPM gap. Not all cable networks will have that ability, as part of their appeal is the specific niche demographic they offer; however, general interest channels such as those offered by Time Warner Inc. and Discovery Communications, Inc. may be better positioned to offer cross-network purchases. Magazines and radio, which are somewhere in the middle ground on ad pricing, are less likely to cede share purely due to price, but could still face pressure due to deterioration in core operating fundamentals (circulation or listenership) and advertiser perception related to effectiveness.