Though retailers caution through guidance that a slowdown is approaching and July's consumer confidence reading missed estimates and dipped to 80.3, the Index still remains in much stronger shape than during the July 2012 period when it was struggling at just 65.4. Additionally, Gallup tracks weekly and 3-day rolling consumer-spending surveys and the latest such weekly reading pointed to signs of strength among American consumers. At $95, the average dollar amount Americans reported spending daily was higher during the past week than readings during the same period last year ($81) and the year before that ($73). The most recent 3-day rolling average showed an even more impressive reading: consumers spent $129 daily between August 4th and August 6th, the highest 3-day average since 2008.
Why should we as investors care?
Consumer spending is one of the most predictive indicators and drivers of retail stocks. Below I present a chart that shows positive correlation between a reading of Gallup's consumer-spending survey and the S&P Retail Fund ETF (NYSEARCA:XRT) during weekly periods between 2011 and 2013. The correlation, which is formed from 135 weekly observations, indicates that as consumers show enthusiasm for spending their hard-earned dollars and consumption habits advance, so does the performance in retail stocks.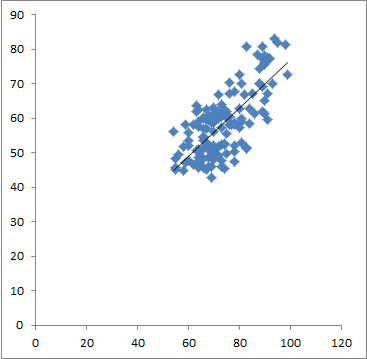 Additional indicators point to signs of strength for retail as well. Data from the Bureau of Economic Analysis showed a 1.8% growth in overall personal disposable income in 2Q13 since the prior year. From that amount, consumers saved only 4.5% of the disposable income in 2Q13 versus 5.5% during the prior year's second quarter. During the same period, personal consumption expanded by 3%. The indicator shows, like Gallup, that consumers are spending their disposable income as opposed to saving more of it.
One caution to the above is that the data missed some analysts' expectations, thereby suggesting that retail is hitting a near-term plateau. Nevertheless, the data does show that longer-term trends are improving and consumers are willing to spend more today than in previous years following the crisis.
How do we benefit from attractive consumer-spending trends?
One way to benefit from an improving consumer-spending environment is by allocating portions of a portfolio towards an ETF known as the SPDR S&P Retail. The index, with its 97 holdings, is nicely distributed among different retail classes with exposures to auto, which includes Asbury Automotive Group (NYSE:ABG), Lithia Motors (NYSE:LAD), and AutoNation (NYSE:AN), grocers and discount stores like Kroger's (NYSE:KR), Dollar Tree (NASDAQ:DLTR), and Big Lots (NYSE:BIG), as well as online retailers such as Netflix (NASDAQ:NFLX), Groupon (NASDAQ:GRPN), Priceline (NASDAQ:PCLN), and Shutterfly (NASDAQ:SFLY). One year returns are attractive as well, 36.02% versus the S&P 500's 21.55%.
The ETF is weighted more heavily towards mid-cap and small-cap stocks and more of its holdings are in consumer cyclicals versus consumer defensives, making the ETF more risky than the general S&P 500 index. That means an investor can expect larger drawdowns if corrections occur.

An even less risky approach is to delve into the SPDR S&P Consumer Staples Select ETF (NYSEARCA:XLP), which is a consumer defensive ETF comprised of 40 of the largest and best known companies in the United States. Top holdings include Procter & Gamble (NYSE:PG), Coca-Cola (NYSE:KO), Philip Morris International (NYSE:PM), Wal-Mart (NYSE:WMT), CVS (NYSE:CVS), et al. With an attractive 2.64% dividend yield and a lower beta, the ETF presents a much lower risk option to an investor, albeit at the expense of returns. XLP's one-year returns trailed the S&P 500's, as can be seen below.

So, get in or stay out?
One may conclude based on today's macroeconomic environment that significant risks remain ahead and getting into the market at its historic highs might be a bad idea. While it's true that uncertainty around government actions and policymakers' decisions remains at higher levels than desired, there are good reasons why the S&P at its current price is not as risky versus historic levels. Additionally, good buying strategies might create excellent longer-term opportunities.
Here are just some of the items I like about today's market. The following fundamental analyses describe corporations from analyzing the S&P 500 companies:
On average, corporations have increased their cash hoards by 49% since the end of 1Q2009. If one is concerned about entering unexpected recessionary periods, corporations are better prepared to deal with such slowdowns.
Corporations have less debt today than they did preceding the crisis period. Debt is down 41% today from 2Q2008 highs.
Capital expenditures, or expenses on fixed assets and an indicator of corporate reinvesting into its businesses, are up 54% since they hit a trough in 2010.
The index also shows a general trend towards higher employment levels, another sign of growth.
At the same time, besides for the political uncertainty, there are other things to not like about today's market:
Average dividend yields are still down considerably relative to the peak levels last seen in 1Q2009.
The S&P 500 price level relative to book value, while nowhere near the bubble levels of the dot com era, is also not at the very attractive levels (below 2x) seen during several months of 2009, 2010, and 2011.
Finally, the S&P 500 TTM P/E ratio is at elevated levels not seen since the early months of 2010, when companies were implementing heavy cost-cutting strategies while the index was trading at relatively lower levels.
Strategy and approach to trading retail ETFs
One simple way to get into such a market is by buying the XRT or XLP ETFs through a dollar-cost-averaging strategy by buying into the index through a purchase of the ETFs on the dip as the starting point. Averaging into low cost index funds over a span of many years produces attractive longer-term results. Such a strategy controls for sell-off periods where a portfolio takes a stinging market value dip as the investor continues purchasing the index at a lower price point until finally purchasing at a very attractive valuation.
If you'd like to get into the market, but feel like there might be a sharp near-term retail pullback coming, you could apply what I believe is a more risky strategy by betting against cyclicals while investing into defensives with a long XLP-short XRT pair trade. This is a shorter-term strategy and technically, this is supposed to be a less risky trade as it controls for general market corrections, or beta (short XRT acts as your hedge against a sharp pullback in a long XLP), but situations in which the XRT continues to rise while the XLP may drop, stay flat, or rise slower -- could create a dent in your portfolio. Nevertheless, I've done the trade in the past -- and it has worked incredibly well in such scenarios. After a near-term correction, if the consumer drivers continue to trend well, you could then go long by dollar-cost-averaging into XRT for exposure to small-cap and mid-cap retail as a longer-term strategy.
Conclusion
The consumer is more confident and more willing to spend his or her dollars and while the market might be priced at levels beyond our comfort zone, it could also continue to rise given the consumer's willingness to spend his or her income. Corporations are investing their money as demand improves and that could turn into additional demand down the road. Trading with a proven strategy, while fully calculating the risks, is an extremely attractive way to create opportunities in such an environment.
Disclosure: I have no positions in any stocks mentioned, and no plans to initiate any positions within the next 72 hours. I wrote this article myself, and it expresses my own opinions. I am not receiving compensation for it (other than from Seeking Alpha). I have no business relationship with any company whose stock is mentioned in this article.
Additional disclosure: This article is intended for informational and educational purposes only and shall not be construed to constitute investment advice. Nothing contained herein shall constitute a solicitation, recommendation, or endorsement to buy or sell any security or private fund.