Impax Laboratories (NASDAQ:IPXL) has been making news quite regularly in recent weeks thanks to its run-ins with the FDA and its tie-ups with other pharma behemoths to sell generic drugs. It has caught the media's interest and the company's share prices have seen fluctuations, warranting a closer look at its fundamentals.
Current Financials
With a market capitalization of $1.4 billion and a fairly healthy inventory of 102 generic drugs on the market, the company's shares are trading at around $21 per share. The company reported a healthy 15% increase in its revenues to $148 million for its latest reported 1Q13 numbers, thanks to the launch of two new drugs into the market in January. For an investor this means a net income of $1.55 per diluted common share.
During the same period, its cash and short-term investment chest swelled to $349 million. This included a $48 million settlement paid out by Shire LLC in order to settle a court case. IPXL also reported a big $18 million inventory reserve of discontinued products and an additional $5 million of inventory reserve due to a delay in launching new products. This reserve inventory is having a negative impact on Impax's overall profitability.
The chart as shown by S&P Capital IQ clearly indicates Impax's revenue has remained stagnant this quarter in relation to the finished inventory which is piling up over FY12 and 1Q13.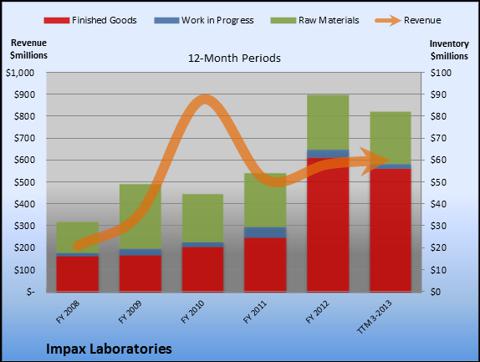 Future Prospects
Pursuant to its dual strategy to grow its business organically and inorganically, Impax has 66 ANDA standing agreements with various pharma biggies such as Abbott Laboratories (NYSE:ABT) and Pfizer (NYSE:PFE), and is also engaged in negotiating an additional 39 ANDAs which will swell its existing product pipeline.
This strategy has worked very well for Impax and I believe it will continue to be a strong stream of revenue for the company in the coming quarters. To support my inference, I'm citing an Impax announcement that was made in April 2013 about a $100 million windfall from such an agreement with Endo Pharmaceuticals.
The second part of Impax's strategy is to grow its native product pipeline. Supporting this line of thinking, Impax is investing heavily into research and development in the neurological stream. Currently it has active development cycles with an additional 79 products, seven of which are ready to be filed for FDA approvals in the near future.
I believe that the company is well positioned to grow its business and value to its stakeholders, believing that these twin areas of focus will start to generate a bigger market reach and incremental revenue for Impax.
Key Takeaways
Areas of Concern
In March of 2013, share prices plunged to a 52 week low of $14. This came right on the heels of the release of worse than expected results of FY12012 and the news of written warnings from the FDA to Impax about significant violations to its Good Manufacturing Practice guidelines for finished pharmaceuticals. What spooked the investors about this written warning from the FDA on non-compliance was that this was a second such warning for previously identified drawbacks in their manufacturing process.
Another potential risk with Impax in the short run is that investors must be aware of the shifting location of its manufacturing operations, from its current facility in Hayward, California, to a new facility being built in Taiwan. The company decided to lay off approximately 150 employees and move the manufacturing facility to a low cost geographic location because the operating expenses had reached an uncontrollable $53 million.
Typically, relocation projects are fraught with risks relating to delays in execution, teething problems of getting new facilities up and running, and more importantly, quality control. The company is hoping to cut costs to the tune of $15 million which it plans to funnel into research and development activities.
Over-reliance of Impax on third parties to conduct its clinical trials is another issue which could cloud the prospects for this company in the short term while its own research and developments efforts start to pay off.
The FDA re-inspected the company's Hayward manufacturing facility and conducted a Pre-Approval Inspection (PAI) for RYTARYTM. From the inspection that was carried out preceding the warning letter, the FDA concluded that three of the twelve observations still persisted. Thus, the Hayward warning letter will continue to remain an issue for the company
Impax and GlaxoSmithKline (NYSE:GSK) called off their alliance for developing and commercializing IPX066 outside the U.S. and Taiwan due to what was cited as the postponement in obtaining the regulatory approval and, additionally, the delay in availability of launch dates in both countries. This would automatically lead to the transfer of rights to develop and commercialize IPX066, effective July 2013, to Impax as per the terms and conditions of the contract. Impax is on the hunt for strategic partnerships for the expansion of its neurology franchise outside the U.S.
Conclusion
Impax has grown both its top and bottom line in the past quarter. While it might seem to be struggling currently with FDA guidelines and litigation, I believe that its strong and diversified product pipeline, big ticket receivables and growing alliance with generic drug developers will help the company post strong sales and revenue numbers in the coming quarters. I strongly recommend investors to buy IMPAX shares.
Disclosure: I have no positions in any stocks mentioned, and no plans to initiate any positions within the next 72 hours.
Business relationship disclosure: The article has been written by an Analyst at ResearchCows, ResearchCows is not receiving compensation for it (other than from Seeking Alpha). ResearchCows has no business relationship with any company whose stock is mentioned in this article. Any analysis presented herein is illustrative in nature, limited in scope, based on an incomplete set of information, and has limitations to its accuracy. The author recommends that potential and existing investors conduct thorough investment research of their own, including detailed review of the company's SEC filings, and consult a qualified investment advisor. The information upon which this material is based was obtained from sources believed to be reliable, but has not been independently verified. Therefore, the author cannot guarantee its accuracy. Any opinions or estimates constitute the author's best judgment as of the date of publication, and are subject to change without notice.