The ETF revolution started with a method to access broad market indexes in the United States like the S&P 500, the Nasdaq 100 and the Dow Jones Industrials. Then size (small, medium, large), style (growth, core, value) and sector investing (e.g., energy, health care, tech, etc.) came to the foreground. It wasn't long before international markets opened up with pan-European and single-country ETFs for the developed world.
As the demand for more access to global possibilities increased, we began to see emerging market ETFs. And as the need for greater diversification across different asset classes soared, we began seeing choices in bonds, currencies, commodities and real estate.
As the revolution continues to expand, however, "theme-based" ETF investing is starting to make a splash. For instance, the PowerShares Water Resources Fund (PHO) has more than $1 billion in assets.
How did so many "themes" become attractive? Is the slicing and dicing of sectors, even sub-sectors, actually catching on?
Consider the energy sector. It fractured into "energy" and "alt energy," and then "alt-energy" has been cut into solar, nuclear and wind. Similarly, the "materials" segment has splintered into commodity-specific, sub-industries such as coal, steel and timber. We've even wathced "transportation" be whittled down to a Shipping ETF and an Airline ETF.
Some themes have caught on more than others. The Market Vectors Coal ETF (KOL) is pushing the $300 million mark as investors seek access to a global portfolio of coal mining companies. Market Vectors Nuclear Energy (NLR) is no slouch either, amassing $166 million.
Here, then, is a performance comparison for some of the larger, "theme-oriented" ETFs in 2009:
The Performance of 8 Leading Theme-Based ETFs in 2009
% YTD
Market Vectors Coal (KOL)
108.7%
Market Vectors Gaming (BJK)
49.5%
Market Vectors Agribusiness (MOO)
42.1%
PowerShares Cleantech (PZD)
30.9%
Claymore Global Shipping (SEA)
26.9%
Market Vectors Nuclear (NLR)
24.0%
PowerShares Water Resources (PHO)
19.1%
iShares S&P Global Infrastructure (IGF)
13.5%
The first thing that should jump out at any investor is the resilience of some of these theme-based ETFs. Of the 8 ETFs profiled, 7 are outpacing the S&P 500's 16.6% YTD gains (through 9/15/2009); 5 ETFs are outhustling the iShares Europe 350 (IEV) Fund's 26.3%.
As always, some of the gains should be taken in context; that is, in a 2-year time period that includes the entirety of a ferocious bear, how incredible have Agribusiness (MOO), Coal (KOL), Gaming (BJK) and CleanTech (PZD) really been?
Here's a 2-year chart that compares several "theme-based" ETFs against the S&P 500 SPDR Trust (SPY) and the iShares Europe 350 (IEV). As volatile as the ride down may have been, 3 of the 4 theme-based ETFs outperformed Europe and the U.S. The only straggler? Gaming (BJK).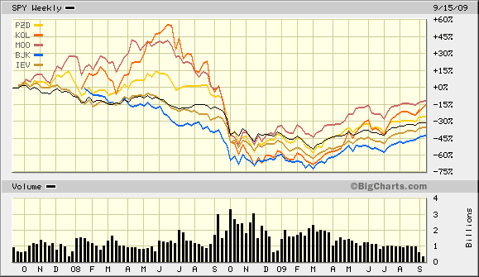 This would indeed suggest that theme-based ETFs are not merely gimmicks; rather, if you believe in the theme, it may indeed play a part in your portfolio. (Review "Cleantech: A Smart Way To Go Green.")
Full Disclosure: Gary Gordon, MS, CFP is the president of Pacific Park Financial, Inc., a Registered Investment Adviser with the SEC. The company may hold positions in the ETFs, mutual funds and/or index funds mentioned above.